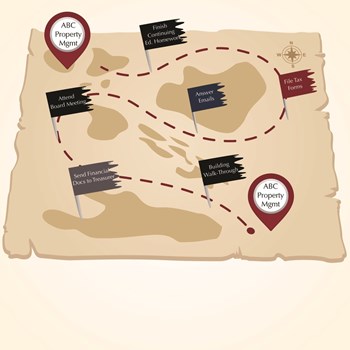 No matter what the size of their portfolio, a property manager must wear a great many professional hats: human resources pro, administrator, mediator, organizer, social director, project manager, sounding board—sometimes even therapist.
If a water pipe bursts, and water pours from one unit to the other downstairs, the property manager gets the call. Same thing happens when the punk rock guy in 7B decides to hold a band rehearsal in his apartment until midnight, or the opera singing tenant in 6A is practicing her scales ad infinitum. The best managers are the ones who juggle all these functions behind the scenes, quietly getting the job done without a lot of fuss or drama. Put another way, the best managers are miracle workers.
Absolutely No Absolutes
If there's one absolute about a day in the life of a property manager, it's that there are no absolutes. Every day is different.
"It runs the gamut," says Doug Weinstein, director of operations for AKAM Associates, Inc., in New York City. "It is never the same day to day. There are all sorts of preventative maintenance to keep up on and capital projects to manage. I go to job sites and meet with the contractors and engineers." There are enough things to do that the days do not repeat.
"One of the nicest things about my job is that every day is different," says Steven Birbach, president and CEO of Vanderbilt Property Mgmt. LLC in Glenwood Landing, New York. "You might wake up to a leak or a fire or a plumbing issue—every day is unique. The plan can deviate very quickly due to circumstances. I'm very involved and I oversee each and every property, good or bad. It's meeting contractors, board meetings, union issues."