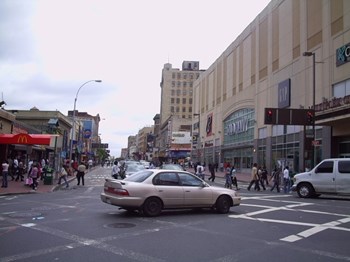 Linda Cunegin is extremely proud of the fact that she has lived and worked in South Jamaica, Queens since 1957—and she's planning to stick around. She is owner of Tri-County Home Nursing Services Inc., a company started by her mother in 1981, which services and hires employees and clients in three counties, including Queens. Cunegin says that over the years Jamaica has become a melting pot of ethnicities and a major cultural and entertainment center.
A Bit of History
According to the Greater Jamaica Development Corporation, Jamaica Avenue was once a trail used by indigenous tribes from as far away as the Ohio River and the Great Lakes who came to trade skins and other goods with local Carnarsie people. Dutch governor Peter Stuyvesant dubbed the area Rustdorp in granting the 1656 charter. The English, who took it over in 1664, renamed it Jameco,the Carnarsie word for beaver. With the passage of time and some warped pronunciation, Jamaica was born.
George Washington really did sleep here during the Revolutionary War, and Jamaica continued to be a trading post for farmers and produce after conflicts between American and British forces eased. The public school system started in 1813 and by 1834, the Brooklyn and Jamaica Railroad Company had completed a line to Jamaica. By 1850, Jamaica Avenue (then called Fulton Street), had become a plank road, complete with toll gate. In 1866, tracks were laid for a horsecar line, and 20 years later it was the first in the state to be electrified. In 1898 Queens, of which Jamaica is the county seat, became part of the City of New York.Today, more than 200,000 people call Jamaica home.
Jamaica Today
Brigit Pinnel is with the Jamaica Center Business Improvement District (BID) and she says that Jamaica has had its period of struggling, but "there has been signs of development and improvement made on many fronts, including transportation, residential and commercial, culminating in an overall improvement in the area," she says.
Retail is Jamaica Avenue's core revenue stream. "The BID works one-on-one with merchants to provide business assistance to business owners and hosts events specially targeted toward helping our business community," Pinnel continues.