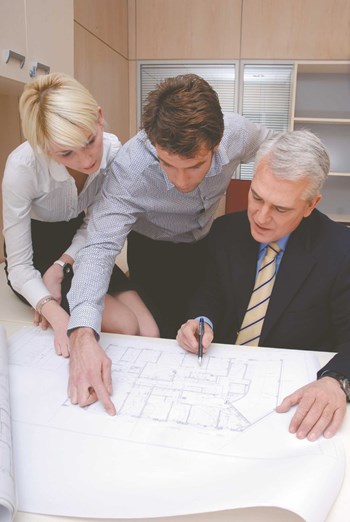 Architecture that liberates the space, light and air" … "Natural beauty in Fort Greene" … "Sophisticated style, fabulous kitchens, fabulous bathrooms" … "The convergence of fine living and fine lifestyle."
These phrases are all taken from recent advertisements for condos in Manhattan and Brooklyn, and reflect themes common in real estate ads since their invention. But how many prospective buyers or other people think about the process that got these buildings constructed in the first place? Many people know the names of "celebrity architects" like Frank Gehry, Enrique Norten and Richard Meier, but what do they know about the vast majority of architects who design residential buildings, and what they do? How much does the architect contribute to the design process, and how much is the developer's input? And where does the engineer come in?
There's far more to constructing a residential building than digging a big hole and then following a blueprint.
The First Steps
How does a residential developer assemble the team of architects, engineers and other professionals for a project? While some very large developers may have in-house architects and engineers, "out-sourcing" is more common.
One way that a developer hires an architect is through a previous working relationship—someone he or she has used before and feels comfortable with. Or else he could select an architect through recommendations or portfolio review. Clearly, a developer would typically seek out an architect who has had experience designing the type of building he wants to build—a condo developer typically wouldn't hire an architect whose sole experience has been designing school and library buildings, for example.
Sometimes, says Stefan Dallendorfer, an architect and senior partner at FXFOWLE Architects in Manhattan, "The developer appoints a construction manager for the job, who would in turn suggest the architect and sub-consultants."
Once an architect is hired and in place, planning meetings then take place. Often, says Howard Zimmerman, founder and president of Howard Zimmerman PC Architects in Manhattan, one of the first things that is determined is how many apartments can practically be built within a specific space.
"The architect may do an initial zoning analysis," explains Dallendorfer, "to determine whether the building is as-of-right, how much floor area is available to develop, and what is appropriate from a building volume perspective."
The architect then presents the developer with several sketches. Sometimes the developer may also hire a marketing consultant to have more input on whether the architect's approach is viable.
As for when the engineer comes in, it varies. Architect Wids DeLaCour, partner with DeLaCour & Ferrara in Brooklyn, says that in his experience, a structural engineer may come onto the team fairly early, while a mechanical engineer can come on somewhat later. Some buildings also will need special types of engineers—a green building, for example, could warrant a specialist "green engineer."
In general, DeLaCour says, the bigger the project is, the better it is to hire an engineer early on—especially if it turns out that you find you have to redesign the project. "The engineer is going to charge what he's going to charge, whether [he comes onto the job] way early or much later." All in all, he adds, an architect should be familiar enough with engineering requirements to determine when to bring the engineer in.
By the way, some firms encompass both architects and engineers. Zimmerman's firm, for example, advertises itself as a "full-service firm" that includes architects, engineers, designers and other experts. Another such firm is The Falcon Group, with offices in several mid-Atlantic and Northeast states, which includes both Falcon Engineering LLC and Falcon Architectural Services.
Materials To Be Used
OK, so now we have an architect, engineers, other specialists, and our design team is in place. What now? One facet of design is what materials will be used for the building. But is that set in stone (pardon the pun) at the beginning of the design process, or can it change as things move along?
Usually, says Dallendorfer, "The overall appearance of the building is discussed and determined in the schematic design phase, including alternative cladding materials, colors and exterior details. Interior finishes should also be decided upon in schematic design."
The choice of which architect to use can also determine, at least to some extent, the look of the building and what materials are used. As an example, DeLaCour points to the aforementioned Richard Meier's "One Prospect Park" condo development near Grand Army Plaza in Brooklyn: "This was decided as a glass front from the very beginning. You knew you were going to have a glass front because Richard Meier doesn't particularly build brick buildings."
However, smaller details (such as lobby tile, for example) are sometimes changed later on. And when the market changes, developers will even mandate changes in large elements to save on costs. All in all, says Andrew Amorosi, managing principal for engineering design and production for the Falcon Group's civil engineering design projects, economics—"what the market is going for"—and community input are both factors that can lead a developer to modify the design.
The Public Approval Factor
Sometimes, the plan must be presented to neighborhood groups and the city itself for approval. In New York City, if a building follows the requirements of the current zoning requirements—the "as of right" Dallendorfer mentioned above—then no such steps are necessary.
However, if the developer wants a "variance" from the zoning laws—to make the building two stories taller than allowed in that particular zoning district, say—then he must appear before the city's Board of Standards and Appeals.
According to the official online description, "The majority of the board's activity involves reviewing and deciding applications for variances and special permits, as empowered by the Zoning Resolution, and applications for appeals from property owners whose proposals have been denied by the city's Department of Buildings, Fire or Business Services."
In addition, some development projects must go before the city's complicated Uniform Land Use Review Process (ULURP), in which a series of governmental bodies must pass recommendations and/or give approval—the local community board, the borough president, the City Planning Commission, the City Council and the Mayor's office.
Among projects that need ULURP approval are those that propose a change in a zoning district (i.e., from industrial to residential), projects involving the disposition of city-owned land (including land purchased from the city), projects that involve the creation of new streets or avenues, and several other cases. Many of the projects that need ULURP are non-residential, such as site selection for new sanitation garages, firehouses and the like, but there have been quite a few residential projects that need ULURP approval.
In addition, new residential developments within landmark districts must be approved by the Landmarks Preservation Commission (LPC). New buildings must prove to be in harmony with existing, historic buildings in such facets as height, type of building material and so forth.
In scenarios like any of the above, says Dallendorfer, a land-use attorney is always involved. This reporter has been at several public presentations of new developments at community boards, and these typically are attended by an attorney, the architect, sometimes another representative of the developer, but always making an attractive presentation with detailed illustrations and renderings of the new building-to-be.
Amorosi, who works mainly in New Jersey and Pennsylvania, says that in those locations, "Almost every development will have to go through both zoning and planning board approval. If it meets zoning requirements, the Zoning Department will have to say it meets them. If it needs a variance, the developer would have to make the argument at the zoning-board level." The developer who is requesting the zoning variance will typically argue that the new building or development is "not going to impact the community in any way" and will present arguments why the zoning variance is needed.
Two Cases
Let's take a look at two residential condo projects, one a renovation, the other a new building. Amorosi recalls a $6- to $7 million renovation in a suburban condo development in which his firm, which also has an architectural department, redid the roofs, decks, façade, basements and foundation. "The management company," he says, "reached out to two or three engineering companies, and hired us." The firm met with the association's board of trustees, which told the company what they were looking for and at what budget.
"We did some inspections and came up with a scope of work that met the budget and corrected the major problems. We met with them throughout the process maybe three or four times. Everything was on schedule," Amorosi says. His firm has an entire page of case studies online at: http://www.thefalcon group.us/case_studies.
Dallendorfer of FXFOWLE detailed Hudson Hill, one of his firm's recent development projects in the Columbus Circle area. "Alchemy Properties, the owner, is a repeat client, and we already had a consultant team in place after having worked on multiple similar projects for the client," he explains. "The developer's strategy was to attract first-time buyers and long-time neighborhood residents who were currently renting with high-end one-, two- and three-bedroom apartments. The façade was articulated to take advantage of natural light and views to the west and toward the Hudson River. There was no public process, since the building was developed as of right."
Going Up?
Though the slowed economy has meant far fewer new development projects in New York City over the last couple of years, construction cranes and plywood-fenced building sites are still a very common sight in both Manhattan and the other boroughs. Regardless of whether it's in the midst of a building boom or a recessionary lull, raising a new residential building in the Big Apple takes the contributions of a wide array of experienced professionals, not only to plan the structure itself, but to navigate the governmental and municipal aspects of the process as well. Something to contemplate the next time you walk past the future home of a new co-op or condo building.
Raanan Geberer is a freelance writer, editor, and reporter living in New York City.