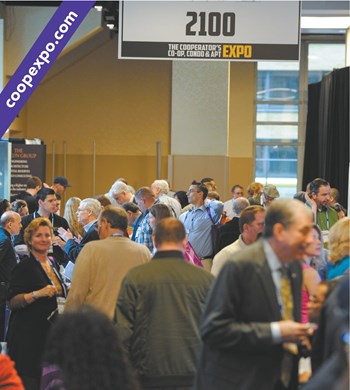 Managing a co-op or condo association can be a challenge. If you're new to the board of directors or are an old hand at association leadership, you need to know what it takes to keep your community running smoothly. In any type of economic climate, there are vendors to hire, budgets to balance, and complaints to field. How do you find the right professional for each job that needs to be done? How do you keep the property looking sharp? Where do you turn for answers without breaking the bank on legal fees?
Mark your calendar for The Cooperator Expo New York on Wednesday, April 13, 2016, which has for nearly three decades provided answers and proven solutions for board members, property managers, real estate professionals, shareholders and unit owners. The largest real estate showcase of its kind, the Expo will once again make its appearance at the New York Hilton Midtown—with nearly 300 exhibitors providing everything from asbestos abatement to window replacement. Hours are from 9:00 a.m. to 4:30 p.m.
A Winning Formula
So, round up your colleagues, and get ready to spend a day at the Expo. You could win great prizes including a special Expo giveaway. You'll also gather useful information and resources at the seminars, and get invaluable, free advice from a variety of legal, management, financial, insurance and maintenance experts—all of whom have volunteered their time to address your concerns.
Last year's grand prize winner of the $3,500 reserve fund giveaway is Bernice Schoket, president of the board of directors at Three Lincoln Center Condominium on the Upper West Side at West 66th and Amsterdam Avenue. A full service, white glove building in the Lincoln Square neighborhood, the 347-unit condo building has a professional round-the-clock staff and concierge, reception/party room, health club, doorman, pool and garage on the premises.
Board president for the last five years, and the longest serving person on the board, Schoket said she has attended the Expo for the past five years and finds it very worthwhile and educational. "There's a lot going on and it's a good way to learn and keep abreast of new products and new services needed by your buildings. I highly recommend that people attend."
She loves serving her Upper West Side building, which she notes has a wonderful staff and terrific amenities. It's also in a great location, she says.
Schoket added that the reserve fund award money has yet to be allocated for a specific usage. "That's to be determined. It went right into the reserve fund."
For more information on everything the Expo has to offer, visit the Expo website at coopexpo.com.
Advice, Information and Networking
Seminars running throughout the day will bring you up-to-date information on management, legal, financial and other hot-button issues. Among the presenters in 2016 will be Verizon, which provides telecommunications solutions for multifamily communities; Meridian Capital Group, which provides financing solutions for co-ops and condos; the New York State Energy Research and Development Authority (NYSERDA), which offers a host of government-backed energy incentives for residential, commercial and multifamily buildings; United Metro Energy Corporation, which provides heating oil and natural gas solutions for multifamily buildings; and Yardi Systems, a developer of software solutions for the real estate industry.

And you'll have a full day to talk to exhibitors about the products and services that are essential to every community's success, from paving to painting, and parking to pest control. If your board or association has been suffering from bedbug infestations, a leaky roof or watching utility bills skyrocket, the exhibit hall aisles will be your path to answers and potential savings. Professionals will also be standing by to answer all your questions for free at our ask-the-expert advice booths.
And, if you plan to attend the seminars, come early for valuable instruction, free advice—and even FREE admission!
Debra A. Estock is managing editor of The Cooperator.