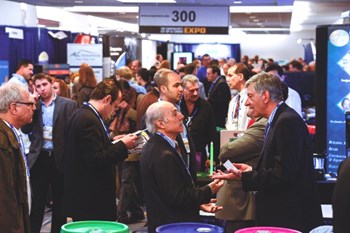 Whether you've just taken a seat on your co-op or condominium board, or are an old hand at association leadership, the position can be a challenge. There are vendors to hire, budgets to balance, and complaints to field. How do you find the right professional for each job that needs to be done? How do you keep the property looking sharp? Where do you turn for answers without breaking the bank on legal fees?
Mark your calendars for The Cooperator's Co-op & Condo Expo on Tuesday, April 21, 2015, which represents its 28th year of providing answers to board members, property managers, real estate professionals, shareholders and unit owners. The largest real estate showcase of its kind, the Expo will again make its appearance at the Hilton New York in Manhattan—with nearly 300 exhibitors providing everything from asbestos abatement to window replacement. Hours are from 9:00 a.m. to 4:30 p.m.
A Win-Win Situation
One of the most lucrative reasons to attend this year's Expo is a chance for board members to win $3,500 for their board or association's reserve fund, courtesy of Yale Robbins Publications, LLC, the parent company of The Cooperator. So, round up your colleagues, and get ready to spend a day at the Expo. You will gather information and resources at the seminars, and get invaluable, free advice from a variety of legal, management, financial, insurance and maintenance experts—all of whom have volunteered their time to address your concerns.
The 2014 reserve fund winner was Mary Fischer, president of the board of directors at Georgetown Mews, a residential co-op encompassing 60 acres in Kew Gardens Hills, Queens. The complex features 930 garden-style apartments.
"At Georgetown Mews, we had been looking to invest in solar paneling, but eventually ran into some snags on that," said Fischer. "Still, the money—placed in the reserve fund—will be beneficial because the community here is over 60 years old, so there are lots of ideas in regard to what projects to invest in with that extra cash...and plenty of projects to pick from!"
Fischer has served on the board since 1995, and as president since 1999. During that time, she's exhibited a steadfast passion for her community, which she calls a "family-oriented, BBQ-friendly place." Her dedication is further demonstrated by consistent attendance at The Cooperator'sCo-op & Condo Expo. In fact, she has missed only one local Expo (that she remembers) since starting her time on the board at Georgetown Mews.
"I like to go and try my best to plan my attendance well in advance, and I usually bring my super and my property manager, " she says. "In previous years, we've found vendors like laundry companies and engineers for Georgetown Mews, and there are always lots and lots of good ideas to explore," she says.
Only board members qualify to enter the reserve fund drawing, and attendance at the Expo is required for eligibility. For complete details on how to enter the reserve fund drawing, visit the Expo website, www.coopexpo.com.
Advice, Information and Networking
Seminars running throughout the day will bring you up-to-date information on management, legal, financial and other hot-button issues. And you'll have a full day to talk to exhibitors about the products and services that are essential to every community's success, from paving to painting, and parking to pest control. If your board or association has been suffering from bedbug infestations or watching utility bills skyrocket, the exhibit hall aisles will be your avenues to answers.
And, if you plan to attend the seminars, come early for valuable instruction, free advice—and even FREE admission!
Register today—go to www.coopexpo.com to find out more. You won't be disappointed!