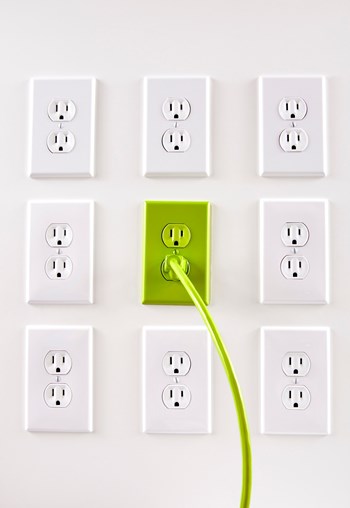 Legal issues, maintenance challenges and the ever-present Fire Department of New York (FDNY) and Department of Buildings (DOB) compliance requirements are just the tip of the iceberg when it comes to the obstacles condo and co-op boards, along with their owners and building managers, struggle to navigate. With challenges constantly mounting, it's easy to understand how energy management can fall to the bottom of the proverbial "I'll get to it later" pile. Unfortunately, this lack of focus can often cost boards thousands of dollars.
The biggest mistake boards and managers make is not having a simple energy management plan. From the most close-knit four unit co-ops up to the largest high-rises, a simple plan that includes benchmarking usage, reducing consumption, budgeting cost and community engagement will yield noticeable results.
The sustainability of our planet depends on the combined efforts of owners and managers to reduce consumption. We all benefit by collectively reducing the amount of energy and water used through reduced cost and the improved sustainability of our environment. Ensure your strategy doesn't revolve around simply taking bids once a year for procurement contracts, but rather focus on the long-term benefits of a constantly-evolving strategy. Below are ten suggestions to consider when creating an energy management plan:
1. Price Isn't the Most Important Factor
The price you pay, which is definitely an important factor in a complete energy management plan, shouldn't be the most important part. Boards often make the mistake of thinking the lowest price today will be the lowest long-term price. In truth, a low price often carries high risk for the end user. Today's "low rate" might wind up costing you more in the long run. The fine print in some contracts allows some energy supply companies to bypass costs such as line loss or balancing charges. Be sure you have your attorney review contract language carefully and work directly with a company that allows flexibility based on your board's needs. While no one can predict the future with absolute certainty, you can be sure that seasonality has a substantial effect on the ever-changing energy markets. Be sure your procurement strategy avoids locking in fixed prices during the hottest and coldest times of year.
Demand a personalized strategy that looks at the long-term benefits of managing energy costs and usage rather than simply getting 'the lowest rate.' Clients often take the lowest price only to realize three months later their rate is variable or that their contract has a usage restriction that can't be removed, thereby creating unwanted fees or penalties.
2. Fixed Pricing Doesn't Guarantee Savings
Be aware of the "fixed prices guarantee savings" myth. While fixed prices certainly hold value, they do not guarantee savings and are often presented as if they do. Fixed price contracts are a great way to budget for energy expenses and protect during fly-ups in utility pricing brought on by extreme weather. Price protection should be viewed as an insurance policy, and every good financial strategy has insurance; Energy management strategies shouldn't be any different. Variable pricing has its place as well. However, variable rate products should only be used if the risk tolerance of a board is high. Variable products are often tied directly to gas and electricity markets and can be just as volatile as utility pricing during peak weather periods (think polar vortex).
3. Partner with An Energy Advisor
What happens when your sales representative doesn't bother to remind you that your contract will be expiring soon? An expired or poorly executed contract can be financially devastating if you are about to be converted to a sky-high variable rate at the end of your original agreement. Find and partner with a company who views themselves as energy advisors. As in many industries, some low level "brokers" promise the world and then disappear before your contract expires.
4. Invest in Sustainability
Don't be scared to invest in upgrades that conserve energy. Many low cost energy reduction items such as light bulbs carry substantial rebates that lower the overall cost and help shorten payback periods. The savings created by energy-efficient lighting often pays for the upgrade. Also check if your supplier offers any bill funding programs that build the cost of upgrades into your energy contract.
Many large buildings have the ability to sell excess energy back to the grid through curtailment programs referred to as 'demand response.' Cutting usage during peak times means the utility actually pays you for energy. Interesting concept, right? Consult with an energy advisor that offers access to these utility and state run programs.
6. Benchmark Current Usage
No mater how much energy (or water) your building uses, benchmarking usage is paramount. This process documents your building's current use and lets you compare improvements year-over-year.
7. Know the Needs of Your Association
A customized plan will take into account your usage patterns and all of the areas that can be leveraged for improved energy asset management; this might include demand response and utility bill audits.
8. Take Advantage of State Incentive Programs
With big incentives for lighting and other energy efficient upgrades, your energy advisor should be pointing out ways that you can reduce consumption and recover monies paid in the form of system benefits charges.
9. Find a Dedicated Energy Partner
Having an energy partner that understands and discusses all of your options and helps navigate the ever-changing energy market is priceless. Because seasonality and other factors play a part in pricing, work with an advisor who understands the effects of these factors and tailors a plan that yields the greatest long-term value. Many clients don't realize the pitfalls of entering into a contract during the hottest day of the summer (or coldest day of the winter) because of seasonal pricing pressure. As mentioned earlier, this poorly-timed strategy can prove costly in the long run.
10. Engage Your Owners and Community
Community engagement is often overlooked as a way to improve energy reduction and increase sustainability efforts. Create an energy team and appoint an energy director that will help establish an energy policy that includes an objective while establishing accountability and ensuring continuous improvement through goals that are reviewed regularly.
Through improvements in board policy and partnering with a firm that offers more than just attractive rates, your community will uncover ways to reduce overall energy and water consumption leading to consistently lower energy bills. By taking the time to engage your community while committing to education and constant improvement, you will avoid the mishaps many boards seem to face.
Nate Kessman is the vice president of business development at Great Eastern Energy. He is a graduate of Johnson & Wales University in Rhode Island, where he studied culinary arts, and has a bachelor's in business management.