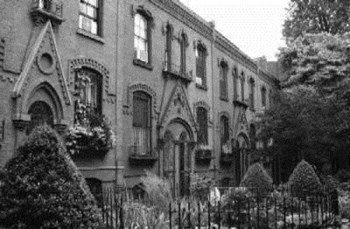 The facades of New York City's residential buildings are part of what gives the city its character. From historic brownstones to modern high-rises with glass-curtain walls, New York City's buildings are recognizable to people around the world and give a face to each of the five boroughs. But in addition to providing a distinct look to New York's buildings, every façade must be able to hold up to the elements and withstand damage and leaks. An understanding of the materials used and city laws is crucial to ensuring your building's facade receives proper maintenance and routine care.
Types of Building Facades
One only has to stroll down the street to observe the most common types of building facades: brick, limestone, sandstone, brownstone and the glass steel curtain wall.
"Lewis Mumford called the last three decades of the 19th century, the 'brown decades,' partly because of the preponderance of brownstone and other masonry," says Rick Bell, executive director of the American Institute of Architects (AIA) NY Chapter. "From the subsequent 'white city' of marble and limestone, we have seen in the later part of the 20th century an internationally valid style of using glass to achieve greater transparency, as well as a reflection of the masonry legacy of our early 20th century heritage. As we start the 21st century, an eclectic combination of facade materials speaks of our greater diversity and sense of adventure."
"The most common facades in residential buildings are brick of many colors, but mostly hues of tan, earth and red. Also common is terra cotta, which is fired ceramic almost like pottery," says Jerome Yates, chairman of Yates Restoration Group in the Bronx. "The most interesting facades are those made of stone and terra cotta. They are usually have ornamental cornices, water tables, quoins, balustrades and are architecturally interesting. Terra cotta is the most difficult and the most interesting to maintain and repair."
"All of them have a porous value to them. More porous materials are the most delicate. Brick is more durable and the most inexpensive," says Wayne Bellet of Bellet Construction Co., Inc., in Manhattan.
Façade fads are often confined to certain decades, serving as a marker for when they were installed. "The 1960s spawned a rash of white-glazed brick buildings that were notorious for cracking and spalling and requiring either massive repair or replacement sometimes of entire facades."
According to Yates, buildings with wood façades are less common. "They disappeared in the fires of the 18th and 19th centuries, or were replaced by high-rise buildings that made more economical use of the land," he says.
"Technology has changed, and so has facade construction and meaning," says Bell. "In past years, just as you could tell a book by its cover, one could understand building construction by facade details: The Woolworth Building bespoke solidity. Nowadays, facades enclose more like clothing: diaphanous on festive occasions, traditional when the context demands."
The Impact of Local Law 11
Façade maintenance on most city buildings (those of six or more stories) is governed by Local Laws 10 and 11. Local Law 11 modified a 1980 law (Local Law 10), which was created after pedestrian was killed by a piece of falling masonry. Local Law 10 generally required that the exterior walls of buildings be periodically inspected by a licensed professional engineer or registered architect. In 1998, Local Law 11 was enacted. In addition to an increased scope of required façade inspections, the law includes detailed requirements for repair of deteriorated facades.
"An engineer must assess the condition of the building facade and determine a five-year maintenance program before the next inspection," says Monty Mitchell, chair of the building codes committee of the AIA New York chapter. "If the building facade is found to be hazardous, [the engineer] must notify the building department and have the owner construct a sidewalk bridge."
"Prior to Local Law 10, façade maintenance was the repair of leaks and the removal of ornamentation that was in obvious danger of falling," says Yates. "Preventative maintenance was unusual and if done at all, very limited in scope. Most design professionals at that time had graduated from college with almost no background in maintenance and very little appreciation for its benefits. The prevailing attitude of building owners was that stone and brick and terra cotta would last forever. That was an acceptable attitude and one that was very convenient to have in the 1970s and '80s, when New York's economy was depressed and money for maintenance was scarce. Local Law 10 changed that. Now buildings are routinely inspected, major work on facades is commonplace and façade maintenance appears as a specific item on each building's annual budget."
"The problem presented by terra cotta facades is addressed in Local Law 11. The building engineer needs to sound the facade to determine if the terra cotta has become loose and spalling," says Mitchell. "Traditionally, facades are tied back to common brick and the water gets behind the facade and freezes, causing the facade to separate. Current technology creates a cavity behind the facade to allow the water to drain to avoid trapping water."
"Local Law 11 upgraded the requirements for all facades in buildings with six or more stories. The code falls short in that if you have a four-story brownstone and something falls. That can cause just as much damage as a 100-story building," says Bellet. "But I think it's one of the most helpful responsible codes that the New York City administration has come up with."
"By law, all New York City buildings above six stories in height must be inspected at five year intervals by a licensed professional engineer or a registered architect. The professional is responsible for noting conditions requiring maintenance and repair, and for filing his report with the Department of Buildings," says Yates.
If you're hiring a contractor to do routine work or repairs, Bellet cautions boards to follow due diligence. "If I were on a board, I'd be interested to know how contractors are insured. A certificate will typically tell you the holder, the insured and any additional parties. But what you don't know is what type of work the contractor is insured for. To find this out, you can call the producer, whose name is always on upper left hand of the certificate," says Bellet. The insurance producer, he adds, will also let you know exactly what type of work your contractor is insured to do. You might also ask the insurance producer for declaration pages of the policy, which will tell you the specifics of the coverage.
Construction and Waterproofing
Some parts of the façade are more prone to leaks than others. "Metal and wood cornices are a very vulnerable part of the façade. They take a beating because the majority of moisture hits it first," says Bellet. These areas, as well as the rest of the façade, should be waterproofed and monitored for any damage or leaks.
Building construction has changed dramatically over the years. Bellet, who has 30 years of experience in the field, has been witness to the proliferation of waterproofing, which was once done almost randomly.
"Now it's much more formatted and designed. Facades are highly engineered compared to what they used to be. Local laws 10 and 11 gave birth to a valuable science, and the level of contractors' professionalism has risen exponentially," says Bellet. "The materials we're now using, the supervision the projects are given are giving people higher quality than in the past. We never had 30-year roof systems. It's amazing that we have the technology to make a roof system or any waterproofing membrane that will last 30 years."
Given the age of many of the city's buildings, waterproofing is a fairly recent—yet critical—addition to façade installation and upkeep. In fact, prior to the 20th century, and even into the 1900s, waterproofing did not exist. "Traditionally, buildings were constructed of massive materials, such as thick stone and multiple courses of brick, that were thought not to leak."
For example, a church constructed during the 15th century might have walls that are six inches thick. "This did not require additional waterproofing or anchorage of façades. Drainage and roofing problems were the primary causes of leakage. Sometimes the walls were not massive enough and should have been waterproofed, but it took many failures to convince designers and builders of early buildings that solid masonry could leak."
Modern construction, however, required waterproofing. "Science and engineering in the 20th century resulted in the abandonment of empirical design and the use of engineered systems using lighter materials hung from structural framing, such as steel and concrete," says Yates. "Whether initially recognized or not, these buildings did allow water through their masonry skin and the buildings did leak. It is now understood that good design allows for the escape of water that passes through the building envelope, and for the use of materials that waterproof the interior of the structure and allow for the channeling of water out of the structure at points of entry such as window and door openings, changes in direction, expansion joints and the junctures of dissimilar materials."
"Cavity wall construction is attached to the structure to allow for movement in the façade," explains Mitchell. "The facade is supported with shelf angles so it is not load-bearing."
Maintaining the Façade
Routine maintenance will ensure that your façade withstands the elements and stays attached to the building.
"Masonry and stone buildings are generally cleaned with water, either under pressure or not, detergents or specially-formulated cleaning materials," says Yates. "Good practice would dictate performing test samples before starting work using various different methods of cleaning. The simplest, least injurious and least complicated solution is to use the method that works during the testing process."
Heavy-duty cleaners are not always required for certain facades. "Sometimes, especially when dealing with limestone, the simplest solution—using only clean water, is the best solution," says Yates. During the process, you'll also want to caulk expansion joints and window frames, re-point mortar joints and replace defective materials, he says.
"Cleaning metal and glass buildings follows the same basic process, although high-pressure water and detergents usually suffice for cleaning. Caulking of seams and glass/metal interfaces is typical of maintenance," says Yates.
Your building's super is an integral part of keeping the façade well maintained and free of damage. "The super serves as a liaison between the contractor and building, and is a valuable resource and should not be cast aside," says Bellet.
"The super is in the front lines of façade upkeep. Your super should inspect the facades for obvious damage and request that the people in the building keep him or her up-to-date on evidence of leakage," says Yates. "A super should make certain the drains are kept clean, flashings are caulked and that problems are reported as soon as they occur."
Stephanie Mannino is a freelance writer and a frequent contributor to The Cooperator.