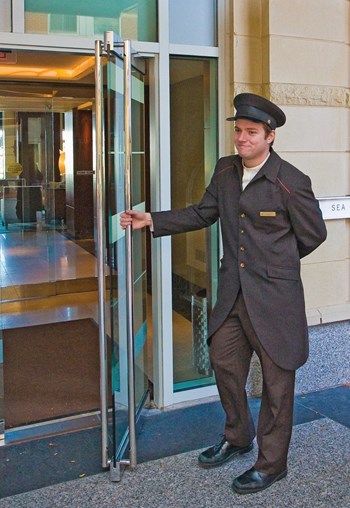 At one point or another, we've all felt like this:
I gotta go to the dry cleaners, get the computer fixed, pick up groceries after the ballet recital, wait, a client meeting just popped up, oh, and I have to make reservations for mom's birthday dinner, still need to get the carpet cleaned. The sink's broken now? Where did I put my keys?
Sometimes there just isn't enough of you to go around, and it can be overwhelming. So, where do you turn when you need a few extra pairs of hands? Some condo and co-op residents turn to concierges. There are several different types of concierges, but we'll focus on independent and residential ones. Before we get deeper into the two, what they do, and how they do it, let's take a quick look at the history of the profession.
Keeper of the Keys
The word 'concierge' is French. It means "keeper of the keys." In the Middle Ages, a castle's concierge took care of visiting nobility. He kept the keys to visitors' rooms and ensured that guests had everything they needed during their visit. People liked the concept, and the trend eventually spread from the castle to all kinds of buildings. Today, the concierges we see most often are ensconced behind desks in the lobbies of high-end hotels—but they're becoming more commonplace in high-end residential buildings as well.
Independent concierges primarily work as independent contractors. They can help you manage errands from picking up the laundry or groceries, to tracking down the purple python you need to match the décor for your upcoming party—like Nakia Brown, CEO of Manhattan-based Yes, Your Highness! concierge service was once asked to do.