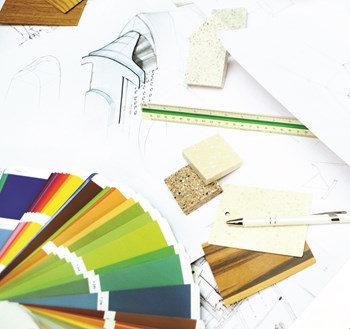 Space, the final frontier. The continuing mission to explore strange new ways to manage what little space is available to the urban dweller, to seek out any possible alternative to bulky appliances, to boldly find creative solutions to the fact that our living area remains constant even as our amount of - belongings, junk or stuff, (call it whatever you want) - seems to grow each day.
Because the ever-constant lack of space is a problem that plagues common areas and living spaces alike,
The Cooperator
in an ongoing series will explore specific space-related issues. This article will examine laundry amenities in common areas and built-ins and how they can save space efficiently without sacrificing practicality.
Do Your Own Laundry
Appliance manufacturers today are keenly aware of how limited space can be in co-op apartments and condominiums, and they are doing everything they can to address the age-old storage question. Take laundry machines, for example. The improvement of laundry appliance technology gives apartment and condo-hunters more to consider when trying to choose between a building with its own laundry room or an apartment or condo with its own built-in washer/dryer unit.
Roger Fisher of Hi-Rise Laundry Equipment Corp. in Richmond Hills, Queens, says there are some drawbacks to having individual laundry equipment in each apartment. Plumbing systems are needed to supply a whole network of individual laundry units, and thus, are often more costly than locating all of the washers and dryers in a centralized location.
So how can building associations make the most of the limited space available? Well, some major manufacturers produce 20 lb. front load washers that almost double the capacity of the older models - using the same amount of floor space and same connections as the older utilities.
These new machines are not only space-efficient but water-efficient as well. Howard Herman of Wascomat Laundry Equipment in Inwood points out that saving water volume can control costs three different ways. First, you have to pay less for buying the water, heating the water, and disposing of the water, so therefore, these new machines save both water and space. And, newer laundry equipment is more compact with models where you simply stack the dryer and washer atop one another.
But, according to Randy Karn, director of product management for Maytag Commercial Laundry, smaller appliances are not necessarily better for the environment. "Smaller washers or dryers just mean less laundry can be done per load with no overall improvement in water and energy efficiency," Karn says. "Larger capacities are always a positive."
Stackable and User-Friendly
Karn recommends staying with a full sized front-load washer with a full sized dryer on top and these units are also stackable to save space. Pricing, though, is usually higher with stacked washers and dryers over side-by-side units for two reasons. Whether you cut back on capacity or not, you usually add complexity to a product by stacking it, he says, considering that the unit requires additional support structure, safety measures and easy-to-reach controls. It is also more expensive to manufacture units with these types of product-specific components, Karn notes.
While a laundry room may be an invaluable amenity to most homeowners, it usually doesn't serve as the deciding factor for a discriminating apartment buyer, according to Rebecca Alston of the interior design/architectural firm Rebecca Alston, Inc. A laundry room is designed to be efficient and can certainly increase property value of an individual unit if it is well-maintained, she says. A building's laundry room should also be equipped with professional-grade commercial-style machines that can take the wear-and-tear of high volume usage. Karn adds that computerized controls on the newest models make the units exceedingly water-efficient and user-friendly.
But for some, nothing can match the convenience and luxury of having your own washer and dryer unit inside your apartment if that amenity is allowed by the co-op or condo board. You don't have to worry about whether the machine will accept your quarter, or whether the change machine will be working today, and best of all, you don't have to compete with 70 other residents for the four dryers in the building. So manufacturers have built units to a size and shape to address small apartment owners' concerns. Most washers and dryers are designed so that they can easily fit into and accommodate corner locations.
Two Units in One
Maytag has a new product that is really two dryers in the space of one. The unit, explains Karn, contains a regular dryer on the bottom and a drying cabinet on top. One of its great benefits is the fact that it can reduce flat drying time. It will also freshen many dry-clean-only clothes with a steam heat cycle that removes smoke and normal food odors and reduce wrinkling from tumble-dried clothes.
Companies like Malber and Equator also offer space-saving washer/dryer combos with improved functionality. One particular Malber combination unit measures only 23½ inches wide by 33½ inches high by 20? inches deep, needs no special wiring and works on standard 110-volt power. Designed to trap moisture, it requires no venting giving a homeowner more latitude in where to place the unit. Eight different rinse and wash programs can all be activated at the touch of a button and allows the homeowner to wash and dry clothes quickly in the same unit. The unit features two drying programs-from 90 to 120 minutes for very dry; and from 30 to 60 minutes for ready to iron fabrics. Low in consumption, the unit washes and rinses up to 11 pounds of dry laundry using only 13.7 gallons of water.
Equator's combo washer/dryer is also small and efficient, measuring only 33 x 23½ x 24-inches. It may be the perfect solution for the elderly, students, condo and apartment dwellers, or anyone with limited space, as it requires no conventional washer dryer hook-ups. The manufacturer even boasts that the unit will cost only $3 per year to operate with a gas hot water heater and $10 annually with an electric water heater.
So whatever your needs, appliance manufacturers are designing their products with economy of space in mind.
Alexander Higle is a freelance writer based in New Jersey.