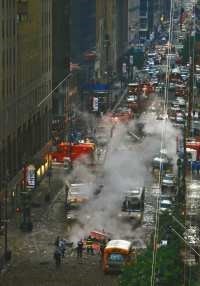 Apartment buildings, whether cooperatives or condos, are inherently fragile. When that many units share the same plot of land, and the same walls, the same floors, the same elevators and stairways, standpipes and boilers, lobbies and roofs, disasters—whether broken water pipes or the tragic in the case of decomposing bodies, fatal fires or building explosions—have the potential to spread quickly. Thus, when something nasty befalls a building, the first order of business is to contain the problem.
Once the situation has been contained, however, then the hard part begins: the cleanup. How do buildings get back on their proverbial feet after a major maintenance meltdown? What should a board or property manager know about dealing with disasters? And is there a way to prevent bad things from happening in the first place? Let's take a look.
Water, Water Everywhere
When contemplating disasters, the first example that comes to mind is usually fire. Fire, after all, can spread quickly and devastate an entire city, and do so in spectacular fashion. Much of Lower Manhattan was burned to the ground by the British in the War of 1812, and, while our ability to prevent and combat fires is far superior to what it was two hundred years ago, fire remains a big fear.
But it's not fire, but the element that puts it out, that causes most of the damage to New York residential buildings.
"Look around, and see how many buildings are burning right now," says Ron Alford, the founder and president of Disaster Masters Inc. in Queens. "None. On the other hand, water damage is going on right now, as we're talking," or as you're reading this.