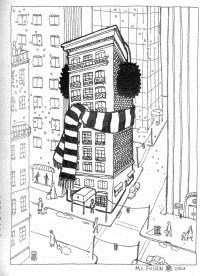 Although it may seem like the dog days of summer were just upon us, it's not too early to start thinking about winter. The cold months are right around the corner, and although last winter might seem like a distant memory, it's time to begin preparing for this winter season. Taking the time to address winterization now will go a long way in making sure your co-op or condo is ready to face the elements.
It's a Year-Round Job
In an ideal situation, the board, super and any maintenance personnel should be up to speed on maintenance issues all year round. But preparation for winter should begin in late summer, as you take stock of any necessary maintenance needs.
"First and foremost, one should always be mindful of the old adage that prevention is cheaper than the cure," says Richard Silver, president of American Pipe and Tank Lining Co., Inc., based in Manhattan, which includes the subsidiaries New York Wood Tank and Manhattan Cooling Towers.
"Building maintenance personnel should have a maintenance schedule, which addresses what areas of the property are most affected by the elements and require more attention—usually the side facing north—and monitor those areas closely," he says.
"Good winterization begins well before the winter arrives. You can say that with almost any trade, but mine in particular," says Wayne Bellet, president of Manhattan-based Bellet Construction, which specializes in exterior construction.
"Realistically, people don't come back into the city in full force until after Labor Day. At the latest, winterization should be done during the time between Halloween and Thanksgiving," says Bellet. "It takes a lot of forethought because if you have to do something like lintel replacement, you have to calculate how much time it will take and work backwards from your deadlines. The best time to winterize is when you don't have to."
Exteriors and Windows
Buildings are exposed to the elements all year long—from stifling summer heat to below-zero temperatures in the dead of winter. Such extreme temperatures, as well as regular wear-and-tear, can leave the exterior vulnerable to further damage during the cold months.
"There's not a whole lot of preparation in terms of the exterior, as long as it's in good shape," Bellet says. "If there's water penetration or water migration coming into a building around window frames, those areas have to be maintained before winter. If that's not addressed, it's almost impossible to maintain during winter because temperatures are so low."
The building super or maintenance personnel are often the first line of defense against exterior damage. One cost-effective solution is to invest in caulking to seal exterior areas prior to cold weather.
"The simplest thing to do is apply building sealant generously and replace caulking," says Bellet. "Every window has a bead of sealant, and a tube of caulking is relatively cheap—around $6. I'm amazed when people don't maintain perimeter sealants. It's relatively easy to do, and it will help prevent wind-driven rain, snow and soot from getting inside, as well as decrease noise from outside. Many people do this once and think they won't have to maintain it, but that's not true."
If windows need to be cleaned, it's best to do it while the weather is mild. "Now is the time to wash windows because once it gets cold the washer will freeze," says Bellet. "Do one last wash before it gets cold."
In addition to basic window maintenance, some windows could present more serious problems.
"There is a little piece of metal over every single window head, which is a steel lintel that supports the brick above the window. They rust, bow and fail eventually. It's a very good idea to maintain them before winter arrives. If they rot, the bricks above them will become loose brick. Even before that happens, you'll have water penetration. It's a good thing to do before you're in the middle of the winter and you have water leakage. This is a more expensive repair that involves scaffolding, similar to that of a window washer, and includes more extensive work done by a professional. You need to do it before the cold weather," says Bellet.
Boilers and Heating
"The most important thing that buildings can do is to ensure that the heating plant has been overhauled and cleaned, and any leaks noted in the prior winter cycle have been addressed well before the heating season," says Michael J. Wolfe, president of Midboro Management, Inc., in Manhattan. "If there are any problems, they can be addressed before residents are affected and it will save the building from paying for an emergency repair and avoid loss of heat."
According to Wolfe, this includes changing furnace filters, looking at all oil bearings on pumps and motors, checking the blower belt and making sure blower doors are replaced properly. In addition, you'll need to make sure that all vents and exhaust flues are unobstructed and that all connections are secure. He also notes that all apartment fireplace chimneys should be cleaned.
"An ideal maintenance program includes servicing radiator or coil unit steam traps every five years," says Wolfe. "It is very common for the major overhaul and the vacuuming of the boiler tubes and breeching to be performed by an outside vendor. Supers should be trained to change radiator steam traps, and should strictly follow a daily and weekly heating system maintenance schedule during the heating season."
Of course, as with any service, the cost will vary from building to building. There is no standard price for an overhaul, and your fee will depend upon the specific work performed.
"The overhaul and cleaning can range between $1,100 to $1,500 depending on size of [the] burner/boiler, amount of waste removed and replacement materials, if any," says Wolfe. "If a building has an annual service contract, the cost of the overhaul [labor] is included."
It's also imperative that boards consider ever-rising heating costs long before the winter sets in.
"This is the time of year when you should be doing something to protect yourself from rising costs. As the heating season gets closer, prices go up," says Bob Welch, sales manager of the New York Metro Region for Hess Corp.
"If you contact your energy supplier, they'll look at winter time usage. At Hess, we'll price it out for customers and if there's a fixed price that they're comfortable with, we'll lock it in for them. We're like an energy consultant to our clients. We can give them all the information and advice so they can make an educated decision about buying gas or oil," says Welch.
Roofs and Water Tanks
Winterization isn't limited to heating and the building exterior. The roof is another area that must be addressed prior to winter.
"Every roof should be of a light color. The majority today use an ultraviolet roof coating. The coating is a petroleum-based product that has the viscosity of oil and combines silver, which can literally be painted onto the roof. It's inexpensive and you get incredible coverage. This creates a barrier that will insulate your building and protect it against ice and snow," says Bellet.
Many buildings have water tanks that are located on the roof. Simple monitoring of these tanks is often the responsibility of the super, although more involved repair work and inspection might require the board to call in a professional.
"If any of the controls that operate the wood tanks and the piping aren't properly insulated or protected, water can freeze within the tank. If the tank isn't protected property and ice forms on the top, the controls will stick and you will run out of water. If there are any leaks on the tank and it freezes, it will expand the wood. When it thaws the leak will have expanded," says Silver. "All piping that's exposed to elements should be properly insulated and anything that's exposed to the weather or elements must be protected from freezing."
"When it comes to roof water tanks, a building super can usually see leaks, missing or damaged insulation and roofing paper. However, climbing the vertical ladders for an in-depth inspection of the tank controls should be left to a professional," says Silver.
The Residents' Role
In addition to overall building maintenance, there are actions shareholders and owners can take to aid in preparing for and getting through the winter.
Wolfe offers a number of suggestions. "Setting the thermostat around 68 degrees can lower costs; keep shades open during the day so the sun can heat your home; use weather stripping and/ or caulking around windows and doors; make sure radiators are unobstructed from furniture and other items; remove window air conditioning units if possible, or install a cover to prevent drafts," he says. "Year-round guidelines for conservation are of course turning off lights and electrical supplies when not needed and replacing incandescent lighting with compact fluorescent lighting. And make sure windows are closed in the locked position to avoid heat loss."
"Top floor tenants typically have terraces and balconies. They can keep drains clear and check to see if there's broken glass or perimeter barriers that need repairs. In the winter there's a lot of expansion and contraction, now is the time to correct these things," says Bellet.
"Some people might have sprinkler lines and have irrigation systems that they forget to turn off. These must be drained and emptied. Drains have to be cleared of leaves and foliage so slush and ice can flow. One should be concerned with the weight of standing slush," says Bellet.
What to do During the Winter
Preparing for winter ahead of time is essential, but the work isn't done once the temperature drops. This is especially true in regards to heating costs and fuel use.
"During the heating season, building personnel should closely monitor fuel consumption in reference to past consumption for similar degree days. Any notable increase should be addressed immediately," says Silver. "Some causes of increased consumption could be from a leaking oil tank—it is mandatory to test some to comply with present codes and ordinances—or leaking steam piping or steam traps. Presently, companies like American Pipe and Tank have all the trained personnel and state-of-the-art equipment to check for leaking traps while the heating system is operating with no interruption to the building."
"As a general rule, from independent sources, utility costs can be reduced by as much as 20 percent when a building's heating and cooling systems are maintained and serviced at proper intervals," says Silver.
As a cost-cutting or preventative measure, all mechanical devices must be maintained and serviced if necessary throughout the winter months.
"Superintendents should monitor all seasonal equipment on a daily or weekly basis," says Wolfe. "Cleaning and maintenance of all winter-affected components of the building is essential. Supers should review with the building's boiler mechanic how the control board works and how it should be set. They should have accurate digital thermometers to monitor and respond appropriately to individual heat complaints."
"Building superintendents should be the eyes and ears of the building and bring to management's attention areas of concern," says Silver.
Waiting too long to address serious winterization problems could likely result in exorbitant repair fees, mechanical failures and, at the very least, inconvenienced and upset residents and shareholders. Avoiding these problems in the first place is the best way to maintain your bottom line, keep your co-op or condo's facilities in good working order and ensure that no one is left out in the cold.
Stephanie Mannino is a freelance writer and published author living in Hoboken, New Jersey.