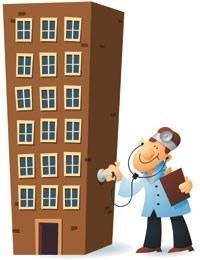 While residents may breathe a sigh of relief when winter and its piles of snow, slushy puddles and blasts of arctic air finally exits the scene, co-op and condo buildings can't always shake off the ravages of the season so easily.
From leaking roof membranes to dirt-infused carpets, winter's effects need to be addressed as soon as weather permits. The waning days of winter present managers and supers with the opportunity to inspect the property and plan needed repairs.
Unfortunately, building boards and managers who haven't lined up a host of professionals to attack those problems well in advance may find themselves scrambling to close the door on winter and prepare for the coming spring. By the time city trees begin to show hints of green, contractors already have their work lined up and their schedules filled.
A Top-to-Bottom Review
Wayne Bellet, president of Manhattan-based Bellet Construction, says exterior inspections should be on a building's schedule year-round. Doing a basic examination of the property three times a year, he says, can catch small problems before they become large ones.
Starting at the top, Bellet says that a walk on the roof—with digital camera in hand—can unearth a variety of potential problems. "When you walk the roof after the season changes, look at it with new eyes, evaluate it, and then do it again four months later," he suggests. Things to look for include clogged drains, open bulkhead doors, loose railings, and frozen turbine vents. Check for exhaust fan motors that have seized up. Look for roof membrane that has bubbled, 'alligatored' or cracked, and for openings around the base of vents.