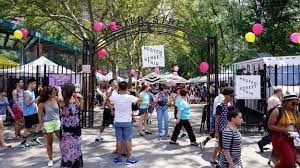 For just over a decade, a small paved lot on the Lower East Side of Manhattan sandwiched between high school tennis courts and Seward Park (the oldest municipal park in the nation) has been the site of a popular weekend street fair in the spring and summer. The lot is at the eastern terminus of Hester Street, which was truncated 65 years ago to make way for the Seward Park Cooperative, and is part of the co-op's 13-acre property. In an effort to revive an underused space, provide an amenity that could be enjoyed by the whole community, and give a nod to Hester Street's past as a hub for hawkers and push-cart vendors, the co-op's board contracted with The Big Social, LLC in 2010 to bring in vendors from all over the city and beyond to sell their food and beverages, arts and crafts, vintage wares, services, and other goods. The event was an instant hit, and soon became a weekend staple of the neighborhood—drawing crowds, incubating businesses, providing entertainment, and inspiring creative pursuits.
At the end of the 10-year agreement with The Big Social last year, the co-op sought other competing bids for operation of the Hester lot fair, and after a full review process, decided to contract with a different operator to give the Hester Street event a reinvigoration and new spin.
Starting Saturdays later this month, the lot at Hester and Essex will host Hester Flea—where a mix of both established and new vendors will sell all kinds of items, from vintage furniture to indie designer clothing to handmade tableware, along with a selection of food vendors. The space will once again be a magnet for discovery and entertainment, bringing together a vibrant and diverse crowd to a corner of the Lower East Side once known as the Bargain District.
Hester Flea is the latest launch for the operators of other popular markets throughout New York and beyond, including the historic Chelsea Flea, Brooklyn Flea, and LA's and Williamsburg's Smorgasburg food fairs (currently on hiatus due to COVID). Founder Eric Demby says of the newest Flea at Seward Park, "We're excited to tap into the creative and culinary energy of the neighborhood and to follow on the legacy of the previous operators to build a market that excites locals and attracts visitors from Downtown and beyond."