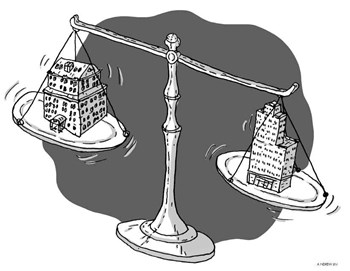 Even the best-run buildings have their bad days, and minor (sometimes not-so-minor) emergencies. In times like these, it's vital to have a capable, experienced manager at the helm who can handle problems efficiently and minimize their duration and severity.
But what makes a capable manager? What traits do such professionals have in common? How to good managers apply these special skills to the New York market? And finally—and most importantly, as grace under pressure is what makes a manager "good"—how do good managers handle the thorniest issues?
Key Character Traits
You would think there are two or three key characteristics that all good managers would have in common—but start talking to managers individually, and you get a range of opinions about the makings of a manager.
"Honesty and integrity," offers Jeffrey Heidings, president of Siren Management Corp. in Manhattan. "But they come with any standard of professionalism in any business."
Heidings also cites organizational and administrative skills as "immensely important."
"You don't need to know how to take a boiler apart and put it back together again," he says. "But you have to be able to process the paper. Because the business is so paperwork-oriented, if you're not organized, something will eventually fall through the cracks."
Even something as routine as changes of address can be a thorn in a manager's side. "You have to make sure every address is changed to reflect the fact that you're taking over," Heidings says. "Otherwise a bill might get sent out to the old managing agent, and by the time it's forwarded to you, you've missed a payment and owe a late fee. You have to be fastidious."
Mark Levine, vice president of Excel Bradshaw Management Corp. in Carle Place, says that first and foremost, good managers have to be knowledgeable and patient. But there's more to it than that.
"You have to know when to take the lead, and when you need to take a back seat to the board," he says, alluding to the political nature of the job. "You also have to be easygoing. Stuff comes up, and you sometimes take the brunt of it—you can't take it personally."
And Ed Rich, the principal of Silver Rail Property Management in Manhattan, says, "The biggest thing is communication. Property managers manage a high volume of properties, so it's important to communicate with everyone internally and externally."
One of the many benefits to keeping lines of communication open is to not step on anyone's toes—or ever appear to step on anyone's toes.
"What I might think is not what the owner might want to do," Rich says.
Maryann Carro-Caputo, president and owner of Tribor Management in Flushing, agrees.
"Disclosure is vital. You have to give the board as much information as possible," she says. "Problems sometimes occur because I went ahead and didn't tell anybody, or didn't communicate soon enough. People feel slighted when they're not in the loop."
Carro-Caputo also suggests that, like a good doctor, a good manager has an innate facility for keen diagnosis.
"It's essential to focus on the real nature of the problem," she says. "Sometimes the real problem is not readily apparent, and you have to examine it to find it out."
Like the good doctor, however, even the best manager cannot cure everything. "New York is like a running river," Carro-Caputo quips, "and sometimes, you drown."
Winning Strategies
In times of crisis, good managers shine. It helps that they have so much experience doing so—in New York, of course, there's a crisis just about every day.
"You have to take a calm approach to the situation," Rich says. "Crisis doesn't mean panic. You have to consider all the issues, talk with the appropriate people, and move forward to get things executed as soon as possible."
Good managers operate like field generals, delegating authority, keeping tabs on everyone and everything, and constantly moving the process forward. To that end, e-mail has revolutionized the industry.
"E-mail has been a godsend," says Heidings. "A problem comes in, I can disseminate information in seconds, and receive replies in minutes."
Rich has Silver Rail completely online—his clients can log in round the clock for updates. He posts information such as inspection times, and also includes photographs, which makes conference calls—another Internet convenience—more efficient.
"In New York, you have owners who don't live in the city, who don't even live in the country," he says. "With the pictures online, people can all be looking at the same thing, so it makes the conference calls easier."
While good managers may think like General Patton, they mustn't act like him. Sometimes they have to convince boards to do things the boards don't want to do. Often they have to mediate between the board and an angry shareholder—an angry shareholder who will only get angrier after the board's decisions are executed.
"One of the hardest aspects of the job," says Levine, "is doing assessments at properties where the boards maybe don't have a lot of money—convincing them that they have a fiduciary responsibility to do something that they personally might not want to do."
While board members generally have aptitude for, and certainly interest in, real estate as a business, they tend not to be real estate professionals. Managers, of course, are.
"You have to have a good business mentality," says Heidings. "I spend a lot of time making smart business decisions, making smart business deals. This goes all the way down to dealing with contractors."
One of the challenges of the job is to teach board members the subtleties involved with running a business—which is, at the end of the day, what a co-op or condo is.
"Long term, I try and teach the boards how to run a business," says Carro-Caputo. "One they are educated, you can play more of an overseer role. It makes things go more smoothly."
Nobody Knows the Trouble I've Seen
And what kind of crises do good managers help manage? Some make for good copy. Rich tells of a situation in which a boyfriend and girlfriend were renting one of his apartments. They two had a huge fight, and both of them abruptly moved out—without notice, and without bothering to pay the rent.
"Eventually, we had to get into the apartment," he says. "When we did, there was nothing there larger than a quarter. Everything in the place had been smashed to bits."
In other words, when the couple broke up, they really broke up.
Most crises, however, are not colorful stories but dull headaches.
Carro-Caputo took over a facility that was in technical default because a bank requirement to repair roofs was not acted on with sufficient speed. She had to bring in new contractors and convince them to work quickly—a Herculean task in itself—and then convince the bank that they were in fact acting with purpose in meeting the requirements.
"It was hell in a bucket," she remembers. "But we got it done."
Levine has had to handle the problem of shoddy work in a relatively new construction. "You have to figure out how to rectify it," he says. "The owners figure they won't need maintenance for thirty years, and two years later, the building's falling apart."
This crisis involved significant time on the phone with any number of people—board members, owners, tenants, original sponsors, architects, engineers, building inspectors.
In a walkthrough of an old building, Rich noticed that the staircase was cracked on continuous floors. Because of his sharp eye, the structural damage was repaired, rather than patched up with spackling and fresh paint, saving the co-op from certain damages—monetary as well as potentially physical.
Heidings manages a three-year-old condominium whose foundation was damaged by workers doing excavation at a parking facility next door. Tenants were complaining of doors not aligning, cracks in the bathroom walls, and so forth. Heidings came in, assessed the problem, and called in a small army of professionals to redress the situation.
"Structural damage is a goody right now in New York," he says. "There's lots of new construction, so things like that are bound to happen."
If you hear about nightmare problems like those and your head begins to spin—if you're like most of us, in other words—you probably don't have what it takes to be a good manager. ("It's not a fun industry," says Carro-Caputo with a laugh.)
But if you are energized by these large problems, and the idea makes you want to roll up your sleeves and get to work, management might be your calling.
Greg Olear is a freelance writer and a frequent contributor to The Cooperator.