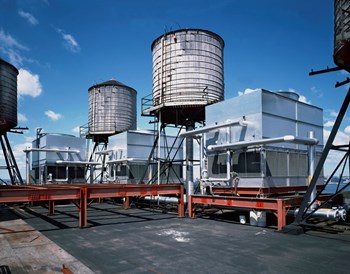 Approximately one year ago in response to an outbreak of Legionnaires' disease at five buildings in the Bronx, New York City passed the most comprehensive and toughest law in the country for the monitoring of cooling towers and their mandated maintenance. Officials claim that there is 100% compliance with no new outbreaks of the disease reported in the South Bronx, where the community was taken by surprise and 12 people died and more than 120 were sickened.
Legionnaires History
In 1976, the American public became aware of this previously unrecognized disease, when 221 out of the more than 2,000 people who attended an American Legion convention in Philadelphia became sick with a form of atypical pneumonia that caused chills, fever, a cough and other flu-like symptoms.
Of the 221 people who caught the disease, 34 died. The disease was named Legionnaires' disease, and the bacteria that causes it was named Legionella pneumophilia, popularly known as just Legionella.
Over the years, many people forgot about the disease, but it didn't go away. There have been outbreaks in Michigan, Louisiana, Los Angeles and Virginia during the 1980s and 90s, and just recently an outbreak in Hopkins, Minnesota affected 20 people and caused one death.
In New York, the first occurrence happened in February 2015 at Co-op City in the north Bronx. In July and August of that same year, the disease popped up again affecting at least 110 people in Lincoln Hospital, the Concourse Plaza shopping mall, the Opera House Hotel and several other buildings, all in the southern part of the Bronx. A dozen people died, all of whom also had suffered from other medical conditions. . The authorities traced the problem of the South Bronx outbreak to the cooling towers of the affected buildings, and ordered that they be decontaminated within 14 days. And in late September 2015, one person died and 15 people fell ill in Morris Park in the Bronx with cooling towers again suspected as the cause.
Who is Affected?
Legionella bacteria thrives in standing water environments, and is generally found in central air conditioning systems, whirlpools, water-heating systems, humidifiers, showers, hot tubs, fountains and HVAC cooling towers. Most often affected are hospitals, schools, offices and shopping malls. Then why should cooperators and condominium owners be concerned? Because there are cooling towers in many multifamily buildings. Remember, one major outbreak occurred in Co-op City.
According to the 2015 Housing Supply report issued by the New York City Rent Guidelines Board there are approximately 2,631,000 housing units in multifamily buildings in New York City. Approximately 445,700 of these units or roughly 17% are located in co-op and condominium buildings. Of the 3,820 buildings which registered cooling towers in New York City as of March 30, 2016, approximately 30% are multifamily buildings indicating that a projected minimum of 133,500 co-op or condo units are located in buildings with cooling towers. As buildings with cooling towers tend to be larger than average residential buildings, the number of units located in such buildings is in all probability a bit higher.
What the Law Says
Local Law 77 of 2015, which took effect last August, consists of four main provisions. It requires:
(1) All cooling towers to be registered with the city's Department of Buildings (DOB) before initial operation as required by the DOB commissioner. Owners of existing cooling towers had to have registered their towers within 30 days of the law's effective date. Thus, owners of existing cooling towers were required to register their towers by September 17, 2015.
(2) It requires owners or operators of cooling towers to discontinue use and to notify DOB within 30 days of removing or permanently discontinuing use of a cooling tower and to include in their notice a statement that the tower was drained and sanitized in compliance with Department of Mental Health and Hygiene (DOHMH) rules for discontinuance of a cooling tower.
(3) It requires owners and operators to certify annually that the cooling tower was inspected, tested, cleaned and disinfected in compliance with section 17-194.1 of the Code and the rules of DOHMH, and that a maintenance program and plan has been developed and implemented as required by such section. The owner or operator must submit the certification by November 1, 2016 and every November 1 of each year thereafter, or as otherwise specified in DOB's rules.
(4) Failure to register a cooling tower or submit a certification or statement required by new article 317 is a major (also called Class 2) violation. The statutory maximum for a major violation is $10,000.
Where Does Legionella Come From?
Cooling towers act sort of like a radiator in a car. They do exactly what their name implies. "They provide cooling for water that circulates in HVAC systems," says Jim Kruer, vice president of TechH2O, Inc. in Bayport, New York. "They typically sit on the roof or sometimes adjacent to the property, say, in a parking lot." They're large structures. "These bacteria love heat, water and darkness," Kruer continued, making cooling towers a perfect home for them. Like Zika-carrying mosquitos, Legionella's main environment is stagnant water.
"Legionella bacteria occur naturally in the environment," says Dr. Edward Sobek, president of Tennessee-based Assured Bio Labs. They are an environmental isolate. "You find it in standing or slow moving water, streams, ponds or the like." The liquid environment inside a cooling tower is similar. "Legionella gets into cooling towers by a process called 'blown-in', it's in the air. Hot summers promote its growth."
Maintenance and Cleaning
"It grows in biofilms," Sobek explained. According to Dictionary.com, "biofilms are complex structures adhering to surfaces that are regularly in contact with water, consisting of colonies of bacteria and usually other microorganisms."
They can form on solid or liquid surfaces. "Biofilms are like onion skins," Sobek said. "They have many, many layers. A single treatment might be ineffective or may not kill all the layers. If you don't do regular proper maintenance to eliminate the biofilms, the treatment chemicals don't get far enough down in the layers underneath and the bacteria will continue to grow."
"The process for treating a cooling tower is straightforward and can be completed in a day," says Peter Grech, chief education coordinator for the Superintendents Technical Association of New York and a resident manager of an East Side cooperative.
"It is generally done at either the beginning or end of the air conditioning season, the spring or the fall. The first step is to shut down the system. Then the tower is isolated by shutting its valves. No water can come in or out," Grech says. "Once isolated, it's drained. Depending on the tower type, either the interior membrane is removed and cleaned or the interior is simply cleaned with a high pressure wash, then again with a disinfectant and then rinsed several times. Once dry, the unit is examined for residue, rust stains and metal corrosion. If those conditions exist they are treated by scrapping and patching and then primed with a metal primer like rustoleum. "There is one last examination done," continues Grech. "The necessary chemicals to correct the pH in the unit and correct against an environment hospitable to Legionella are added. Then the unit is either covered and sealed for the winter or powered up for the coming warm months."
"The primary chemical agent used to fight the bacteria and disinfect the cooling towers is chlorine bleach," explained Kruer. Other commonly-used chemicals and techniques to fight the bacteria are copper-silver ionization, chlorine dioxide and moist heat sterilization. "Yes, the chemicals are dangerous," says Kruer, "but they don't escape the towers," so there is no concern for residents living in buildings that have cooling towers.
"The best method of treating towers for Legionella," said Sobek, "is a continuous chemical feed. Without the law 'best practices' would mean quarterly monitoring to see if the bacteria is there. If it's present then clean it. One surefire visible sign of a problem is algae in the cooling tower." Asked if there is a critical mass for Legionella both Sobek and Kruer said, "Yes. It's in the low 100's per milliliter of water."
The critical phase in the process of Legionella spreading is when biofilms aerosolize. They do this as part of their life cycles. Pieces break off and mix with water which causes them to aerosolize into droplets. The bacteria are then present in the droplets. The ventilation system delivers the bacteria through the air intake, and subsequently infects the building's occupants.
While treatment is the best way to control Legionella in cooling tower systems, the treatment must be done regularly. Kruer suggests at least twice a year and Sobek, four times a year. "Once you have it you're likely to have it again," says Sobek.
Better Safe Than Sorry
As concerns the law, the regulations, which may seem onerous, are excellent. They provide a framework within which not only the spread but the inception passed the point of 'critical mass' can be controlled. This is certainly a case of better safe than sorry.
Kruer summed it up best. "Reduction in Legionnaires' cases is proof that the law is working and that it's a good law. Building owners get the benefit of protecting themselves from litigation and the people working and living in their buildings are free from worry about the disease. It's like an insurance policy."
A.J. Sidransky is a novelist and a staff writer for The Cooperator and other publications.