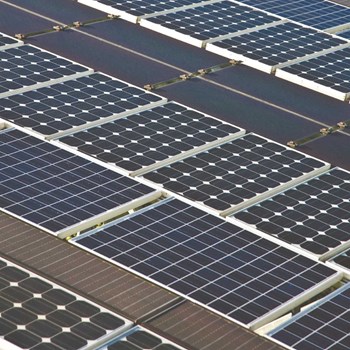 From paying $15 to travel 10 gridlocked blocks in a taxi to shelling out about $10 for a kosher deli sandwich, New Yorkers are used to paying through the nose for the privilege of living in their beloved city. But the dollars really add up, and they don't stop at transportation and entertainment. Fuel prices continue to climb as well, and as city dwellers are forced to pay more and more to heat, cool, and power their homes, real estate developers and building administrators are looking for alternative ways to power their buildings while saving themselves and their residents money.
Uniquely Expensive
The sheer expense of living here—along with today's movement of "going green"—has encouraged more and more buildings to look at solar power as a possible solution to both the energy and financial crunch so many are experiencing.
"Currently there is actually about two megawatts of solar potential installed in New York City," says Erik Nevala-Lee, program coordinator with GreenHomeNYC, an environmental organization dedicated to promoting green policies and products in the city's residential buildings. "It's split about 50/50 between private development (residential and commercial) and institutional buildings."
According to Nevala-Lee, as recently as 2005, there were about 45 photovoltaic projects in New York City generating a total of just 1.1 MW. Clearly, solar's reach is expanding. So much so in fact that the U.S. Department of Energy designated New York City a Solar America City in the spring of 2008 and awarded the city funding and technical assistance for more solar programming.
How Does it Work?
Solar power, which is the end product of solar electric or photovoltaic technology, has a number of serious benefits, including: a minimal impact on the environment, while utilizing the sun's abundant energy. Captured-and-stored photovoltaic energy can be used in a multitude of ways, in small residential homes to large commercial industrial businesses, and everywhere in between.
According to www.powernatura lly.org, the New York State Energy Research and Development Authority (NYSERDA)'s renewable energy programs, "Commonly known as solar cells, individual PV cells are electricity-producing devices made of semiconductor materials. PV cells come in many sizes and shapes—from smaller than a postage stamp to several inches across. They are often connected together to form PV modules. Modules, in turn, can be combined and connected to form PV arrays of different sizes and power output. These connected systems integrate easily with existing energy supplies."
"There are two kinds of solar really," explains Nevala-Lee. "Solar hot water, which as it says, heats hot water, and photovoltaic or PV, which is electricity generation."
In solar hot water systems, a small motor cycles water through tubes that are then heated by the sun. This water is then passed through to a boiler at a higher temperature, thus using less energy to produce hot water.
After a roof inspection, customers can install a roof-mounted solar panel, says Nevala-Lee. The cells on the panel convert solar energy into a direct current of electricity utilizing the photovoltaic effect.
"The photovoltaic array produces a direct current that has to be passed through an inverter to get AC," explains Nevala-Lee. "It then goes into your main circuit box. From there it splits to the home to be used as power and also connected to your meter to feed excess energy back into the grid. The PV will replace the equivalent power you would normally pull from the grid with what it produces."
Is Solar for Us?
In terms of deciding whether or not hooking up to the solar revolution is for your own building, there are a few factors that should definitely be taken into consideration. The system needs complete year-round access to the sun's rays for a greater part of the day, and a roof that is in decent condition. According to NYSERDA, some systems require as little as 100 square feet while others can require 1,000. And not only is space crucial, but since these systems have a 20-year-plus lifespan, it's vital that they be installed on a roof that's in good repair and will not need replacing for some time.
If you are concerned that your residence or building is already hooked up to a more traditional gas-fueled power source, then fear not.
"Most solar projects are retrofits," says Nevala-Lee. "This stems from having much more existing building stock than new construction. Because of the upfront costs, you have more solar in existing buildings that can reap the benefit of the energy payback… Developers, in many cases, will walk away from a project once it's done and might not be able to recoup all the initial cost of a solar system through sales."
But now, some additional solar and wind incentives have gone through courtesy of New York State Gov. David Paterson and the recent government bailout package. According to Tom Lynch of NYSERDA, the expansion of incentives now allows for industrial/commercial properties to receive some of the benefits that used to only be offered residentially, including selling energy back to Con Edison or the energy grid. Industrial and commercial tenants can sell back up to 2 megawatts, limited to peak load, and 25 kilowatts residentially.
It has also—due to some recent state legislation—become easier for building owners to install green roofs with solar components. Under the new legislation, building owners in New York state cities with a population of one-million-plus will receive a tax credit equal to $4.50 per square foot when they install a green roof. This figure is the equivalent of approximately 25 percent of the costs such as materials, labor, installation and design typically associated with the building of a green roof.
Pros and Cons
Issues of practicality and expense have made solar power a stretch when it comes to workable energy alternatives. And, according to Nevala-Lee, the investment is more than worthwhile.
According to the PlaNYC page on the city's government website (www.nyc.gov) "New York City is uniquely expensive." PlaNYC 2030, Mayor Michael R. Bloomberg's long-term development plan for the city, primarily focuses on the five key dimensions of the city's environment—land, air, water, energy and transportation. The strategic master plan aims to make New York City a model for cities in the 21st century. "Our taller buildings require more wires and cranes to carry equipment to rooftops, while extensive interconnection requirements and inspections delay implementation. For these reasons, installed costs for solar are approximately 30 percent higher than in New Jersey and 50 percent higher than in Long Island," according to PlaNYC.
"There is a need for upfront investment and while incentives go a long way towards making it affordable, and I think perfectly attainable for residential customers, there are those who don't have the desire or means to put up money at the get go," says Nevala-Lee. "This is sometimes seen more specifically with developers of new projects, because once it's built and sold, they have no financial investment in how the buildings."
However, fret not, there are ways to get a lot of your initial investment back through a variety of rebate programs offered by a number of different organizations and government authorities.
There is the investment tax credit for 30 percent of the cost of the project, and up to a $2,000 deduction for the tax year, however—this incentive, as well as many other current offers, is expiring at the end of this year.
"I think the general feeling is that it will be extended," says Nevala-Lee. "But there will probably be changes for projects starting 2009."
New York, at the state level, has a tax credit for 25 percent of the cost of the project up to $5,000, but the size of the project is limited up to 10 or 15kW. "New York City also has a property tax abatement of 8.75 percent of cost per year for 4 years up to $62,500," adds Nevala- Lee.
There are a numerous benefits of utilizing solar power, whether it's generating hot water or electricity. "If your system generates more electricity than you need, then it spins backwards and you can receive a credit from the power company," says Nancy Norman, a media spokesperson for NYSERDA. "In order to do this, simply call the electric company and then you can sell back energy to them. Additionally, it is easy on the environment and causes no air or water pollution," while not expending a finite resource.
Solar power, in the long run, does indeed pay for itself. By reducing energy costs, utilizing solar power increases the value of any property.
"From a government level it reduces the associated costs from health and pollution issues and also hopefully means they don't have to be building more power plants to deal with rising energy demands," says Nevala-Lee. "Also having local power generation takes pressure off the grid and its capacity, helping to save on energy delivery and maintenance."
Another aspect to consider is peak energy demands. The energy that your system accumulates during the day becomes clutch during these times. "At peak energy times the city has to bring the least efficient, oldest and most expensive power plants online," says Nevala-Lee. If solar can replace that need, it has even greater potential savings. From an environmental perspective, it means less oil and coal, which means improved air quality and less greenhouse gases. From a social perspective, it means more jobs, in both manufacturing and installation.
Solar power also shows consumers the benefits of alternative energy sources. Customers are utilizing a natural resource to power small residential homes and sometimes, large companies. Having solar panels and local energy production makes people more aware of their energy usage, how they are using it, and how it is being produced. A more direct relationship is created, and like the example of the benefits of local food production, people can be more connected to the process.
The Future of Solar Power
New York City is taking many steps towards the utilization of solar power as an efficient and prevalent source of alternative energy.
The Riverhouse, green condominiums located where Rockefeller Park meets the Hudson River, is one prime example of the green potential in the city. Riverhouse is about 25 percent to 30 percent more energy efficient than the New York State code requires, and according to their website, utilizes photovoltaic cells on the roof.
Other notable solar projects in the city include several in Battery Park City (i.e., The Solaire, The Tribeca Green and Millennium Towers) and 4 Times Square, a commercial office building that was one of the first projects of its type and size to adopt standards for energy efficiency. The building saves 20,841,269 kWh/year, according to NYSERDA, and in a 1.6-million-square-foot complex, that is not a small accomplishment.
As for the future of solar power in the coming years? The Center for Sustainable Energy at Bronx Community College reports an optimistic outlook.
"The PV market grew by 56 percent in 2005, and the average market growth rate during 2002-2005 was 31 percent," according to their January 2006 report. "If the city's PV market continues to grow at its current pace, it is estimated that up to 52 MW of PV could be installed within the city by 2015."
Time will tell whether complex economic and environmental pressures will ultimately lead to the widespread use of solar energy in New York City's residential market. In the meantime, it may be up to the few pioneering boards and buildings willing to make the leap to solar to set the pace for the rest of the city.
Emily Abbate is a freelance writer and a student at the University of Connecticut.