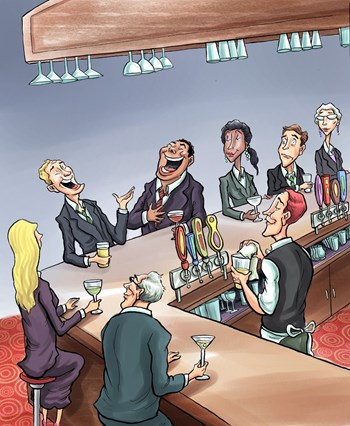 They say there are eight million stories in the naked city, and when you're an attorney working for a co-op or condo in New York, you may find that some of the best of them are happening to you.
While some may think that handling the legal issues of the Big Apple's co-ops, condos and HOA communities means just being bogged down with boring paperwork dealing with bylaws, rules and regulations, truth is the job can often resemble something out of a Judd Apatow movie. Attorneys see and litigate it all—from the dotty neighbor lady, who starts rearing goats in her backyard to the suspected mobster who may or may not be running a house of ill repute out of his condo apartment.
Attorney Jeffrey Reich of the Manhattan-based law firm of Wolf Haldenstein Adler Freeman & Herz, LLP, says that in order to counsel boards of New York City co-ops and condos effectively, one has to be part attorney, part therapist and part law enforcement agent.
He has seen his share of memorable incidents, whether it was the convicted felon trying to move into one of his buildings—carrying a gun to boot—or needing to rent apartments in a building across the street to take photos of unlawful tenants. It's all part of the job for him.
While Reich has had his fill of typical legal cases like condo conversions, lease negotiations, and routine board-shareholder matters, he adds that "we have had an inordinate number of situations where people are not stable. Whether they roam the hallways naked, smear their feces on the wall, or we are dealing with shut-in cases, there is a lot that is involved."