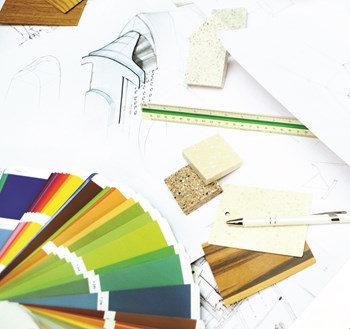 Stephen Carter, principal and founder of the Carman Group, a Manhattan- and Connecticut-based firm that specializes in design and project and construction management is well accustomed to applying his creativity and passion for details to other people's living spaces. But last year, he completed one of his most ambitious endeavors yet - his own home.
Using the techniques of pre-planning and construction supervision that he regularly applies to facilitate a smooth and successful renovation, this past spring he completed the merger of three cooperative apartments into one 3,200-square-foot residence. And he did it in five months less than predicted.
The four-bedroom, four-bath apartment, which is on lower Fifth Avenue in the West Village, had its humble beginnings as a 1,442-square-foot, two bedroom. Although Carter and his wife knew that children were somewhere in their future, they were content with the amount of space. "When we started looking 10 years ago," says Carter, "We looked at 120 spaces in and out of the city. Our initial criteria were good view, lots of natural light, and convenience of amenities like transportation, shopping, and so forth."
Right after they purchased, according to Carter, the couple was planning some minor renovations when the studio next door came up for sale. "So, we bought it," he said. "That provided another bedroom, bathroom and what I call "˜support spaces,' [like] a laundry room and more storage."
While it was obvious that the enlargement would enrich the apartment, Carter says he asked some questions about exit considerations before the purchase of the studio. For example, would someone buy a three-bedroom, three-bathroom apartment in that area? Feasibility studies are one of the services that Carter offers his clients. He examines the space, the building schematics, and other factors to determine if a project is first of all viable, and second, cost-effective.
After deciding to go forward, Carter says, "We did some quick changes to the plan and re-filed. We extended our lease at the rental." Carter is a firm believer in owners vacating an apartment while work is being done. "It's a quality of life issue. The dust of construction is hazardous to your health," he says. "You always think you can keep it out with plastic, but you can't. If you choose to remain in the apartment, there are costs associated with breakage, theft and cleaning. Doing the construction in phases always takes longer and costs more than just moving everyone and everything out."
The most recent addition to the apartment occurred about two years ago when the adjacent neighbor started hinting that she was thinking of selling her one-bedroom apartment. At that point, Carter did another feasibility study. This time, the Carters wanted more space, as he and his wife were expecting to adopt twin girls. Carter says, "I did a study on capital gains. I compared the price of construction versus selling and buying new. I considered renting out and buying new. In the end, we looked at comparable spaces and were disappointed. We couldn't find the square footage, or the properties didn't meet our light, view and convenience criteria." Still he says they wouldn't have bought the unit "if we weren't enlarging the family."
In fact, there was nothing comparable for the Carters to look at. "We were pioneers, establishing a new price level for that neighborhood," he says. "Our market now is people who would find this kind of apartment, but in some other neighborhood, like the Upper East Side."
The three apartments round the northwest corner of the building. The Carters paid market value for the one-bedroom, and after conversations with their building's board and management company, also purchased the hallway space that connected the three apartments from the co-op. According to Carter, this enriched their plans by providing additional storage space and a nicer entry. "That was a direct product of working with the board," says Carter.
Work Begins
Carter lives by a version of the old motto "measure twice and cut once." If a project is going to take 15 months, he says, "About eight months are the planning stage, and seven months the construction stage. There are numerous issues that affect a project, such as material selections, fixtures, regulations and limitations set by the building."
Part of Carter's pre-design planning - whether for a client's project or one of his own - includes setting a construction budget. He did this by calculating the blended purchase price per square foot and comparing it to the sales value. The difference became his working budget, which in the end exceeded actual costs.
"A design architect will go and measure and do several designs to accommodate what we might find when we open the walls," say Robert Tobin, president of BC Interiors, Ltd., the general contracting company that completed the Carter apartment project. "That way, we can make changes on the spot for a lot less money than a contractor will charge."
When Carter develops plans for a project, it can run 50 pages. He details not only where everything goes, but also what products should be used, what colors, what finishes, down to the bulbs in the fixtures. The detailed plans then serve as not only blueprints, but also shopping lists. He knows which items need to be ordered and how far in advance to insure that they are available when the contractor reaches that stage of the construction. It's not cost-effective for a crew to stop work while they wait for the recessed lighting to arrive, so Carter makes several scenarios for areas where changes might come up. "Forecasting the problems beforehand makes them easier to deal with when they come up," he explains.
"There are key times when it is important to be on site," says Carter. "Discovery is one of them." While most design architects only generate plans and file them, Carter acts as project manager, shepherding his designs to completion. For his own project, Carter was on site every day. Discovery is the phase of construction where a contractor starts looking at what is actually in the apartment, and whether the building schematics of risers, pipes, wiring and ductwork are accurate. Often, they're not. For example, sometimes, you knock holes in the walls and find risers where you don't expect them. "We knew there was a gas line in the new apartment's kitchen," details Carter. "I made two plans contingent on what we found, one reflecting moving the pipe, one keeping the pipe. We determined during discovery to keep it due to cost and time considerations. Then we had to rethink some of the storage dimensions."
Another key time to have a project manager on site is called the framing period. This is the time when the skeleton of the apartment goes up. Carter says, "It's essential to make sure the layout of the plan is correct. Better to make adjustments before the walls go up, because if a wall is missed, that could take thousands of dollars and days to fix later."
Taking the Extra Step
Tobin says his company does what they can to minimize the disturbance construction causes. "We mop the floors every day," says Tobin. "And we do a lot of protection work, putting down plastic and vacuuming. We behave as guests in the building. In fact the lady next door loved [one of the workers]. She made him tea, he washed her windows." Another technique Tobin was able to use was doubling up his staff. Instead of the job taking five workers 14 months, it took 10 workers seven months. "It cost me the same thing," says Tobin, and freed him up that much earlier to take on another job. In addition, Tobin credits his field supervisor Robert Watson's expert oversight for keeping the project moving smoothly. The increased staffing strategy saved Carter money that he would have had to spend on rent while the family was vacating the apartment.
"I estimate that Stephen put one extra month *into the planning of the job, which saved us two to three months on the construction," says Tobin. "It's much cheaper to pay more money for the design work in advance."
Good-Neighbor Policies
A project of this magnitude will inevitably disturb the neighbors. Carter's solution was to communicate with them as much as possible. "The board here was very good to work with. They have good regulations on construction," says Carter. "We signed an alteration agreement stating rules of construction and courtesy issues. Then we wrote letters to all the neighbors within earshot on the floor and above and below." In the end, the project was loud and dusty anyway. According to an anonymous source at the building, some people are still not quite over the upheaval, but the Carters threw a thank you party for the neighbors when the project was done, and for the most part, post-work relations are good.
The construction, which began in June 2002, was completed right after the New Year in 2003. The Carter family then moved into the luxuriously appointed space, which included four bedrooms, four bathrooms - including the twins' double bath with matching pedestal sinks - two offices, a gourmet eat-in kitchen, and formal dining room. Other amenities include a wine closet, his and hers walk-in closets in the master bedroom, and recessed light and music speakers throughout the apartment.
"I'm pleased to say that we're happy with the results. We followed all the design decisions we made early on, except to change a few outlets. Everything worked out great, the storage, the kitchen, and the closets," enthuses Carter. Yet ever the perfectionist, he adds one afterthought. "I might have installed central air"¦" Who knows, the apartment below might become available soon.
Rebekah Mulhare is a freelance writer and frequent contributor to The Cooperator.