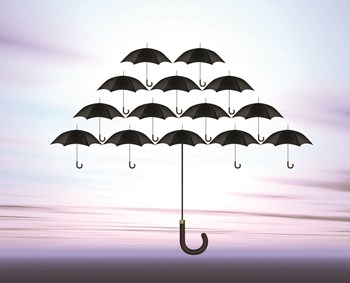 King Kong, aliens, asteroids, 9/11, Superstorm Sandy, fires, floods and whatever else the world throws at us, disaster and New Yorkers are no strangers, whether on screen or in real life. While the greatest tragedy is the loss of life, disasters also cause major financial and reputational damage, often leading to the temporary shutdown of companies or even putting them out of business altogether.
If you call New York home, however, keeping your business running probably won't be your only priority. You've spent years saving up, searching far and wide, applying and (eventually) getting into the perfect condo, co-op or HOA, and you finally feel that you've found your place in the world. You're on the board, and you've spent countless hours working to improve your building and make it more attractive, thereby protecting your hard-earned investment. Then, with what seems like no warning, disaster strikes, and all of your work is undone in an instant. Your building is significantly damaged. Worse, your standing in the neighborhood is undermined when it appears that your building's preparations and response were less than stellar. Residents complain to the local media, and several critical blogs are published and widely shared in social media. Even after the repairs are completed, your building just isn't so desirable to live as it once was. No homeowner wants to go through this scenario.
It's true: disasters aren't always at the top of our minds. Our buildings always have pressing issues to resolve that are much more urgent than some imagined future catastrophe. As a result, some communities rely on luck alone to get them through tough situations.
A much better bet is to integrate disaster planning into your regular processes and discussions and make it a part of your building's very identity.
Disaster Planning Made Easy
Planning to succeed in the event of a disaster doesn't need to be hard. Disaster planning also doesn't have to involve a binder full of pages and pages of documents and forms that take forever to put together and then never get looked at again. In fact, the most important steps you can take mesh perfectly with items your board already reviews regularly, like preventive maintenance, sharing information with residents and social-activity planning. Understanding how these topics connect with disaster planning can help your board raise their day-to-day importance in the grand scheme of things.
1. Preventive maintenance: before you plan, maintain!
When most people think about maintenance, they only consider the problems posed during normal conditions. "Sure," the thinking goes, "our roof is leaking, but it's only a little bit." As many learned in Superstorm Sandy, however, small leaks quickly turn into larger, much more expensive to fix leaks during extreme weather conditions.
The most effective and cheapest way to get your building through a disaster is to make sure it is in great shape before the disaster occurs. Little things can make a big difference, such as: verifying the strength of gas, electrical and water connections and making sure they are easy to locate; regularly ensuring that drainage ways are clear of blockages (storm drain, sewer, rain gutters, etc.); and checking that evacuation routes are free from obstacles. With every maintenance item that is considered (especially those big-ticket items like roof repair/replacement), it is important to ask how that project will make the building stronger in the event of severe weather or other potential disasters. When residents realize how much they are risking by delaying important maintenance items, it can become a lot easier to make the budgetary case for needed repairs.
2. Sharing information: help your residents help themselves
When disaster strikes, the people who fare best are those who have the right information and resources immediately on hand. Your building and its board cannot force residents to plan, but you can (and should) encourage them to do so and provide helpful information to get everyone started on the right path. Fortunately, there is plenty of good individual-level planning information out there, including that from Ready New York and Ready.Gov. Even better, the Federal Emergency Management Agency (FEMA) provides printed emergency planning guides free of charge, which you can distribute to your residents. These include materials formatted in Spanish, Braille and large print, as well as information specific to individuals with disabilities, the elderly, pet owners and children, and are available at http://www.ready.gov/publications.
3. Social activity planning: build community
In true catastrophes, professional emergency responders are instantly overwhelmed. When you really need help in those circumstances, the first place you will turn is to the people closest to you--your neighbors. Experience and research have shown that people with strong community bonds make it through disasters much more smoothly and with less outside assistance than those without. It is a great idea to formalize key information about your residents in a disaster plan, including the names and contact information for any individuals with special skills (such as medical training), as well as those who may need additional assistance in an emergency. However, this type of information will be much more accessible if it simply becomes known throughout your community because your residents know each other well. The next time someone questions your latest resident get-together, just tell them it's all for the cause of disaster planning.
There is certainly value in going through a formal disaster-planning process and putting detailed procedures in place for a variety of emergency situations, but it's often tempting to put those tasks on hold since they don't seem to have an immediate benefit. Approaching disaster planning from the perspective of preventive maintenance, information sharing, and community building can make it much more accessible and relevant to residents. There's no reason to wait; you can start making your building more resilient today.
Caesar Mistretta is a new business producer with HUB International Northeast, and Will Kramer is a senior risk consultant at HUB International Ltd., with expertise in organizational resilience.