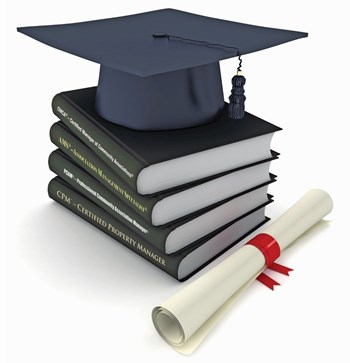 These are hardly the best of times for those who manage co-op and condo buildings, charged as they are with overseeing financial well-being, maintenance goals, legal issues and an almost unpredictable kaleidoscope of other daily concerns, in an economy stressed by many months of lean times. On the positive side: When has there been a better opportunity to acquire the kind of experience only challenging times can provide?
In what has become a sometimes-complicated scenario, property managers and building community leaders are seeking broad-based, in-depth training for the many hats they wear. Some have concluded that the trenches aren't always the best classroom, and are heading for more organized venues. Membership organizations and colleges have responded, offering a variety of options ranging from bachelor's degree studies to continuing education certification programs. The industry itself offers well-tooled programs to deal with the problems facing managers, as well as offering advanced levels of certification for those making a career of residential property management.
Nationwide Groups
The nationwide Community Associations Institute (CAI) based in Alexandria, Virginia, oversees a system of state and regional chapters, each providing managers with course opportunities and peer contacts. Published materials and continually updated classes are available as well. Frank Rathbun, CAI's vice president of communications and marketing, says the group's certification courses delve into increasingly specialized challenges, critical for career growth among managers—but equally important to those who reside in housing communities.
Ann-Marie Johnson, director of education operations and credentialing at CAI, says residents also have much at stake in having certified managers. "For homeowners, it's knowing that the manager has the fundamental knowledge in any situation (when to call an attorney, how to handle an emergency)—and that he has to abide by the CAI's Code of Ethics."
"There's no question that most [managers] are doing a very good job," Rathbun adds, "but clearly those who have taken specialized courses can bring something additional to the table." Training based on experience provides the foundation for better performance in difficult situations, he continues. "Running a community association is not easy; it's a professional job that requires many types of skills and different kinds of knowledge. It's a complicated job, and we have to make sure our courses keep up with the trends."
The costs for CAI's or similar training programs are often borne by the management companies or community associations employing managers. Some of these courses may be taken online or at home, at the individual's own pace. Others are offered in regional venues.
One course in particular, the M-100, is for new board members or managers. It covers the fundamental elements of management and serves as an ongoing guide. Property managers looking for their first designation will often will take the M-100 and the follow-up examination to achieve the CMCA (the Certified Manager of Community Associations), AMS (Association Management Specialist) and, ultimately, the PCAM (Professional Community Association Manager) designations.
Courses through the Institute of Real Estate Management (IREM)'s chapters are geared to real estate professionals managing all types of properties. IREM also offers certifications: Certified Property Manager (CPM), Accredited Residential Manager (ARM), Accredited Commercial Manager (ACM), and the Accredited Management Organization (AMO), which is awarded to property management firms. IREM's Greater New York Chapter No. 26 offers a full range of coursework beginning in February 2011 for the management professional.
To accommodate managers' busy work lives and lifestyles, IREM's education programs includes classroom courses across the United States, online courses, home study courses, and customized private in-house training. And, keeping up with the advances of technology, IREM also runs a number of webinars facilitated by IREM members and other industry experts, combining the convenience of learning via the Internet with the benefits of peer-to-peer interaction. Webinars run 45 to 60 minutes and cover a variety of timely industry issues as well as live demonstrations of useful real estate management tools.
New York Organizations
The New York Association of Realty Managers (NYARM) offers NYS Accredited Realty Manager certification (nyarm) to building owners (both private and cooperative), managers, supervisors and maintenance personnel in building management. The certification title is recognized and approved by the New York State Division of Housing and Community Renewal (DHCR) and the New York City Department of Housing Preservation and Development (HPD). HPD also offers its own course instruction for owners and property managers.
To gain the nyarm certification, industry professionals must accumulate 70 education credits, including a required course on "Business Ethics for Residential Property Managers."
The Council of New York Cooperatives and Condominiums (CNYC) also offers a slate of educational workshops for managers, including "Green from the Inside Out," "Building Envelope Issues for Post-War Buildings," and "Financing for Co-op and Condo Buildings."
Bringing it Home
While recognizing the value of the courses and designations offered by professional organizations, though, some of New York's leading management firms have developed their own management courses and certifications.
Michael Berenson, president of Manhattan-based AKAM Associates Inc.—which manages 98 properties with some 18,000 units—says that while his company appreciates the certifications and designations offered through the independent organizations, the company has its own learning center to provide ongoing education to its team of more than two dozen management professionals.
"We run training seminars every month for our existing and new managers," Berenson says. Managers at the firm start with a sixteen-week training course covering everything from ethics to finances and preventive maintenance, and has its own in-house certification program leading to a Residential Management Professional (RMP) designation. "The goal is to give our clients the most well-rounded, education property managers."
AKAM's extensive education program is managed by Barbara Dershowitz, vice president and director of the company's credentialing program. According to Deshowitz, the education doesn't end with the training program. For example, every fall the company offers a seminar that is required for its managers, and open to the public. In 2009, the company presented a program on green energy, and a more recent seminar focused on bedbugs—one of the hottest topics in residential real estate lately.
In-house programs are important, say industry leaders, because New York has no licensing program for managers. "We found it necessary to have our own program," Berenson said. "In New York, anybody can come into property management." The AKAM certification program was launched about five years ago. "We frankly don't understand how one can perform residential management without understanding the nuances," Dershowitz says. "I think our program has made a world of difference," she adds.
"Despite the fact that New York City is the largest residential market in the United States," notes Dershowitz, "it stands alone; almost everywhere outside New York you need to be educated and credentialed to manage assets. In New York, there are no barriers to entry, no barriers to practice in terms of education or credentialing in residential management. If you wanted to open a company that manages condominiums exclusively, you wouldn't have to know anything about them; you could just open up your company and go about your business." In most other states, she said, managers need state certification or licensing.
An increasing number of colleges now recognize real estate as a major, with minors in facilities or residential management, but Dershowitz says that "our particular industry has evolved at such an incredible pace in terms of technology, law, insurance, governance, finance, and every aspect of professional performance, that you have to keep your people educated and up to date."
"We are firm believers in continuing education for property managers," agrees David Kuperberg, founder and CEO of Cooper Square Realty Inc. in Manhattan. Taking advantage of today's technology, Cooper Square has developed an Internet-based continuing education program, with both required and optional courses for its management professionals. Many courses, like conducting effective meetings, reading budgets, using management software and other topics are important to all managers, he believes, no matter whether that manager is working in California or New York, while others are more specific.
While acknowledging that organizations like IREM, NYARM and CAI "have some excellent courses," the company—which has about a hundred managers and more than 400 properties in its portfolio—launched its own "career path" program to ensure that its managers have the expertise they need, in topics from leadership to accounting, to effectively manage properties. "Our school is available to all employees," Kuperberg says, and the company provides financial assistance to employees who want to take courses through organizations like CAI and IREM.
Several years ago, Cooper Square established an in-house learning center that includes 17 different modules ranging from boiler operations to electrical systems. "A property manager is responsible for millions of dollars of equipment," says Kuperberg. "We're not suggesting that they need to become boiler mechanics or elevator mechanics, but they do need to understand the operation of those systems. All the company's managers are now required to go through the learning center, which includes miniature versions of various building systems. The vast majority of our managers have certifications from outside organizations, and all have our certification from our learning center."
Discussions about manager licensing in New York have been underway for almost 20 years, Kuperberg says, adding that "we need a mandatory requirement" for the profession. He'd also like to see a national, approved certification program for residential building managers.
College-Level Studies
Looking at more traditional educational tracks, prospective property managers today are also taking college-level courses. The Schack Institute of Real Estate at New York University offers a Certificate in Property Management program that covers both residential and commercial property management and includes topics ranging from marketing, leasing, accounting, and investment analysis to building systems and maintenance. NYU also offers graduate level degrees in construction management, real estate and real estate development.
The Steven L. Newman Real Estate Institute at Baruch College, City University of New York, also offers a Real Estate Management Certificate covering facilities, construction and sustainable property management, along with legal and administrative issues in multi-dwelling properties.
The More You Know...
Even if you've been managing properties in the city for decades, there's always more to learn; new technologies, better practices, and innovations in everything from energy conservation and green development practices to staff management make the job of property management dynamic and ever-changing. To keep up with the pace—and to best serve the communities in your portfolio—continuing education and enrichment can be well worth the price of tuition.
Ann Connery Frantz is a freelance writer. Pat Gale, associate editor of New England Condominium magazine, contributed to this article.