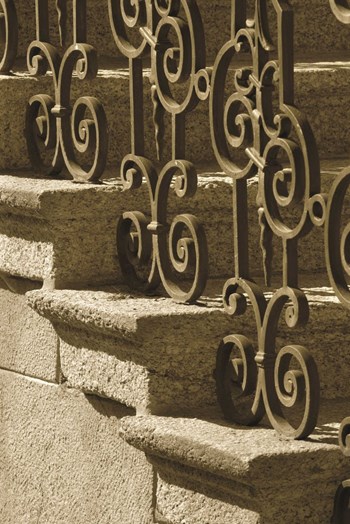 The Dakota co-op building is one of the most iconic New York City apartment buildings, home to many cultural luminaries, including the late, legendary singer-songwriter John Lennon. But what makes the Dakota—along with many other historic Manhattan buildings—stand out isn't just the names of its famous and wealthy residents but its striking architectural details, including the beautiful imposing metal front gate.
While stone or brick is obviously the most-used material in co-op and condo buildings of a certain vintage in New York City, metal elements—predominantly iron, but also steel, brass, bronze, and copper—figure largely into the design of some of the city's apartment buildings, including the Dakota.
"Typically, the higher areas of Manhattan—Fifth and Park Avenues and their adjacent streets—have the historical and ornamental metals and stones because they're areas where more prominent people have built and lived," says Lina Gottesman, president and owner of Altus Metal, Marble & Wood, with locations in Long Island City and Smithtown.
Rhoda Weber Mack—owner and program director of the Center for Metal Arts & Fine Architectural Metalsmiths in Florida, New York—created the interior courtyard gate for the Dakota building. She says that after World War II, sleek, unadorned modernism swept the architectural world and custom, well-built ironwork seemed to be a quaint art of the past. "But blacksmithing had a renaissance in the 1970s with the renewed interest in handcrafts, and anvils were hauled out of garages and barns for a new generation of blacksmiths," she says.
Mack also explains that forging iron and other metals for architectural functions such as railings and gates presents dynamic design possibilities. "Unlike wood, which gains its strength from mass, ironwork takes up far less visual room, allowing even small spaces to feel open," she says. "Even in a tight economy, the well-done railing, gate, or table base is a lasting investment."
James Coco, Jr., vice president of Coco Architectural Grilles & Metalcraft in Farmingdale, New York, says that his business is four generations old, and his great grandfather was installing brass and bronze railings in New York City way back in the 1900s. Most of these ornate metal railings, balconies, fencing and other ornamentation are found on or around buildings that date to an era when tastes were different and the costs for such purely aesthetic elements wasn't so prohibitive. The problem? Today, these decorations are getting old.
Keeping on top of the building's maintenance is vital for preserving these precious metals but before sending out the building superintendent to shine and buff, it's important to have an understanding of the commonly-used metals, exactly how they need to be preserved and who should be doing the work.
"What we see now is a lot of historic renovation work," says Coco, whose company recently worked on the rehabilitation of the most famous Art Deco building in the middle of Jersey City—The Beacon, home to multiple residential condo apartments, entertainment spaces and more. They helped to restore the buildings' interior architectural steel grilles.
"Some want to hold true to historic preservation and want bronze work done. Others want more durable, lower maintenance metals that look about the same," he says.
The exterior elements are typically made up of either steel, aluminum, brass or wrought iron or a combination of those materials. "Pretty much most of the exterior elements are steel," says Larry Kaufman, owner and CEO of J. Kaufman Iron Works in Paterson, New Jersey. "But security gates, fencing and tree guards can be made of wrought iron."
With exterior steel, moisture and weather can cause corrosion and rusting because of the high amount of iron ore. "Stainless steel was made so rusting wouldn't occur," says Gottesman. "It's made with different alloys, such as nickel and zinc, so it doesn't have iron ore. Stainless steel holds up much better than iron."
Aluminum Uses
According to the American Aluminum Association, aluminum was expensive and generally unavailable for architectural use until the early 20th century. Its use increased in the 1920s, primarily for decorative detailing. The first extensive use of aluminum in construction occurred in the Empire State Building (1930-1932). The tower structure and spire are built in part from aluminum, as well as components such as the entrances, elevator doors, ornamental trim and more than 6,000 window spandrels.
"Aluminum is a light material to handle and install—much lighter than stainless steel, brass and bronze," says Coco. "It comes in a variety of finishes, such as powder coated and anodized finishes, and has a long use warranty. It's a low maintenance, cost-effective use material on the exterior of buildings."
Anodizing is an electrochemical process that converts the metal surface into a decorative, durable, corrosion-resistant, anodic oxide finish that cannot chip or peel.
"Brass is used in the front of higher-end residential buildings," says Kaufman. "Sometimes you'll see a steel rail and polished brass on the cap rail. There might be a corner post and decorative brass element to jazz it up. Decisions are based on money. Brass is more expensive."
Statuary bronze is typically used in outdoor sculpture. Its forms are almost limitless, since it may be cast in any shape for which a mold can be devised. In buildings it is typically used in door and window frames, trims and rails.
Metal Menaces
For years, the metals on New York City's residential buildings have been exposed to air, snow, wind, sun and pollution—elements that can cause them to crack, corrode and rust. "And the freeze/thaw cycle really has an effect on the buildings," says Gottesman. "When it's below zero in the winter and up to 100 degrees in the summer, the expansion and contraction over time affects building elements."
As solid as a building looks, water can penetrate through hairline cracks between the brick and the mortar. As the weather gets colder this water freezes. Since water expands when it freezes, it puts a lot of pressure on the building and can eventually crack the mortar and expand the metals, leading to cracking.
"For items like tree guards and fencing decorations, one of the most horrible problems is the dogs peeing on them," says Kaufman. "Look at the corner posts, and you'll see they're getting corroded because the dog's urine just eats away at it. Another common issue for fencing is water puddling, snow, salt and sand—all the stuff that accumulates on ground level."
Metal Maintenance
Metalwork should be inspected a few times a year for rust, peeling, cracks, deterioration and other problems. Typically, any basic routine maintenance such as repainting, can be done by a super or manager. However, the more extensive repairs should be left to a qualified metalsmith, especially if the building is a historic property.
"Anyone doing professional metal restoration should be a member of the International Union of Painters and Allied Trades," says Gottesman. "There are commercial companies that will wipe it down but legally they aren't allowed to go higher than six feet. If they have to go higher up—they can't do that."
The best way to maintain ironwork is apply a sealant so water doesn't permeate and cause cracks, joints and rust. Bronze has a coating on it to prevent it from turning brown/black and that coating has to be removed. "You can damage bronze very easily, it's a soft metal," says Gottesman. "Special chemicals, acids and abrasives are used depending on the type of bronze. "It will need another coating of clear lacquer to keep it from oxidizing quickly. Bronze needs to be stripped, cleaned and recoated at least every year to 18 months, depending on building traffic.
"Steel needs to be recoated anywhere from every 3 to 5 years on most well-painted steel areas," says Gottesman. "As any rust appears anywhere in joists or the curved areas on the steel, it's important to have that sanded down, treated with anti-rust products and recoated ASAP. Once rust begins, it just continues very quickly. It's a very corrosive process," she says.
On the other hand, stainless steel does not rust and should not need any coating. Instead, it just needs to be thoroughly cleaned periodically. "Many buildings like to have a clear lacquer coating on the stainless steel which helps preserve it long-term," says Gottesman. "Cleaning stainless steel should be done at least once a year—ideally, every six months."
Most maintenance is done on-site, but sometimes a more involved project may necessitate the metal element being removed from the building for servicing back at the contractor's shop. "We take things back to fix them, refurbish or sandblast them but on-site building maintenance staff can maintain them with a wire brush and then by painting with rust-inhibited paint," says Kaufman.
Technology has improved many of the coatings that the experts use. "A lot of coatings are high-end three-part epoxy durable that we didn't have 25 years ago," says Gottesman. "We are also constrained by the Environmental Protection Agency (EPA) and laws regarding the volatile organic compounds (VOCs) in the air, so we have to look to the newer coatings that are water-based and very low VOCs and we take that that very seriously. We also use higher tech equipment to make sure that less of the volatile compounds don't get into the environment. Our high-tech spray guns are now 95% on target and we also use HEPA VOC machines to absorb any VOCs being emitted."
Renaissance
Coco says that until the end of 2014, the industry had been slowing down quite a bit, but he's now very busy. "It's a good sign," he says. "There's a big uptick in work for architectural metal fabricators. Renovation work is starting to pick up again."
Gottesman says that more buildings are starting to go back to the bronze that they got away from in the 1970s and '80s. "But I have to admit that it's only in the very high-end residential buildings," she says. "They started to use a lot of aluminum and painted metal because it was less expensive but I see a lot of return to the stainless steel and the bronze materials being used across the city. The traditional materials are coming back. Maybe not as decorative as in the 1920s, but there are still decorative metals being used."
The appreciation for metals dates back for centuries and, hopefully, with the return to using these metals in building design and restoration, we can appreciate their details for years to come.
Lisa Iannucci is a freelance writer and a frequent contributor to The Cooperator.