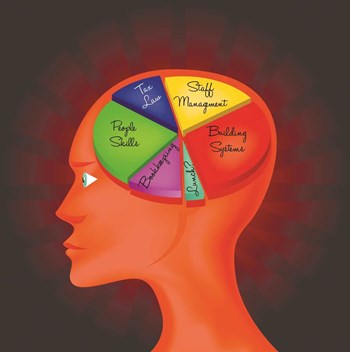 The most successful property managers seem to have one thing in common: a sense they are working in a constantly changing industry. With building technology, administration, and communication methods constantly evolving, a savvy manager will always be learning about what's happening with current trends and state laws to maintain top game.
While networking with other industry professionals is an excellent method of staying up-to-date (and reading The Cooperator is another smart move), the most beneficial way for a property manager to learn and develop is to continue his or her education.
Peter Grech, a resident manager and the director of educational services for New York City's Superintendents Technical Association (NYSTA) states that "perceived value" is the most important benefit for property managers furthering their education. "Education adds value to the person taking the classes," he says. "That value is then added to the management company value, and then to the buildings that they manage."
Michael Hammerslag, vice president of education for the New York City chapter of IREM, feels it is beneficial for all property managers to take classes and continue learning about the job.
"Companies want to know their employees have certain tools to execute their business, so continuing classes and showing that you have gone through the IREM educational process will give them a knowledge that will enable them to more easily manage and elevate their business model," he says. "When someone brings up something, the property manager understands, and it's a huge benefit to both parties."
Hammerslag understands property managers have a lot on their plate, but agrees on the need to bridge the operational components, understand them, and help the owner and management company understand the monetary impact and the reason behind certain things needing to be done.
"The IREM educational platform helps managers in the ability to speak across a broad spectrum of people in various, different ways but all about the same topic," he says. "You can talk about maintenance with maintenance guys, finance with finance guys, and better understand how to manage the property within the framework of a market. The key is getting a better understanding of everything going on."
Options-a-Plenty
IREM offers numerous courses each month. Among the most popular for property managers are leadership, finance management, marketing communications, risk management and sustainability.
"There are unique, specific courses managers should take because they are working on a unique property—this could be more operational specific, but we strongly recommend that everyone in our industry continue to invest in the capital that they are, beyond the specific designation," Hammerslag says. "We also stress that property managers should take an ethics class. That's an important component to professional development."
Margie Russell, the executive director of the New York Association of Realty Managers (NYARM), says her program has classes as well as a certification program. "In the course Business Ethics for Residential Property Managers, students learn the importance of a proper relationship between an owner and real estate manager," she says. "It describes the rights duties inherent in the relationship and prepares the manager for the complicated ethical issues he confronts on a daily basis. The course outlines an ethical and professional standard sanctioned by the New York Association of Realty Managers."
The options for property managers to take classes and courses are varied. New York University has continuing education classes and offers certificates in various areas of property management; the Building Owners and Managers Association (BOMA) offers online courses and continued professional development courses; and the Superintendents Technical Association has classes that would benefit a property manager who wants to learn about different aspects of the job.
Over the last three decades, the Real Estate Education Center has provided education to New York real estate agents, brokers, and individuals seeking real estate careers. Also, it offers classes specifically designed with property managers in mind, teaching them what they need to know in everyday business regarding tenants, operations, and working with vendors. The Residential Facilities Management90-hour course is taught by working professionals who provide a complete overview of the role and responsibilities of a property manager.
According to the Real Estate Board of New York's (REBNY) website, the organization's residential and commercial courses allow a real estate agent to fulfill the 22.5 hours of continuing education credits that must be taken every two years to maintain a license. Qualifying courses are also available for those who wish to obtain a sales or broker license. These courses can be taken online and are all accredited by the New York state Department of State.
In addition, there are a plethora of continuing education classes and certification programs offered by universities and management trade organizations that are very beneficial for property managers. One that Grech recommends is the Dale Carnegie Institute, which offers management and supervisory courses.
Some management companies require that classes be taken and help compensate for the class expenses; other management companies hold in-house seminars for their employees. FirstService Residential is one company that holds in-house seminars for everything from OSHA regulations to heating, as well as management training.
According to a spokesperson with the company, the classes are designed to further advance and hone the knowledge and skills of all FSR's property managers. The website lists a PM 101 course, described as a manager development program targeting education in all aspects of property management through a specialized curriculum comprised of four key components—physical, fiscal, governance and communication.
One to Grow On
There are a number of things that managers can expect to learn or get refreshed on in these courses and the most popular topics reflect what property managers are talking about most in 2014.
"Things that a manager learns, for one, are their own limitations," Grech says. "Classes help expand knowledge and not experience. The more you learn the more you realize how much you don't know."
Communication is one course that Grech would like more property managers to consider as he feels it's one of the most important parts of the job; he'd also like to see more classes on psychology.
"A lot of managers just don't get it…they need to return the phone call or email ASAP," he says. "Classes that are popular tend to be things like Financial Analysis, Green Buildings, Building System Operations, and Project Management—not the 'out of the box' things like psychology."
Money Matters
The cost for classes and certifications is widespread. Grech states that they can range from a few hundred dollars for a class to a few thousand for a certification. "Some management companies will pay for the classes, but many don't…an investment, either way," he says. "Classes may even be tax deductible, depending on how they are taken, and there are scholarships available from some of the trade organizations."
Remember, not only will these classes help property management professionals improve their skills and services…it will help advance careers, too.
Keith Loria is a freelance writer and a frequent contributor to The Cooperator.