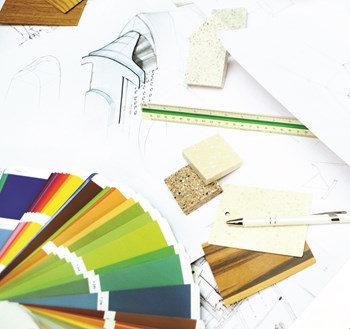 Like fashion, music, and architecture, interior design has changed drastically over the last hundred years. What's the bleeding-edge of hipness one year becomes totally passé the next, only to come full circle and be cool and ironic again a few years later - in what professional designers refer to as the "pendulum effect." On the other hand, many design elements, materials, textures, and styles have withstood the test of time - a Louis XIV armchair is always a Louis XIV armchair, after all, and fine workmanship and basic good taste are always in vogue.
The New York Look
New Yorkers' tastes have been influenced by war, new technology, and even domestic situations. Designers and the media have driven major decorative eras ranging from the Art Deco and Art Nouveau movements that characterized the 1920s and "˜30s to the eclectic, portable style many New Yorkers are opting for in the post-9/11, post-millennial city. In a town where preferences are more diverse than ever, the "˜next big thing' in terms of decorative style is anyone's guess.
"As far as what look people choose, it has no bearing on 9/11," says Marjorie Hilton of Hilton Interiors Inc., a Manhattan-based design firm. "The only swing that I've felt is that people are interested in staying home more, so they want their homes to be beautified more than they used to. It's not more comforting, it's more minimal." But, Hilton points out that she doesn't necessarily feel there's a relationship between comfort versus minimalism and 9/11.
Hilton does concede to a correlation between today's eclectic tastes and a similarly eclectic world. Past decades saw New Yorkers sticking with generally more uniform materials and colors, but she says today "people want to mix things up. They want a glass table, a comfortable sofa, an Ottoman, maybe in leather, high-tech TVs, beautiful music, and stainless-steel kitchens that are easy to clean. They like materials and furniture that are low-maintenance." The home is a comfort zone for entertaining friends in an open, free-flowing environment - the formal, closed off kitchen is harder to find these days. "Everything is more," Hilton continues. "It's become highly developed. It's much more comfortable, luxurious and developed."
Matthew Decillis, president of Columbia Home Interiors, a New York-based design firm, says, "it depends on the individual client. I'm seeing a trend more toward the modern to contemporary." He says polished chrome, the use of which was nil for years, is popular again. Polished and antique brass enjoyed their time in the spotlight before that, but Decillis says many lighting manufacturers are promoting brushed nickel and polished chrome.
New Nest, Empty Nest
Domestic situations often prompt a change in decor. After all, the last thing a young couple wants is for their new home to look like their parents. Conversely, many empty nesters seek a fresh start. "Say they give up a home and take an apartment, says Joel Ergas, principal of Forbes-Ergas Design Assoc. Inc., a Manhattan-based design firm. "They want a new simplification to their lives. Life changes, I think, are significant."
Yet the more things change, the more they stay the same. Ergas describes the pattern as the "pendulum effect," citing war, economic ups-and-downs, working families, the woman of the family being out of the home, new technology, and entertainment media as some of the influential factors. "People design very often around those things," he claims. "I think there's a pendulum effect: if you had this then you want that. If you've lived long enough with a certain thing, then you want something else."
Decillis agrees, attributing the effect to the media and manufacturers. "This'll go on for a few years and then all of a sudden it'll be back to the antiqued or polished brass. The manufacturers push the public."
Design in the Media
The media affects the way people envision their living spaces, as well. "I think the proliferation of catalogs, like Pottery Barn and Design Within Reach, or Home Depot Expo, have influenced people, and things like Ralph Lauren ads in magazines," says Ergas. Television programs also play their part. Ergas says that after watching "Antiques Roadshow," for example, people may start collecting things they never would have considered before, and adjust their lifestyle to accommodate their collections. Then there's the monkey-see-monkey-do effect of color and materials marketing. "You do what you see, what you're surrounded with," Ergas says. "A lot of that stuff is preplanned five, ten years in advance."
"It's a compendium," Hilton adds. "It's about the interpretation a designer has...the designer is the kingpin to the whole thing." Each client, however, has his or her own needs. The designer's role is to guide the client and interpret what they want. According to Hilton, "The designer is pivotal."
The proliferation of co-ops, condos and summer homes leave some New Yorkers with multiple homes to decorate. But what works in a country cottage might clash with urban surroundings. "I think all those [options] are of fairly recent vintage for a lot of people, but not for the very wealthy - they've always had those choices," Ergas says.
Shaky political and economic conditions make future design trends an uncertain prospect. "I think in today's climate two things could happen: I think people could go into fantasy, as in escape - or they could go into just simplification, streamlining, portability," Ergas says. New Yorkers, he continues, might want to keep it simple so as to maintain maneuverability, or possibly even pursue both directions. "That style tends to typify the post-9/11, post-millennial Manhattan," Ergas points out. Although he forecasts a movement in both directions, Ergas "personally would probably lean toward the streamlined, stripped-down look. For age reasons, too. As you get older, I don't think you want to be weighed down with a lot of possessions."
Interior Design: Then and Now
Immigration, war and economic circumstance have brought about some of the most distinct decorative epochs of the past century. Heavy traditional and deco styles could be found in many homes during the "˜30s and "˜40s. "Crystal was always big in those eras," Decillis adds, citing the influx of European immigrants - particularly the Italians, Jews, and Irish - as a major influence of the period. "Naturally, they brought over their European designs," he says. "The Italians had crystal - that's a big product of Italy. The English were exporting brass and antique brass. Spain had a lot of crystal also, and cast brass."
After the two World Wars - which encompassed the Art Deco and Art Moderne periods - Americans turned their attention away from the Art Nouveau to the Arts and Crafts movements, but never abandoned the older schools entirely.
"Those were the most influential, distinct periods," Ergas says. "On one level, [Nouveau, Deco, and Moderne] were about beautiful craftsmanship, like some of the French Art Deco. And on the other level it was the industrial age - making furnishings and surroundings out of more industrial types of solutions, which was also brought about by the Bauhaus movement." (The Bauhaus was a European school of design to which much of today's furnishings and architecture can trace their roots. It used technology and industrial solutions to satisfy the needs of a large population and included the tubular bent-metal furniture made by Marcel Broier.)
"On the one end, you had this high level of beautiful Art Deco furniture - a lot of it coming out of France, although we did have our own," Ergas says. "And then you had the mass approach, which was to be able to manufacture and find beauty in industrial products and industrial solutions."
The post-World War II decades - the "˜50s and "˜60s - saw the rise of the middle class and the desire for a modern lifestyle. Soldiers returning from the war overseas were moving into their own homes and starting families. "That was a more modern period, much of which has become retro today," Ergas points out. "In today's vernacular, it's "˜retro' going back to the "˜50s and "˜60s, but that was a major movement at the time."
During that period, he says, and even into the 1970s, the crossover began between furnishings and commercial products finding their way into residential use. Decillis says the "˜70s and the "˜80s were characterized by forward-looking contemporary and modern styles, though Deco - which is almost nonexistent now - enjoyed something of a revival during the 1980s. "Traditional and contemporary are pretty much a stable item for most parts of Manhattan," Ergas says, adding that younger people moving into their first apartments nearly always tend to lean toward the modern and contemporary look of the day.
Strong colors and patterns also characterized design of the "˜70s. "There was a return to pattern and color," Hilton says. "The "˜80s were more of a return to elegant serenity." She describes it as a cycle - the older designers favored simplistic interiors and a chic look, but following them came a wave of designers who fancied color and pattern, heralding a brief color explosion featuring gold, pink and dozens of unconventional colors in the "˜80s. Yellows and earth tones came into fashion in the 1990s, but "it goes back and forth," Hilton concludes. "It's all an attempt to reinvent the wheel."
Demand for retro styles also seems to be growing. "I think we're in a particular period of not much originality," says Ergas. "People are influenced by a lot of things"¦ and I think depending on their own psychology, they go in a certain direction. They want the comfort of English Country, or American Country, or the formality of 18th-century interior styles, or they want a more modern look. It depends on your financial bracket and where your head is."
According to Hilton, "There is a little bit of a movement toward a "˜60s-"˜70s retro look; it's becoming more fashionable." However, she adds, "it's usually not done in its entirety. It's usually done in one or two pieces: a table, a chaise lounge, a chandelier. It's very unusual to do an entire retro look."
Ergas reiterates the pendulum effect, which, he says, "takes place regardless of a lot of other factors. People have lived long enough with one thing, and now they're psychologically ready for something else." Professional designers, he points out, cut through fads and trends, striving for a look that will last. "We design things that could last ten, 20, 30 years for people. We try to bring a more enduring style to it."
Some materials and particular pieces never lose their luster and desirability, irrespective of how the economy's doing, of what a homeowner's parents' taste was, or of the overall "look" of their living space; leather, silks, soft, comfortable chenille, durable weaves, and endless interpretations of cotton. Undeniably classic elements like Tiffany shades, Decillis adds, are another stable product, while Hilton says that on the whole the average life span of a particular look or color's popularity is "variable. I think stuff comes into vogue and then goes out."
The bottom line, however, is "the individual client," believes Decillis, and according to Hilton, today's New Yorker leans toward individuality in the design of their home. "I think people are much more independent and individual in their thinking," she says. "They travel, and they see [that] there's just so much more available, and I think people are becoming more and more sophisticated, and they're able to decide for themselves without being completely influenced by any single trend."
Michael McDonough is a freelance writer based in New York.