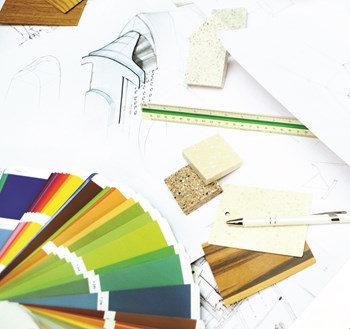 The "loo." The "WC." The "john." Or - for the more civilized folks - the "powder room" or the "lavatory." Whatever you choose to name that room in your house that comprises a toilet, shower/bath, sink and a mirror, you use it - a lot.
In fact, according to a study done last year by the National Association for Continence, the average American spends about an hour a day in the bathroom, whether they're bathing, shaving, applying makeup, or using the toilet - and that adds up to approximately 14 days a year that we spend in our salle de bain. That's two full weeks out of 52 that are spent in a room that most people don't think of as part of their primary living space.
Perhaps you just purchased a great new sofa for your living room or a new lamp for your bedroom. Maybe you had a new stove put in the kitchen or decided to paint your hallway that perfect shade of mint green you saw in a favorite magazine. But when was the last time you thought about the state of your bathroom - beyond the soap rings around the side of the tub, that is? If you're going to spend two weeks a year using it, it might be in your best interest to make it as nice a place as possible.
The New Loo
There are many reasons why your bathroom might need a facelift. One might be updating the general aesthetics - like updated fixtures, tiles, and so forth - while another might be improving basic functionality. Whatever the reason, there are always certain technical considerations to contemplate.
Rebecca Alston, of Rebecca Alston, Inc., an interior designer based in Manhattan, says the first thing you must do before you start a remodeling project is to take a look at the space.
"Start with a space analysis. Can an extra closet be incorporated into the bathroom space? There may be alternate footage available, and you should utilize whatever you can. New York City bathroom space makes a huge impact on resale and lifestyle."
Is your bathroom no bigger than a postage stamp? Perhaps you have the luxury of a larger bathroom or an additional half-bath that gives you more room for showering and bathing. Whatever the size of your space, there are more likely than not ways you can use the most of what you already have, or - as Alston suggests - ways you can expand.
Analyze Your Needs
Ask yourself what may be obvious size-related and design-related questions:
Is your bathroom large enough to handle the volume of use? If you have more than one person using a single bathroom, this is a big consideration. The bathroom needs of a two-bedroom apartment and a single family home are obviously quiet different. Does your bathroom always need cleaning? Bathrooms that are cramped, poorly ventilated or rife with drainage problems accumulate more mildew and mold than more efficiently designed spaces. You might not have to spend so much time with the Tilex if you take a look at the space and address possible improvements in layout. If your showerhead is spraying water on the curtain and then dripping all over the floor and sink, your bathroom is bound to get very dirty, very soon. In a perfect world, you'd have enough room to move the shower over about 10 feet, get a new sink altogether and start pricing bidets and handmade Italian mosaic tile for the floor. Obviously, that's not always possible, but you may have more options than you realize.
"After you do [the space analysis]," says Alston, "start looking at your plumbing logistics." Is your bathroom running at 100 percent efficiency? This is the first plumbing question to answer when looking to improve your bathroom, says Alston, since no surface changes can or should be made without ensuring that the necessary bathroom elements are in full working order.
The Main Drain
As many building owners and boards know, running toilets and leaky faucets are huge water wasters and can cause big financial headaches. Between water usage cost and plumber's fees, a leak in the toilet can be quite costly - not to mention the unnecessary demands it places on a sewer system. If your shower leaks or your toilet sounds like Niagara Falls, you are most likely wasting water and money.
If you think you have a fundamental problem with your pipes, drains or faucets, speak to a state-licensed contractor before you start picking out new bathmats. He or she will tell you where the problem lies and give you an estimate for the work that needs to be done. Of course, as with any remodeling project you undertake, it is in your best interest to speak with several contractors and compare prices and warranties. Most contractors will give warranties for at least a year on the systems, parts and appliances that they plan to use. And don't forget the electrician - if you've been blow-drying your hair in the kitchen since you moved in, you might want to look into some wiring changes and the possibility of putting in a few more outlets.
"Most things can usually be done, as far as moving appliances goes," says Alston. "It depends on what your budget will allow and what the floor is like. Modern buildings are tricky, because you can't chisel the floor. And you have to be careful when changing drains and vent systems. There are handicap accessibility codes to consider if you decide to raise or lower the floor in any way."
Following the Rules
"There are all sorts of rules and regulations in co-ops about bathrooms," says Ethelind Coblin, PC, a residential architect and interior designer based in Manhattan. "Like enlarging the wet-over-dry footprint [of the room], or the huge number of considerations out there today with making things [Americans with Disabilities Act]-compliant. Anytime you change the configuration of a bathroom - say you're moving the toilet, or the tub - then you have to comply with ADA. If you're just replacing elements over the existing roughing, you don't have to comply."
There are also your building's house rules and bylaws to take into consideration as well. "Every building in New York requires a submission and review by either the building's architect or engineer to get their blessing, and once that's in order, if you're changing walls around and things, then you have to get approval from the Department of Buildings," continues Coblin. If you're just replacing, the building managing agent can review that, but when you're changing the locations of walls and fixtures, that kicks off another degree of complexity, and you're going to have to have the agent and the building's architect to look at it, and you have to file it with the Department of Buildings. If you're [living in] an historic building, even if you're not affecting the exterior, they want to be sure of what you're doing - and that can give you a two-month hiccup." Also remember to check with your co-op or condo board to find out what documents they'll require before you begin your project.
The Cost of Comfort
The cost of remodeling a bathroom is hard to approximate. A person could spend hundreds of thousands of dollars making their bathroom fit for a king - if you want gold-plated faucets, for example, you can find them. If you're not interested (or able) to spend that kind of money, your remodeling cost can certainly be more manageable.
Most sources say that a simple cosmetic remodeling job without major plumbing overhauls will cost between $15,000 and $30,000 on average. If you decide to use thermo-flooring and want to install a designer tub, you're going to be looking at spending upwards of $50,000. When you consider the number of trades and types of materials and fixtures involved in a bathroom project, the money adds up fast - you've got to hire plumbers, stone setters, carpenters, and electricians - none of whom come cheap. You also need to buy tile or stone for walls and flooring, tubs, sinks, faucets, sink cabinets, countertops, medicine cupboards, shower doors, showerheads, lighting fixtures, towel bars, and toilet paper holders.
The Little Things
Once you've got the bathroom running efficiently and you've made any desired layout changes, you're ready to start the most enjoyable part of any remodeling job - you're ready to design the "look" of the space.
When asked what the number-one problem with people's bathrooms usually is, Rochelle Kalisch, an interior designer with Regency Kitchens in Brooklyn says, "They're boring!" Just as you would choose a smart rug for the living room or a fabulous table for the dining room, so should go the attention to detail when outfitting your bathroom.
"Even a tiny little space can become a jewel box," says Kalisch, who is known among her clients as a "small space specialist." She says she truly believes any space can be "dazzled," and adds that, "You just have to be savvy and know how to use the right fixtures in the proper scale. If your bathroom is designed to the proper scale, you'll never feel claustrophobic or cramped."
At this point in the game, you've got some serious shopping to do. There are technical considerations to consider in this stage, as well. Take a look at the different types of hardware available to you, says Kalisch. Choosing a good quality showerhead isn't just a way to improve your morning rinse - showerheads are water-savers, too. There are great eco-friendly, water-saving toilet designs and faucets on the market now too, and buying "green" products is an excellent way to conserve water. In order to be smart about your bathroom water usage, however, simply consider your water needs. If you're living alone or with one other person, there's no need to have a high-powered, wash-the-skin-off-your-hands faucet on a sink the size of Lake Michigan. If you've got a family of five, however, you might want to consider one.
The shower and/or tub model is obviously a huge part of your design, as well. Showers are most people's preferred kind of bath - if you can do without a tub, you may be able to save serious space by installing an upright shower stall and skipping the tub altogether. If you have seniors or small children in your household, though, you'll likely need a tub in order to take care of their special needs.
Big bathroom fixtures should be decided on first, as this will dictate the rest of your design. Choosing these pieces of "bathroom furniture" isn't all logistics and common sense, however. The basic look of your new bathroom comes largely from these appliances and you should have fun picking it all out. These days, you've got a lot of options. Glass sinks and crystal fixtures are certainly going to give a different look to your bathroom than standard white ceramic - and good cases can be made for both styles. Water, soap and toothpaste drips will be more visible on steel than on ceramic, but who can deny the chic, modern-industrial quality and the clean lines of a metal sink? It's important to choose your bathroom appliances for practicality, but don't forget: you're remodeling your bathroom to make it a more pleasant place to be, right? Right. Consider all options and don't be afraid of change.
As for what's hot and of-the-moment in bathroom décor, Kalisch says that a lot of people are getting back to the "natural feel" when it comes to designing their new bathroom. "People are gravitating toward the "˜good earth' these days. I'm seeing a lot of requests for limestone and marble, for example. People like to be at home more these days. I've been in the business for 17 years, and I haven't seen a trend so strong in a long time."
According to Coblin, "We don't stick with any particular formula - there are so many new finishes out on the market, and so many new fixtures and fittings, you really have to get out there and know what's available. There are all sorts of glass-tile finishes, and new marble finishes, and incredible granite finishes that are just spectacular. There's so much out there to choose from."
Coblin continues, "A lot of people are into glass tile, because it can be gotten with either a polished finish or a sandblasted finish. Some people like the softer look, and some like a sparkly look. It's a great material to work with, because it comes in such an amazing array of colors."
Whether you opt for classic white porcelain or chic steel, when the dust settles and you've picked out towels for the new towel racks, you're ready to enjoy your new bathroom. By combining logical thinking and a little creativity, every hour you're in the bathroom (of that 336 hours a year) will be more enjoyable.
Mary Fons is a freelance writer and performance artist who is a frequent contributor to The Cooperator.