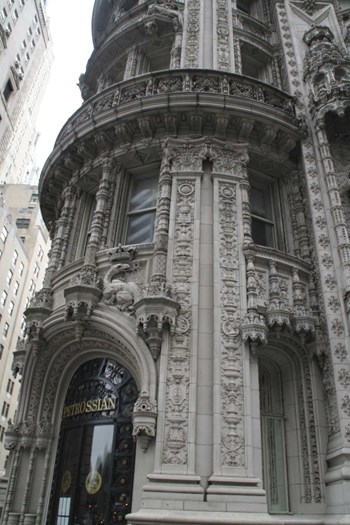 On almost any given block in New York City, it's easy to see how things have changed in architecture and construction over the decades. Historic buildings like the New York Public Library or Grand Central Station are noted for their exterior artistry, and sometimes seem to be at aesthetic odds with brand-new glass and steel towers. The glass and steel buildings, though impressive, serve as reminders that today efficiency trumps artistry.
Wood to Stone to Glass
Following the Great Fire of 1835, residential building construction in the city shifted away from the wood-frame houses of the city's early days toward quarried stone and brick. Sandstone, limestone, and brownstone (which is actually a type of limestone that owes its hue to rust), became the preferred building materials, and as quarrymen dug deeper into the earth, they also harvested granite and marble. In the hands of skilled craftsmen, these materials became works of art; richly ornamented cornices, lintels, and even gargoyles.
The materials were expensive, but in the days when the city's historic buildings were built, labor was cheap. As Howard Zimmerman of Manhattan-based Howard Zimmerman Architects PC, points out, some of the city's most notable buildings were built with thousands of workers. With so much money saved on labor, it was much more feasible from a business perspective to use expensive materials.
Eventually, union organization allowed workers to earn higher wages. With labor costs no longer negligible, building developers began to explore building materials that were cheaper than quarried and carved stone. Brick became the industry standard for residential architecture and prevailed until the mid-20th century, when glass made the jump from commercial to residential construction. The shift to glass coincided with technological advancements in the material itself. Typically, thick stone walls were known for their insulating capabilities, effectively trapping both warm and cool air, and helping to regulate the buildings' interior climate.
Developments in glass paneling greatly increased glass' insulation capabilities, making it a viable option for residential buildings. Modern exterior glass panels are usually constructed of two or three sheets of glass separated by an air space. The gas inside the space is usually oxygen, though argon gas is sometimes used to increase the panel's thermal performance. Insulation can be added via a film or "low-E" coating, which helps prevent the emission of heat.
According to Zimmerman, another cost-related factor that heavily influenced the shift from stone to glass is that glass facades are constructed of unitized curtain walls, which are often prefabricated in a factory. As a result, the buildings can be assembled quickly, almost like huge puzzle pieces or building blocks. This requires fewer workers and less time in the field constructing. The panels are made indoors in a controlled environment, protecting workers and materials from inclement weather and fluctuating temperatures that can delay the construction process and waste precious time and funds.
Cost vs. Value
Glass and steel construction may be fast and cost-effective, but as Wayne Bellet of Manhattan-based Bellet Construction points out, "All these advancements in cost-cutting have quality compromises—and I'm not talking about aesthetics." Glass buildings typically have a manufacturer's guarantee of 20 years, and could last over 50. But, that's not much, Bellet points out, compared to European masonry that has lasted centuries.
"Time is everything in construction," says Lina Gottesman, president of Altus Metal & Marble in Long Island City, "[but] there is the question of cost versus value. What is it you're paying for? Is it going to fall apart in a year?"
Cost versus value seems to be the biggest question construction companies must face, and unfortunately for building craftsmen, more and more often, artistry takes a backseat to the bottom line. "Most skills and crafts are diminishing because of a lack of demand," says Dan Sinclair, founder and owner of DMS Studios Ltd. in Long Island City. "The demand is driven by cost."
Sinclair's company hand carves limestone and marble statues, busts, and fireplace mantels. The material is not cheap, and neither is the labor. Still, some developers want to have their cake and eat it too.
Stone cutting and stone carving, Sinclair says, is now often outsourced to China and India, where the labor is cheaper than using a domestic mason. "Builders can get a custom-made bust, statue, or stone fountain for a tenth of the price," he says, but the thing is, they're not getting the same product. The execution and the quality of the material is not the same as a domestically-produced product."
Often with an outsourced product, there are problems with the stonework—joints that are supposed to be cut square are cut crooked, for example. The stone is chipped, broken, or glued together, says Sinclair. He goes on to say that the problem is that "a great deal of products are catalog-driven. Companies aren't hiring employees to make things. They're hiring customized shoppers."
Gottesman is also familiar with the problems of outsourcing. Lots of the prewar buildings in the city, she says, feature Tennessee marble. "You can find something similar-looking from China or Russia," she says, "but it may not hold up, weather, or wear the same way." When Gottesman's company was tapped to restore the doors on the New York Public Library, they used an artisan to historically replicate a gargoyle that had fallen off one of the doors. There was the option of outsourcing the work for a less expensive outlay but the risk of compromising the historical value led the company to source the material and labor closer to home.
Training to Adapt
Despite the fact that demand for special trades has decreased because of cost, artisans have developed different types of abilities.
"Years ago, we had beautiful marble mosaic floors," says Gottesman. Today, "very, very few artisans can do a true marble mosaic floor." But they have adapted to less costly, yet still aesthetically interesting crafts.
Terrazzo, for example, embeds marble chips in cement to create mosaics.
In terms of training, in the past, craftsmen started in their trade as a general helper and assistant to a master craftsman. Then, they moved through developmental stages of skill and experience. After sweeping the shop and running errands for a certain period of time, they became apprentices, then journeymen, and finally after a period of many years, graduated to the level of craftsman themselves. In those days, information about trades was also passed among craftsmen through semi-secret fraternities like the Freemasons.
Today, many craftsmen still learn their trade through apprenticeships, but educational seminars and certifications from material manufacturers have been added as well. Ultimately though, a certificate is merely a sheet of paper—a craftsman's work comes down to his craft. Bellet says his company practices its craft by working with materials in practical situations. This is also where he assesses the capabilities of potential hires. Logging experience with the material before a craftsman is put on a job is obviously very important.
"When we are working on the older, prewar buildings, replacing stone or terra cotta cornices, you have to be selective, and get crews that have worked on prewar buildings," says Zimmerman. It is crucial to match workers to the job. "On a limestone building," he says, "you can't get a crew that has only worked on steel and concrete buildings."
Local Law 11 Employs Craftsmen
Zimmerman, like Bellet, does a lot of work under Local Law 11, which mandates the regular inspection and restoration of the city's building facades. Largely, this is for safety. Stone gargoyles falling onto a crowded sidewalk below is obviously incredibly dangerous. But these jobs require very skilled craftsmen, with experience and competent supervision. These workers stand on a three-foot-wide platform several stories high. They need to not be afraid of heights, have scaffolding experience, as well as the skills and craftsmanship to repair an ornate terra cotta façade—or whatever the job entails.
"[Local Law 11] keeps us all employed," says Zimmerman. Buildings have to be maintained and inspected by professional architects and engineers. The law has created a "whole cottage industry of architects, engineers, and contractors who fix the exterior of buildings," he says, which is different than other types of construction work. These professionals specialize in the exterior envelope, similar to the way a particular doctor might specialize in a specific part of the body. Fortunately for craftsmen, Local Law 11 has provided some shelter from the storm of cost cutting.
"I'm an exterior restoration contractor," says Bellet. "I fix what's old, I don't fix what's new. When I do, it's overwhelming. Old building repairs are minor compared to what happens when new construction goes wrong." Still, he says there is a middle ground to be had between craftsmen and preservationists and the "cost-cutting, corner-cutting developers."
While architecture and development in New York City will likely never return to the days of hand-carved scrollwork and other exuberant ornamentation, appreciation and affection for the city's historic buildings—as well as practical concerns about their safety—will keep a certain number of exterior craftsmen and their apprentices in business for a long time to come.
Brendan J. Flaherty is a freelance writer and a frequent contributor to The Cooperator.