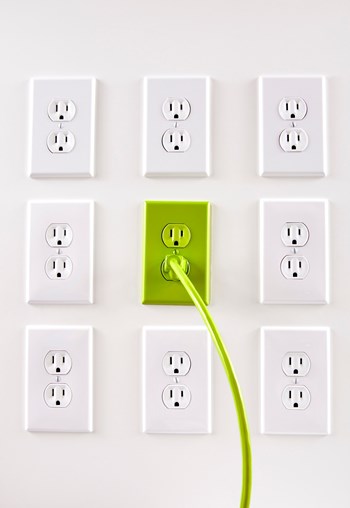 Electric deregulation is fast becoming a reality in New York. Adhering to the historic 1996 decision of the New York State Public Service Commission (PSC), utility companies throughout the state such as Con Edison, LILCO, Central Hudson and Niagara Mohawk are on schedule in opening up electric supply choices for their customers, beginning with pilot programs, says Edward Collins, a spokesperson for the PSC. Changes to the state's electric market will allow customers at last to choose their suppliers of electricity.
In the past, consumers were confined to buying energy from only one source: their local utility company. With deregulation, they will eventually be able to shop among the new Energy Service Companies (ESCOs) that will compete for their business by supplying alternative sources of energy. However, the delivery of electricity - and the rates charged - will remain in the hands of the local utility and continue to be regulated by the PSC. "The commission was concerned about safety and reliability, therefore we will regulate the transmission and distribution system," Collins explains. In effect, the split between supply and delivery means that consumers will be able to make purchasing choices that affect one quarter of their overall electric bill: 25 percent of electric costs are supply-based, while 75 percent are delivery-based.
June 1, 1998 marked the start of the first phase of Con Edison's pilot program toward electric deregulation. Entitled "Retail Choice," the program drew 75,794 volunteer customers from New York City and Westchester County representing 1,555 megawatts (MW) of electric load who were interested in having their energy supplied by an ESCO instead of Con Edison. Program enrollment for phase one exceeded Con Edison's expectations and in keeping with the company's plan, only 62,000 customers, representing 1,000 MW, were enrolled after having been chosen through lottery draw. The remaining volunteers received preference during enrollment for the second phase, which opened in April 1999 and will last until June 2000.
Residential and small commercial customers can still enroll in phase two of Retail Choice, which opened another 1,000 MW of usage to competition and could double the number of customers choosing alternate suppliers of electricity. At this juncture, large commercial customers cannot enroll until the next phase, scheduled to begin April 2000.
Retail Choice will be completely phased in over the next several years, making the company's entire electric load available to alternate suppliers by no later than year-end 2000. Since they service such a large number of consumers, opening to competition in stages seemed the best way for the company to track and make changes. "The electricity market is complex and we realized that a phased-in approach would be the most beneficial way to introduce competition to our three million customers. We learned a lot from our experiences during phase one, and we've made the necessary adjustments to better accommodate our customers and the ESCOs in phase two," says Marilyn Caselli, Con Edison's vice president of customer operations.
All of the utilities in New York State have independent schedules for opening to competition in their own service territory. For example, while Con Edison began to provide supplier options for electricity to its customers in June 1998, Niagara Mohawk, a utility in upstate New York being deregulated, did not welcome ESCOs until autumn of the same year. "Each of the utilities has a different plan," says Collins. "The commission made decisions on each utility based on its unique operating circumstances and customer base." According to the PSC's plan, all of New York will be enjoying competition in the supply of electricity by 2002.
In charting this new course, the PSC has had many objectives in sight, the most important of which is lowering rates for consumers and improving services; with market forces in full momentum, overall rates should be lower than those in a regulated environment. In addition, the PSC expects the changes to stimulate the state's economy by offering New York's businesses and industries more incentive to remain and grow in the state. Finally, hope lies in the belief that consumers will look toward suppliers that care for the environment, this collective concern forcing companies in competition to become more conservation-oriented.
In emergency situations and power outages, consumers must report to their local utility, since it will still deliver electricity even if energy is supplied by an ESCO. Likewise, the safety and reliability of the delivery system will still be the responsibility of the current utility; it will maintain lines and repair them if there is an outage or storm. In addition, your utility company will make sure you continue to receive power if your ESCO is unable to provide it for you. As a "provider of last resort," your utility ensures there is no interruption in service should you want to change ESCOs or return to your utility for electric supply.
During the transition to competition, the PSC will track any complaints it receives regarding ESCOs and retains the right to revoke the ability of an ESCO to do business, should there be an excessive number of legitimate complaints. The PSC also requires all ESCOs disclose their complaint resolution process to customers.
How to Get in on the Competition
As of April 1999 a total of 31 ESCOs had agreed to participate in Con Edison's pilot program, a sizeable increase from the 16 that joined in the first phase.
If you're considering switching to an ESCO, you should first find out from your utility when you have the option to do so. As mentioned, there is still room for more residential and small commercial customers of Con Edison to switch to ESCOs.
Con Edison has included a "retail choice shopping credit" on bills, simplifying consumers' abilities to determine whether making a switch is beneficial. The number represents the amount customers' fees will be reduced if they purchase electricity from an ESCO.
Besides price reductions, the PSC says that alternative energy companies will be free to offer new services, programs and rate designs to reflect the actual consumption patterns or preferences of customers.
According to Bill Feraudo, senior vice president of Key Span Energy Marketing Group, an alternative energy company in Brooklyn and Hicksville, ESCOs do offer more than just an alternative supply of energy. Keyspan, for example, "can take care of your heating system, water heater and air conditioning system." He cautions consumers, however, to keep in mind that while alternative companies will supply the electricity on the open market, local utilities own the wires and charge for transporting the electricity. Therefore, for small residential customers, deregulation might not save you much money. According to Feraudo, "Keyspan is one of the few suppliers who will provide for residences."
In general, consumers should compare prices and services offered by the ESCOs by finding out whether prices are fixed and guaranteed, or variable. Find out the duration of the agreement and whether there are penalties for breaking it. Also ask about switching procedures and whether there are deposit fees or any other special charges.
Some consumers may also be interested in learning how the power is produced and may prefer environment-friendly generation methods including solar, wind and hydro power. Customer service is an important element not to be overlooked: Are there toll-free numbers? What are their office hours?
Many of the local utilities will also be reducing their rates as part of the PSC's rate reduction plan, which will amount to $4.6 billion in total reductions and savings for electric customers throughout New York. On April 1, 1999 Con Edison reduced its rates to customers by $70 million, bringing its cumulative rate reduction since 1998 to $209 million. Obviously these reductions can make staying with your utility more attractive than switching to an ESCO.
It is still too early to determine the success of electricity deregulation, however, the PSC says that deregulation of other energy sources has been successful. PSC chairperson Maureen O. Helmer said that gas customers who switched from their local utility to an alternative supplier are generally satisfied. She says, "Staff survey results are encouraging, with both residential and commercial gas consumers indicating that the commission's actions to open up the gas industry are working." The PSC says that most of the customers estimated their total bill savings to be between six and 15 percent.
While New York's electric deregulation is progressing towards a free market, it is important for users to determine their options. Get a list of alternative suppliers in your area and see what each offers. If Con Edison delivers your electricity, look at your bill - it includes possible savings with other providers. It might be a good move to switch to an ESCO or it might make sense to stick with your current supplier. Keep in mind, though, that whoever supplies your energy, your local utility will still handle delivery. Be sure to ask where your energy is coming from and make sure you're getting the best service for your needs.
For more information on deregulation or to locate ESCOs near you, call the New York State Public Service Commission at 888-ASK-PSC1 or visit the Commission's website at www.dps.state.ny.us. n
Ms. Malek is a reporter and freelance writer based in Manhattan.