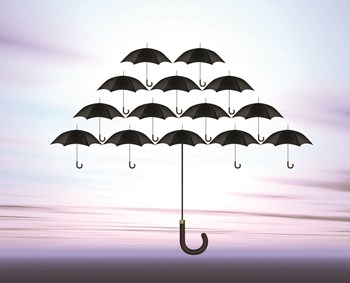 Being elected to serve on the board of your co-op or condo can be viewed as a great honor or a dreadful burden. Those who look for the positive in any new situation will focus on the fact that their neighbors have confidence in their leadership abilities. Those who view the glass as half empty will grumble and say why me? Whatever their attitude toward this necessary function, all new board members have one thing in common: Unlike other shareholderswho haven't accepted a position in the spotlightthey now run the risk of being sued because they've assumed professional and fiduciary liability.
Directors' and officers' (D & O) insurance is a policy that protects corporate directors and officers, while they are in office, against monetary damages incurred through lawsuits resulting from their actions as board members. With proper D & O coverage in place, board members can relax and concentrate on doing the best job possible.
Learning the Hard Way
Not all D & O policies are the same, warns Jane Rosen, assistant vice president of Sterling & Sterling, Inc., an insurance brokerage firm in Great Neck, New York. Rosen tells boards to look at the exclusions very carefully. Your policy can be worthless if not worded properly, she says. According to Richard Barry, president and chief executive officer of Century Operating Corporation, a residential management firm in Manhattan, if a board doesn't have the proper insurance, it won't be defended in legal proceedings. The defendants would have to dig into their own pockets and pay for legal expenses that can run into six figures.
The directors and officers at one New York City co-op learned this lesson the hard way. Several years ago one of the board members at this building announced that he had found a new insurance carrier. Everyone was thrilled, recalls a former board member, because we would be saving money. However when the officers of the board were recently sued for fraud by another shareholder, and they went to the new insurance company for help, they found out that they were not covered for this type of claim. The case was eventually overturned, but the officers have incurred tremendous legal costs that they must pay out of their own pockets. In addition, they're having a hard time switching carriers because other companies are reluctant to do business with them. And, even if we can find anyone to take us, the rates would be phenomenally high, points out the former board member.
We did learn valuable lessons from this experience, she adds. As far as selecting insurance goes, there's no such thing as a free lunch. If someone tells you they've found a great deal on insurance, the package needs to be examined very closely before a decision is made to switch. You're throwing your money away if the coverage isn't thorough.
The best time to find out what type of D & O coverage your building carries is before you accept a position on the board, says attorney Douglas P. Heller, a partner in the Manhattan law firm Friedman, Krauss & Zlotolow (see box). I would check to see what kind of policy is in place, what the exclusions are and what my potential liability would be before I ran. If you're serving on the board, you're doing a job for free, Heller points out. Why should anyone be able to sue you directly? This is one of the first issues Heller ffb addresses when he begins representing a new building. He also explains that managing agent coverage is very important, because if the management company is sued, it will look to the board to pay the judgment.
A Lack of Awareness
Surprisingly, many board members don't give D & O insurance much thought. They don't realize that the corporation or homeowner's association is subject to all the rules faced by any other non-profit organization. The board is a decision-making body that affects the economic and physical safety of shareholders and people that do business with the corporation, explains Rosen.
This means that the directors and officers face personal liability for their actions, and that they are subject to certain rules when performing their responsibilities. They must act prudently and perform their duties in a manner they believe to be in the best interest of the organization; they are prohibited from using their position of trust and confidence to further their private interests; and they are required to perform their duties in accordance with applicable laws and the terms of the organization's charter.
A variety of claims can be brought against directors and officers of the corporation while they're acting in their scope of duties, says Mike Zeldes, director of new business at Kaye Insurance Associates, an insurance brokerage firm in Manhattan. This includes everything from making imprudent financial decisions to wrongful termination of employees to failure to detect and stop embezzlement. Say the board is managing a lobby renovation and didn't realize until after the work was approved that there would need to be an assessment. The shareholders could decide to sue.
According to Bob Mackoul, CFP, CLU, president of Mackoul & Associates, Inc., an insurance brokerage firm in Lynbrook, New York, other situations can lead to a legal action against the board, including subleasing policies, pet rules, defamation of character and rejection of potential buyers. Contrary to popular belief, the association is not necessarily covered for these types of suits. More than likely, Mackoul explains, your insurance company is going to write the board a letter giving a very long reply which is going to state M-no' we won't cover you or defend you for this type of suit. That means the board members must hire legal counsel to represent them individually or collectively, and that can be an expensive proposition. The legal defenses to defend a discrimination suit is often well in excess of $100,000, and if a board member is named personally in a lawsuit, he must defend that action, no matter how frivolous, false or erroneous.
While most insurance companies write D & O policies, many do add exclusions. In some cases, if you ask for these exclusions to be dropped, they will be. For example, you might ask for a managing agent rider. This exclusion will cover mistakes made by managing agents. Also make sure that the policy covers all committees and prior officers.
A Wake-Up Call
A case that recently made the news in New York City illustrates the importance of having proper D & O coverage. An inter-racial couple, which was denied a sublet in an East Side co-op, sued the board. A Federal jury in Manhattan agreed that the couple had been the victims of discrimination. They were awarded $640,000 in damages, including $410,000 in punitive damages against the co-op, Beekman Hill House, and its board members.
This case serves as a good wake-up call for boards, says Zeldes. Overall, I don't know how many co-op board members know who handles their insurance. The carrier that provides your building's property and liability coverage might have a good price on D & O, Zeldes adds, but if they don't specialize in D & O, they won't include all the bells and whistles you need. At Kaye, whenever possible, we buy D & O separately and we buy it from Chubb because this is their specialty and they have fewer exclusions. Chubb routinely offers discrimination coverage which isn't in other packages. In fact, Barry p e5e oints out that Chubb is the only insurance carrier that will defend an alleged discrimination of human rights. Others will not defend an action that's against the law, even if the action has not yet been proved to have taken place.
Long-Term Peace of Mind
Co-op and condo boards should not be skimping on D & O coverage in any way, advises Arthur Schwartz, CLU, a principal of S&H Insurance Brokerage Inc. located in Manhattan. Schwartz agrees that the D & O policy should be separate from the policy issued to the building corporation. This gives broader protection to each member of the board, because if they're under the same policy, one insured can't sue another insured. This would also mean that the board would not have a claim against the building corporation and the building corporation would be precluded from suing the board.
Schwartz also recommends that each board member review his own personal homeowners' insurance to see if the liability portion covers his activities while he serves on the board. Again, each board member should consider supplementing the building's coverage with his own homeowner's policy which would pick up over, and above, any claims against the board not covered by the board's policy, Schwartz adds.
If you make sure your building's D & O policy covers all eventualities, and have it looked over carefully by your attorney and managing agent, you can protect your board members and provide them peace of mind while they are in office and long after their terms are over.
Ms. Mosher is Associate Editor of The Cooperator.