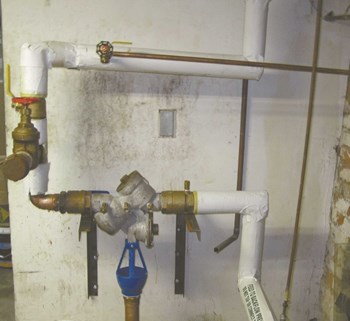 Of all the modern conveniences we take for granted, perhaps none is as essential as indoor plumbing. By carrying fresh water into our homes and taking waste water away, the pipes in our buildings are a little-noticed and well-engineered system that almost magically distances us from our not-too-distant urban past. But when plumbing fails, we almost immediately notice how much we depend upon it.
Savvy city-dwellers know something about their environment—including the building systems upon which they depend. When it comes to plumbing, a co-op or condo resident's knowledge should go at least a little bit beyond "jiggle the handle until it stops." Telltale signs of plumbing problems in a building often appear weeks or months before full-on disaster strikes, ending in a very messy cleanup of a burst pipe, for example. Knowing how to detect those potential problems with the building's plumbing system could mean less money and aggravation expended by all the structure's residents.
Muddy History
The history of plumbing in New York City is nothing like the tidy, immaculately-tiled bathrooms of some of today's luxury properties in Manhattan. Just a few generations ago, the city's water and sewage systems were extremely primitive. In the 1890s, wealthy Manhattan residents may have had septic systems to handle waste, but most homes were still using outhouses. Around that time, the fresh water supply was brought into the residences through wooden and copper piping.
According to Bob Bellini, president of Long Island-based Varsity Plumbing, at the turn of the last century, New York City's sanitary engineers wanted to eliminate the scourge of cholera, which is largely spread through contact with waste-contaminated water. To accomplish this, they found a way to separate and convey human waste from the city's water system.
Some of the iron and copper sewer pipes used for those earliest city systems are still in use today, says Stuart Liben, owner of New York City-based Metro Waterworks Inc. "We've found sewer pipes that are more than 100 years old. They're made of extra-heavy cast iron," he says. "And some old sewer pipes are made of wood."