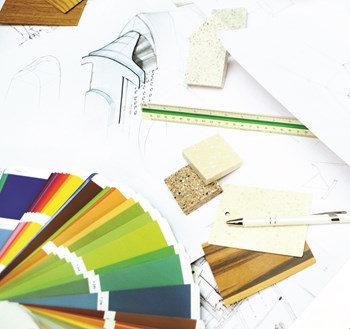 "It's very special to have outdoor space in Manhattan. It's so valuable," says Madelyn Simon, CEO of Madelyn Simon Associates, that specializes in interior and exterior plantscapes. Simon's past projects have included landscaping the butterfly vivarium at the American Museum of Natural History and decking out World Financial Center for the holidays. In or out of the city, open-air space designed for people to enjoy year-round adds enormously to the pleasure residents take in their home. Plus, investing in landscaping and building exteriors can add to the perceived value and desirability of a property.
Once a co-op or condo board has decided to develop its outdoor space, the board must agree on what the space is to be used for and then create a budget for the project. Then the board must choose a contractor to design and execute their idea. Their chosen design professionals "need to know realistically what effort [the board] is interested in making," instructs Simon. "For instance, if a client wants to enjoy the plants but doesn't really want to be saddled with the watering, we can install irrigation systems."
Richard Heller, president of Mornhurst Gardens in the Bronx, a firm that does landscape design, installation and maintenance, recommends that a board choose one person to be in charge of the project and that the board allows that one person the latitude to make decisions. "Very often boards make the mistake of trying to take on the project as a board, and the problem is that you have conflicting tastes and interests. It's sort of like passing a bill in Congress; you end up with a watered-down, pork-barrel-laden design, not something that really works architecturally."
Heller also strongly recommends using a professional designer, since there are so many issues to take into account. "Most people have no idea how big the plants are going to end up, or what their requirements are, and they don't know what plants are pollution-resistant or theft-proof, or what the birds are going to eat." David Protell, president of Chelsea Garden Center, Inc. which has three locations in Manhattan, points out that there are security issues to consider as well; plants, trees, and planters should never block any views from the doorman or screen off any portion of the property.
Once a firm has designed and installed your garden, you can retain their services for long-term maintenance. Protell's company can provide service monthly, quarterly or bi-annually. The service includes checking for insects, pruning, deadheading flowers, cultivating flower beds, checking on the plantings, and winterizing in the fall.
A designer will also help you choose the right mix of plants for your space. "Most buildings want some evergreen; they want something that's going to give them a little show in the winter," says Heller. "Then they have to decide if they're interested in flowering material." The debate rages on over perennials versus annuals, but the experts agree that it all comes down to what works best for a particular building.
"I highly recommend that they use perennials, which come back year after year," says Heller. "The downside is that some perennials bloom for a month, some bloom for two months. They don't bloom for all three seasons, as opposed to annuals, which will bloom from the time you plant them in May until they freeze to death in November. The problem with the annuals is that if you don't have a very big budget, you don't really have the money to be spending on annuals year after year."
Simon says, "Annuals are wonderful for fast color. If you have 100 percent perennials, you don't really have the splash of color that's fun. We do a mix. We study the site, we look at what kind of light conditions you have, which dictates the kind of plants that are possible, and we respect your color preferences."
"You can have small- to medium-sized trees to anchor the garden, and then you want seasonal interest," says Protell. "By using medium-sized planters and a diversity of blooms in flowering pots, you'll get a great deal of enjoyment out of it." He describes how designers can plan a garden that will be in bloom through three seasons. "You can have early spring bulbs coming up, like crocus, daffodils, tulips, hyacinths, followed by a planting of annuals that will last until the fall, and then move into mums."
To guarantee that residents can truly enjoy their green acreage, Simon says that comfortable seating is a must. "If you don't have any seating in an outdoor space, it's not really going to be used." She also feels it is imperative to have lighting, especially on rooftops or terraces. Simon says practical lighting can also add artistic effects. "Depending upon what form a plant has, doing uplighting could be tremendously dramatic. You then have a touch of ambient light."
Like furniture, planters can really set the tone for an area. Marilyn Sygrove, president of Sygrove Associates, a Manhattan interior design firm, says that teak and wrought iron are two materials that work better for seating and planters than any kind of plastic because both are heavier and more substantial. However, when you're dealing with weight restrictions, as on a rooftop, it may be necessary to compromise a certain amount of style in favor of pieces constructed of lighter material.
Beyond that, there are a host of special touches that can add a little extra magic. "I love to incorporate fragrance into gardens. To me, fragrance is a really special thing," says Simon. "And water features are wonderful. For the butterfly vivarium [at the Museum of Natural History], we used water trickling through rocks". Another way to lift an area beyond the ordinary is to create a theme. Simon describes a particularly beautiful and relaxing backyard garden they created with 40-foot bamboo, a shallow koi pond with a little bridge going over it, and a secluded meditation garden in the back. A few minutes spent there would give a lift to anyone's day.
Taking Advantage of the Roof
A less-than-appealing expanse of tar-papered rooftop can also be turned into a calming oasis. One way to start is to put decking down. Susan Wolfson, president of Earth Care Products of Long Island in Huntington Station, describes a good-looking, low-maintenance decking her company sells that happens to be made of 100 percent recycled plastic. While its initial cost is 30 to 40 percent more than that of pressure-treated lumber, cost will be covered in just a few years by the fact that the recycled plastic material doesn't require any sanding, staining, painting or replacement boards. It's easily cleaned, does not absorb stains, and comes in either wood-grain or non-skid textures. The material will stand up to the elements so well that it's guaranteed for 50 years. "We make them in a modular design so that they can be taken down if there's any maintenance to be done on the roof," says Wolfson of Earth Cares' recycled plastic decking. Earth care also provides outdoor furniture of the same material.
Heller says that the cutting edge of roof gardens is the "total roof garden," which is both economically and ecologically beneficial for the building and the city. "They're very common in Europe, but not here in the United States – we're not sure why. Basically, there is a plastic matting that goes over the roof membrane. It keeps the soil from getting down to the roof membrane, preserves a layer of air between the soil and the roof so that the roof breathes, and allows water to flow through the soil to the roof so that it can drain off. Then you put four to six inches of soil on top of the matting. Six inches is about 25 pounds per square foot, so you're easily within the weight limit, and then you can plant that with just about anything other than major trees. You can put in little paths with stepping stones or furniture. You can even have total roof gardens with lawns if you want to spend the money on the maintenance! We would recommend doing it with shrubs and perennials.
"Studies have shown that total roof gardens will extend the roof membrane life by 50 years," Heller continues. "It severely reduces the heat that gets to the roof membrane; it also keeps heat in the building in the winter. It reduces the amount of water that actually ends up on the roof membrane because a lot of the water is absorbed by the plants. Finally, it cleans the air. Plants don't just absorb carbon monoxide, a lot of them absorb toxins as well. Theoretically, if every roof had a total roof garden, New York City would have much cleaner air. Certainly we'd have longer lasting roofs!"
When looking to make your building more attractive, it's well to remember that, "the building starts at the curb," Sygrove says. "I think a lot of the design world has focused on interiors, and now I think it's all going to start coming to the sidewalk."
Recently, Sygrove's firm put a new façade on a post-war building at 440 East 79th Street, as well as new bronze doors, exterior lanterns, and a new awning. The façade was done in limestone to complement the building's original red brick. "Limestone is really the most traditional material, it's been used for years and years, and it's a beautiful way to go," Sygrove explains. "The bottom [of the façade] is usually done in granite because granite can take heavier abuse, from the chemicals used to wash off the sidewalk to dog urine." She says that façades are becoming a popular building upgrade. "On this building, we actually did the lobby six or seven years ago, and the hallways within the last two years, and then they said, 'Gee, look at the front of the building.' Also, when there's a boom in new construction that goes up several blocks away, people realize that their building doesn't look quite as good as the competition. It's a whole package."
New awnings can also go a long way toward sprucing up a building's exterior. Most awnings use a canvas or a vinyl material. Sygrove feels that canvas is the more elegant choice. "Most buildings stay with the traditional Park Avenue green canvas. We also see black and gray, and ever since Ralph Lauren did blue on 72nd Street, now you see buildings that have blue awnings," she says. "Lighting is also very important in these awnings. There are safety issues for nighttime; also, the lighting can light up the graphic, the street number, and the name of the building. If there are no lanterns or sconces on the exterior of the building, the only lighting provided would be in the awning. Awnings should not be flat, otherwise water or snow will damage them."
Naturally, there are rules and regulations regarding exterior renovation with which professionals should be aquainted. Protell says, "In terms of rooftops and terraces, the building codes are fairly clear on weight load restriction. It's more and more of an issue because of new roofs going in where the roofer will only guarantee the roof to x number of pounds per square foot applied to his new roof surface." Besides weight, there are concerns about making sure nothing blows off the roof. Heller says that many limitations on rooftop gardens are in fact imposed by boards, who have huge liability concerns. "I've gone to a lot of buildings now where they are trying to make the weight limit 50 pounds per square foot, or even 30 pounds per square foot, and when you consider that a square foot of topsoil weighs 50 pounds, that's not very much."
Simon points out that because of underground utility lines, a board that wants to put a tree pit into the sidewalk will have to obtain a permit to do so from the city. In fact, anything you want to put on the sidewalk requires a permit. But Heller assures that it's not a difficult process to obtain one: "The city is interested in dressing itself up, or in having buildings dress it up."
The advantages of spiffing up your outdoor spaces and the front of your property are myriad. Curbside and rooftop investments make the property more appealing to prospective buyers; creative lighting and strategic landscaping beautify and protect it; and putting thought and effort into designing and maintaining a garden may yield the greatest benefit of all: the pleasure that's derived from nurturing tranquil green spaces in the midst of the concrete jungle.
Ms. Goodman is a freelance writer living in Westchester.