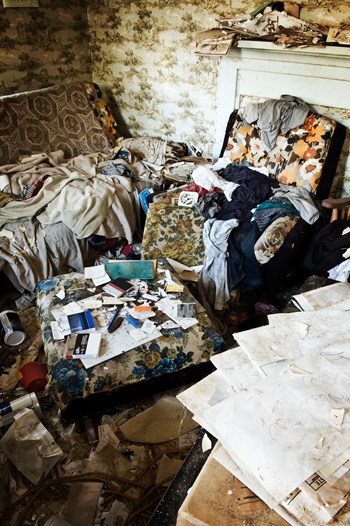 Thanks to several popular cable TV shows, an economy-driven emphasis on downsizing and minimalism, and a politically-driven discussion of the effects of untreated mental health conditions on the greater community, the issue of pathological clutter and compulsive hoarding has become part of casual conversation and (unfortunately) a great deal of misunderstanding.
What's certain is that hoarding disorders pose unique challenges in multifamily units—not just for the hoarding unit owner themselves, but for the surrounding community of residents, managers and boards.
Once hoarding disorder is appropriately identified in a shareholder or resident owner, there is a responsibility to the health and safety of all residents—including the resident with hoarding disorder—to work to get their residence into compliance with municipal safety codes and association bylaws, and to get the suffering resident set up with ongoing care to prevent recurrence. With the right education, resources, and ongoing care from professionals dedicated to helping those with this disorder, a willing and motivated resident can establish a normalcy that may enable ongoing functional community living.
That said, it's important to know exactly how to intervene when a resident is beyond care, or resistant to help and unable to meet reasonable requests and time limits on building bylaw compliance. Here is an expert-advised overview for concerned neighbors, board members and building managers and staff seeking to familiarize, identify, understand, and hopefully help a community member who is dealing with this very serious and, at times, even life-threatening disorder.
Distinctions and Definitions
As of May 2013, the Diagnostic and Statistical Manual of Mental Disorders, 5th edition (DSM-5)—the mental health care profession's go-to resource when it comes to diagnostic criteria for mental illnesses and behavioral disorders—officially moved to redefine hoarding as a distinct disorder (www.compulsive-hoarding.org), rather than the previous edition's definition of hoarding as a symptom of obsessive compulsive disorder (OCD).
The Anxiety and Depression Association of America (ADAA) defines hoarding disorder as "the persistent difficulty discarding or parting with possessions, regardless of their actual value." Mark L. Gaynor, LCSW, who is a National Association of Social Workers (NASW) expert, speaks of the disorder as being on a spectrum. According to him, "We all collect, we recognize value in our brains, we hold things that we think are valuable. Hoarders have lost the ability to assess what is valuable and what is not."
It is important to not misdiagnose someone who may have different organizational standards than a concerned neighbor, or who would more likely be classified as a collector, rather than a hoarder. A major component that distinguishes hoarding from collecting or clutter is shame, which can also make identifying and diagnosing the disorder difficult. According to Susan Birenbaum, LCSW, a certified geriatric care manager with Humanittude LLC in New York City, "People who hoard also have paranoia and privacy issues. They don't want people to see, because denial is a component to this disorder".
"There are significant differences in the mind of a hoarder versus someone who just has clutter," adds hoarding expert Cory Chalmers, president and CEO of Steri-Clean Inc., a nationwide franchise that specializes in hoarding and biohazard cleanup, and also an expert featured on the A&E show Hoarders. "However, without the proper mental evaluation, we can't know which is which. The biggest factor [that characterizes] hoarding is the dysfunctionality of the residence. There are many people who collect and save things, but when the functionality of their home becomes affected, they have crossed the line into hoarding." In other words, if the kitchen sink is so full of dishes and debris that it's not usable, or if hallways are so crammed with piles of possessions that they aren't easily passable, then it's likely a hoarding situation.
In Birenbaum's experience, a person in the grip of a hoarding disorder can be very adept at coming up with reasons or excuses to keep people out of their home, which can make diagnosing difficult. This is distinctly different from collectors, who tend to be very proud of their collections and take pleasure in keeping them in ordered display. Birenbaum concurs with Chalmers regarding "the ability to get through the apartment. With clutter, despite sometimes involving stacks and stacks of things, it's not usually dangerous, and it's still possible to move freely around the living space. A hoarder will often have very limited or restricted movement around the living space, or a specific pathway cleared among stacks and stacks of newspapers, magazines, empty takeout containers," but that pathway is often dangerous and difficult for anyone other than the person with hoarding disorder to navigate. This is particularly dangerous if someone suffering from this disorder ever needs emergency medical help and EMT personnel can't get through the mess to reach them; it can also be disastrous in the event of a fire or other emergency that requires a quick, orderly exit from the apartment or home. According to the experts, the one positive aspect of having things get to such a point is that the specter of being trapped in the event of a health crisis or other urgent situation can be used as an empathetic point of entry when speaking to a hoarder about how to begin to get his or her space back in order.
Red Flags: When to Investigate Further
Due to certain aspects of the disorder itself, it can be extremely difficult to gain access to a hoarding property and properly assess the situation to make an accurate diagnosis. However, there are certain external clues that are specific to communal living that can help identify the disorder and be a signal to seek outside professional help in making an official diagnosis.
"Early and easy to notice signs are when the clutter starts filling up back patios, front porches or even shared hallways outside the front door," says Chalmers. "Once a residence starts reaching its storage capacity, outside is the next 'normal' place it will go."
"Odors, bugs, shades on doors and windows drawn shut day and night, and of course seeing inside the apartment first-hand through routine repairs or building checks" are ways to be alerted to the possibility of a hoarding issue in the building, says Birenbaum. "If you suspect someone is hoarding, one of the things you need to do is assess the situation and if you can, get into the apartment to do repairs or investigate, but people with hoarding disorder are resistant to letting people into the apartment to do repairs. So, one of the signs of hoarding is not letting people into the apartment."
A Sensitive Approach: Dos and Don'ts
Christiana Bratiotis, Ph.D., LICSW, an assistant professor of the School of Social Work at Portland State University, and co-author of The Hoarding Handbook: A Guide for Human Service Professionals, specifies that hoarding as an anxiety-based disorder and reminds us that people suffering from hoarding "are operating from a place of fear and worry. Keeping this in mind can inform an appropriate and empathic approach when addressing a resident with this disorder."
Bratiotis advises approaching the person empathetically, using sensitive language that recognizes that the items that will be removed from the living space mean a great deal to the person with the disorder. Next, Bratiotis advises using "I" statements and couching the news in how you feel the situation is affecting the safety of the person and their building community; "I'm worried that the buildup of objects and possessions will lead to your apartment becoming unlivable," versus "You're such a slob – why can't you just clean up?"
It is then important to communicate that removal of the items is critical. Bratiotis advises giving lease violation news a little differently than you would with a typical resident. "Use specifics, and set achievable goals," says Bratiotis. "Rather than saying, 'Clear a pathway,' say: 'Clear a 36-inch pathway from the entry to the back bedroom within 24 to 48 hours.' 36 inches is the minimum width a stretcher needs to move around. And provide this request in writing. Appealing to practical and achievable goals and taking time to express the need to ameliorate safety and health hazards for the individual and other residents is much more likely to achieve desirable and more lasting results" than threats or antagonism.
Bratiotis acknowledges that remedying a hoarding situation is a slow and gradual process, and encourages members of an affected community to keep in mind that going from a massively cluttered hoarding situation to a clean-out while preserving tenancy could take months.
While in situations that pose an extreme risk to the health and safety of other residents, the complete clean-out of a hoard might be necessary, most in the mental health and social work field don't advise this. According to Bratiotis "The evidence we do have suggests that after a huge clean-out, recurrence is high. A clean-out does nothing to build better coping skills or to help heal what is driving the illness."
Obligations vs. Empathy?
Most experts and support sites acknowledge that the ideal intervention and recovery dynamic for hoarding involves family member support and investment. Birenbaum strongly advocates for managers and board members keeping up-to-date emergency contacts on file for all residents for just this reason. Unfortunately, it's not always an option to simply reach out to a family member or friend; this disorder disproportionately affects the aging population, and can be related to isolation and depression. Thus, building staff and neighbors can sometimes be the only form of contact for people struggling with hoarding behaviors.
"Any intervention that is not wanted by the hoarder will not end well," says Chalmers. "However, as a board or management company, there is a duty to protect your other tenants or owners. Fires are a very common side effect of hoarding, and as a retired fire captain, I can tell you that hoarding fires are very difficult to extinguish." Birenbaum agrees, and advocates turning off the gas to a unit as soon as hoarding is confirmed. She recalls finding newspapers and magazines on, around, or even stored inside stoves in hoarders' apartments – obviously presenting a huge hazard for the entire building.
Due to reclassification of hoarding as a disorder in and of itself, the Americans with Disabilities Act (ADA) may come to bear on how a hoarding situation is addressed and what responsibility lies with the building if a resident suffering from the condition requests 'reasonable accommodation' from the board or management office. According to Bratiotis, accommodation requests usually take the form of asking for more time to come into building bylaw or fire code compliance, a request for additional dumpster space, and/or in-home support in combination with those former two requests.
"In no way is this a free pass," says Bratiotis, "It is asking for whatever is reasonable in order to maintain tenancy." She recognizes that "When a management company has a hoarder, extraordinary time and resources go into solving the issue," but also encourages managers and boards to remember "There are many steps leading up to more drastic measures" like eviction or a forced clean-out. Both Bratiotis and Gaynor agree that a wraparound approach that engages the aid of professionals and multiple check-backs with the unit owner is the best approach to addressing a hoarding issue within a building community. From both an ethical and legal standpoint, it's always a good idea to consult legal counsel and seek to find best practice solutions when addressing a complex challenge like hoarding.
Resources and Education
"Unfortunately, there are few specialists in the country when it comes to hoarding," says Chalmers, "but reaching out to organizations like www.HoardingCleanup.com can get you started. They have resources listed in almost every state, and have hoarding support groups available for free." Both Gaynor and Bratiotis suggest the book Digging Out by Michael Tompkins and Tamara Hartl as a good starting point with a harm reduction approach that lays out simple strategies for how to achieve code compliance without eviction. Bratiotis also suggests the International OCD Foundation website (www.hoarding.iocdf.org), which has a virtual hoarding center that includes practical tools, assessments, and a list of hoarding task forces within the US.
It is important to keep in mind when faced with these challenges that hoarding behavior is not a moral or character defect, but a disorder—and therefore is often manageable with appropriate long-term professional care. It can also pose a very serious health and safety threat to the community and the afflicted resident themselves when not handled appropriately. "Build a network," says Bratiotis. "People in housing are so busy with property challenges, it is important to find a community of professionals so that you can do your part about housing and other professionals can support the resident."
Kristina Valada-Viars is a freelance writer and actor and a frequent contributor to The Cooperator.