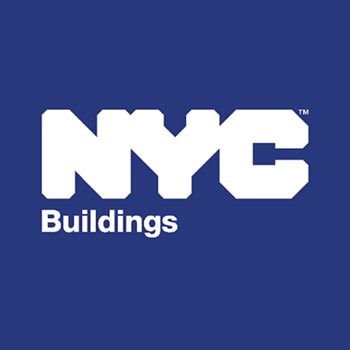 As New York City continues to reopen, the Department of Buildings (DOB) has issued guidance and mandated protocols to promote safety and health on all job sites. After launching a citywide inspection sweep of every permitted site to verify compliance with State and City Phase 1 restart requirements, DOB inspectors have observed, per its emailed announcement, that while "the industry is working hard to be in compliance with the requirements, it is clear that there is room for improvement."
For example, according to the DOB, inspectors continue to see subpar compliance with the requirement for reduced capacity signage in hoists and elevators. The Department mandates that lifts can only operate at 50% cab capacity -- and signage indicating that must be posted in all hoists and elevators, both in each individual cab, and on each landing where you enter and/or exit the lift.
To assist worksites in complying with the required measures before fines and summonses start kicking in on July 8, the DOB offers a Do's and Don'ts document that gives the following guidance:
DO's
DO comply with all social distancing protocols to the extent possible.
DO have a COVID-19 Communication Plan, Safety Plan, Cleaning Log, Affirmation to the State, and Contact Log on site at all times. Make sure your Safety Plan is specific to your site and posted where it can be seen easily. Ensure a COVID-19 Site Safety Monitor is designated for the job site.
DO post signage indicating required maximum 50% capacity for elevators and hoists. Signage must be posted within the cab, and at each landing.
DO post COVID-19 signage visibly throughout your site reminding personnel to adhere to proper hand hygiene, physical distancing rules, appropriate use of PPE, and cleaning and disinfecting protocols.
DO have all employees and site visitors wear an acceptable face covering appropriate for their task.
DO have hand hygiene stations readily available. Stations could include soap, warm running water, and paper towels, or alcohol-based hand sanitizer. Restroom facilities must post signage that limits occupancy to 50%.
DON'Ts
DON'T violate social distancing protocols. (Aim to maintain 6 feet of space.)
DON'T forget to have all of these reports on site and available upon request. Make sure your posted Safety Plan includes your Affirmation to the State!
DON'T forget to wear a mask or face covering at all times. Ensure you maintain social distancing!
DON'T forget to wash hands with soap and water or hand sanitizer frequently and throughout the day.
DON'T forget to post capacity signage within each cab and at each landing
DON'T forget that signage needs to be posted throughout your entire site.
It's Fine
While the DOB has not issued monetary penalties associated with its Phase 1 restart enforcement actions throughout the month of June, as previously noted, that will change starting on July 8, 2020, when sites found out of compliance with any Construction Code or Electrical Code will be subjected to violations that carry financial penalties of $5,000 per violation, with the potential for a Stop Work Order as well. Continued noncompliance may result in additional summonses with accompanying civil penalties of up to $10,000 for each offense, says the DOB.