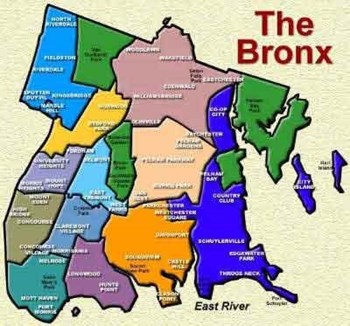 The northeast corner of the Bronx is one of New York City's most diverse areas. It's home to Co-op City—the state's largest housing cooperative—and includes such neighborhoods as Throgs Neck, Pelham Bay, Westchester Square and others. As a result, the area is also home to one of New York City's largest community boards, Community Board 10. Like just about every other community board in the city, CB10 needs to address the concerns of its residents and maintain a level of quality of life in an ever-changing city.
Beginnings and Structure
CB10 was one of 59 community boards established in the 1960s under the administration of Mayor John V. Lindsay. The boards were created to provide residents with access to local government.
Kenneth Kearns, district manager for CB10, says the role of the board is "to monitor and deliberate municipal services" within its geographic area.
"Each community board of the 59 community boards serves a given geographic area," says Kearns. Bronx Community Board 10, which is one of 12 in the borough, serves the communities of Throgs Neck, Co-op City, Pelham Bay, Country Club, City Island, Schuylerville, Spencer Estates, Edgewater Park, Westchester Square and Zerega.
Community Board 10 is comprised of 44 members, who apply for positions on the board and are selected by the borough president and council president. Terms are for two years and there are no term limits.
"[Whether or not they're re-appointed] depends really on the council president and the board president's view," Kearns says. "Attendance ratings come into play, contributions as board members come into play when they analyze reappointments."
"They're area residents and they in turn elect an executive board, which consists of officers for the organization, which would be a chairperson, a first vice chair, second vice chair, secretary and a treasurer," Kearns continues, adding that Virginia M. Gallagher is CB10's current chairperson.
Among Gallagher's responsibilities are appointing committee members who oversee city services in the area such as parks and recreation, municipal services, houses and zoning, budget and planning and youth services.
Back at the Office
Helping the board run is its staff comprised of city employees, with board's operations funded by the city. As district manager, Kearns is responsible for the office's operation.
"There are three functions within the office," says Kearns. "Constituent service, scheduling meetings for the various committees and in our case, housing and zoning, which is very important because we have input into housing and zoning issues within the board service area.
"So whenever someone wants to come in and have a variance or a zoning change, they have to come before us. Whenever the City of New York wants to build a major facility in the board area, they have to come before the board and we have to review it, then pass or deny it. It's purely advisory, but it's a charter-mandated function."
Tackling the Issues
Kearns says CB10's offices are busy with residents addressing their concerns about traffic, law enforcement, and other issues.
As of the 2000 census, CB10 had a population of 115,948. It's protected by the New York City Police Department's 45th Precinct, but according to CB10's board, there needs to be better and more updated communication between the police and community groups to encourage neighborhood safety.
Health services for the area are provided in large part by the Bronx Municipal Hospital Center, as well as a New York City Department of Health and Mental Hygiene facility in Westchester Square. And as one of its goals, CB 10's board would like to see the expansion of health fairs, seminars and health education, because the health institutions are somewhat separated from most of the board's communities.
CB10 has also recently urged the city's Department of Education to work with the community and other government entities to improve children's understanding of the importance of education, and to offer tutoring and job skills education.
A hallmark of the area is a shopping district along Tremont Avenue, Crosby Avenue, Westchester Square, the Dreiser and Bartow, as well as the Einstein shopping centers in Co-op City and City Island Avenue. The districts are made up of older, mom-and-pop shops, a different experience from the box stores and malls that proliferate in other parts of the borough. The board would like to see the streets enhanced in order to bring in more customers to the independent businesspeople of the area.
Another concern of residents is street reversal in which a portion of St. Paul Avenue was switched from a two-way street to a one-way. "It's caused some traffic problems, so the community wants us to review it," Kearns says, noting that the change was made last April and is being reviewed by the board. He expects a large turnout during a March meeting, in which the issue will be discussed.
Kearns says CB10 also plays a role in regards to expenditures of city funds on capital budgets within CB10's area, as well as expenses related to those capital projects. "Again, it's an advisory opinion, but we interact with the agencies on the capital budget requests," he says.
Obviously, it takes time for issues to be addressed. The board also participates in monthly meetings with state agencies in order to find out what the agencies are doing, how their actions affect the CB10 area and to share concerns from area residents.
Growth Issues and Opportunities
When asked what the biggest concern is for residents right now, Kearns is quick with his response—overdevelopment.
"The board 10 area, like much of the northeast Bronx has been down-zoned because it's older," Kearns says. "Over 60 percent of the housing stock consists of one- to three-family homes. As people get older, they sell their homes, or they die and their children don't necessarily want them. So they sold their homes, and the developers were coming in and building whatever they wanted to build. It was changing the character of the neighborhood."
Kearns adds that CB10 was able to work with the New York City Council and the mayor's office to down-zone the area. As a result, new buildings cannot be more than two stories with three parking stories.
So many one- to three-family homes are becoming three-unit condos, but the limitations are helping to preserve the character of the neighborhood. More condo developments are being built, but Kearns says that because of the restrictions, the character of the neighborhood isn't changing so much as a result.
"Over 60 percent of the district is one- to three-family homes, so a lot of it was ownership anyway—there's very little rental housing here," he says.
Another important development in the CB10 area is the aging of the population of Co-op City, which Kearns says is New York State's largest housing cooperative. According to Kearns, that population is forming what's known as a Naturally Occurring Retirement Community" or NORC. As a result, it's eligible for state funding to provide services for older residents living there. Those services allow older residents to continue living there. A lack of these services was forcing older residents to leave the area.
"Most people bought into Co-op City when they were in their 30s in the 1960s, and now they're much older," Kearns says. "As they get older, they need services and the services often were not located in the confines of the community. Residents are provided a special funding structure that allowed those services to be brought to the community. So you could age in your own community and get the services that you need."
Kearns says NORC-related services in Co-op City include Meals on Wheels, access to medical care , transportation to medical providers, and friendly visiting programs for seniors in which volunteers visit them and help them with tasks such as shopping.
Keeping in Touch
If you're a resident of CB10's area of the Bronx and have a question or concern you'd like to raise, Kearns says his office is open and available for just that, and that residents can contact CB10's office in a variety of ways. By phone at (718) 892-1161, by e-mail, snail mail or visiting the office at 3165 East Tremont Ave., weekdays from 9 a.m. to 5 p.m. Con Edison and the borough president's office also maintain a website for community boards in the Bronx at www.bronxmail.com. CB10 has a space on it with a schedule of monthly meetings, minutes from meetings and other information. n
Anthony Stoeckert is a freelance writer and a frequent contributor toThe Cooperator.