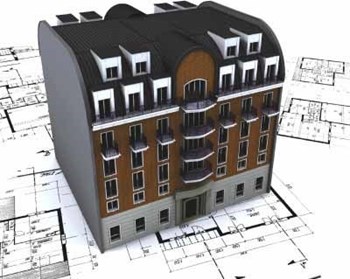 I often go up to Washington Heights, an area where I lived many years ago, just to walk around. On one recent trip, I decided to take a look into the lobby of my old apartment building on Cabrini Boulevard to see if there had been any changes.
When I looked at the buzzers, I was shocked—my former apartment, as I had known it, didn't even exist anymore! Instead of two separate listings for "A-61" and "A-62," there was now a single combined listing for "A-61/62." A look online at a real estate website confirmed it—the combined unit had recently been for sale as a six-room apartment.
There are definitely instances where apartment owners want to enlarge their apartments by combining it with an adjacent apartment. Sometimes the owners are so anxious to do so that they offer to buy out the owner of the next-door apartment. Owners have been known to wait for years and years until their next-door neighbor moves out to get the ball rolling.
It doesn't have to be next door, by the way—it can be two units on top of each other, stacked into a duplex with stairways connecting the formerly separate floors.
Though the practice of snapping up adjacent units to make vast living spaces may have slowed a bit in the wake of the recession, it's something that's been going on for a long time in the city—albeit not in huge numbers.
"It's not an everyday occurrence," says Perry Finkelman, construction manager/consultant of American Development Group in West Hempstead. "It is a function for current owners where a neighbor wants to sell and an owner needs more space."
But Georgia Lombardo-Barton, president of Barton Management LLC in Manhattan, specialists in co-op/condo management, says it's very common. "We've experienced most often the combination of either a one-or two bedroom with an adjoining studio apartment, affording owners that extra living space without the hassle of selling or buying," she says.
A Complicated Process
Actually combining two apartments is a complicated process. First, the first owner has to buy the second owner out and go through the closing process. This act, says attorney C. Jaye Berger of The Law Offices of C. Jaye Berger in Manhattan, usually gives the board an idea of what the owner wants to happen.
After that, says Finkelman, "The first thing the buyer needs to do is to have an architect draw up specific schematics of what they would like to do." It is helpful, he adds, to have an attractive color rendering to impress the board. In addition, he says, "the owners may want to show how this work might increase value, not only in their unit but the whole building as well."
He also recommends that you consult with the manager and super for advice before you go before the board. "The bottom line—go well-prepared."
The building won't give you a green light until they review the plans—and some buildings don't even allow this type of thing at all. Almost every building has a particular alteration agreement, as it's known. Afterward, of course, plans must be filed with the New York City Department of Buildings (DOB) or the appropriate municipal agency in your community.
The board is the body that has full control over whether to object or reject these combination-renovation plans. But is there any difference between co-op and condo boards when it comes to combining apartments?
As always, says Barton, co-op boards have a greater degree of involvement than condo boards.
"With co-ops, we recommend that a prospective buyer of an adjoining unit submit an estimated cost of renovations with their purchase application so boards have a better understanding of the added cost of the alteration. Although most condo boards today have a purchase package process, their powers to reject a prospective combination would be limited unless the combination poses a structural hazard to the building," she says.
In addition to a good engineer or architect, you also have to have a good attorney to guide you through the complicated process of paperwork—scheduling, insurance verification and more.
Berger says, "If you're in a condominium you are amending the certificate of occupancy. You also have to change the declaration [the official record of the owners' rights and duties pursuant to receiving title to the condominium] for the building. A client of mine is doing this for the first time, and it's really been a very long process for him. He's now getting to the final end of it and he's happy he's done it."
On the construction end, you have to have the proper applications, liability insurance and worker's compensation, and all contractors must be licensed. And the job must have the proper DOB permits—just like any construction job.
In addition, for New York City buildings you must abide by Local Law 38, or lead paint removal. In a lot of older buildings, even though you don't see lead-based paint, it's there under the layers of newer paint, and it must be disposed of in the proper way.
"You have to be very careful with any natural gas lines and any structural beams," adds Steve Osman of Metropolitan Pacific Properties in Astoria. "Years ago in one of our buildings, one person punctured the gas line. The building had the gas lines turned off, and couldn't turn them on again until every single tenant was there."
Often, the co-op or condo also has its own architect, and that architect must also approve the plans before work is done. And if electrical and plumbing are going to be changed, you must have a report from an engineer that describes what impact, if any, the building might experience in terms of down time.
In general, Finkelman says, "Pick an experienced contractor with many years of occupied rehab—someone experienced in dust control, lead abatement procedure, insurance with high limits, and a resume to give to the board."
Running Over Schedule
What happens if the job runs over schedule? Most condos and co-ops will set a deadline after which the apartment owner must pay a penalty. Often, it's part of the alteration agreement.
Once the work is under way, it can be a problem for those who are living in the apartment that is being enlarged. "Dealing with this and functioning as a family is the biggest problem, "says Richard Singler of Singler Enterprises, a construction manager. "Most of the time these jobs are for more space for families [children]. Some people will move out, others will try to stay and work it out."
It can also be a problem for neighbors. Generally, by agreement, work can only take place between certain hours—for example, between 8 a.m. and 4 p.m. On some occasions, workers will also have to enter other apartments for the work to proceed, and those owners will have to be informed.
We know that overruns are a concern to other owners because of noise and other nuisance factors, but they are also a concern to the board and the management for other reasons—for example, they might find it hard to sell another unit while such a major project is going on. If the work goes over, in some cases, the board will ask the owner to go back and sign a second agreement.
"Anytime you ask a board for an extension of time," says Finkelman, "you are leaving yourself at risk for additional security or worse, the board rejecting you or not allowing you to continue your phase of work past the allotted time frame."
Oh, and about those neighbors—if the job is too much of a nuisance for them, say, it creates too much dust or noise, they can always call the Department of Buildings and have violations issued or the project shut down. So make sure you abide by the agreement.
Keeping Connected
Once an apartment-combining project is under way, that doesn't mean that the board and the manager are out of the picture. It is very common to have an architect hired by the board make regular site inspections. The building manager often visits on a regular basis, and sometimes the superintendent does as well. If this doesn't happen, things may get out of control.
"Their role [the board and management] is to take a back seat but to keep an eye and ear on things," says Singler. "In the end, they get most of the slack."
To ensure that things are going according to schedule and according to plan, especially on a long-running project, the board could request that face-to-face meetings with all subcontractors, the owner and the board's experts take place every two weeks to ensure compliance, Finkelman cautions.
And, of course, imposing fines on the apartment owner, or the threat of such, will make sure he or she stays on top of the work being done to ensure that deadlines are met.
But how does combining units affect a building's tax profile, certificate of occupancy, and so on? What must the board or manager do when units are combined?
Finkelman answers that compliance with tax issues has to be handled and overseen by the condo's attorney. "It is strongly suggested," he says, "that the building's condo attorney be kept in the loop and approve any and all changes before submission to the agencies."
While an attorney can handle the tax matters, Finkelman suggests that a qualified building expeditor be hired, for a fixed fee, to control the certificate-of-occupancy process. He also stresses that in both cases, tax issues and certificate-of-occupancy issues, the costs should be borne by the unit owner, not the condo or co-op itself.
"If you're changing the C of O, the building is being reassessed, which is a concern of many buildings," adds Berger. "It could happen that taxes will go up for the building—especially in a huge penthouse renovation."
Unusual Cases
All of the professionals interviewed for this article had stories of unusual cases involving the combining of two apartments into one. Finkelman says he has seen many cases where not two, but three studio apartments were combined into a two-bedroom apartment, for example.
Singler tells of a money manager-artist who bought a one-bedroom apartment above his three-bedroom unit, installed a staircase and re-worked the upper space into an artists' studio/guest space. "This was actually an interesting job, as we built all sorts of rolling walls and shoji screens and a Japanese bathroom," he recalls.
At times, though, the job can turn into a nightmare. Osman remembers a job when a buyer purchased an apartment that had already been combined years ago from two smaller units. The trouble was that it turned out that the previous owner hadn't bothered to file and document the work properly. The project had taken place when the building was originally being converted from a rental building to a co-op and a board wasn't yet in place.
"The sponsor had been preoccupied with the conversion of the building to co-op," says Osman. "The owner had authorization from the original rental landlord, but not permits from the Department of Buildings." The lack of authorization and other documentation slowed down the job and added costs to the project.
The takeaway from all this? To avoid serious problems during apartment combining projects, competence and compliance are key. Make sure you have a good architect and engineer, seasoned legal representation, experienced contractors, and that you cross all your t's and dot all your i's when it comes to board/management approval and documentation requirements. With those aspects managed, your value and square footage can grow without causing undue difficulty.
Raanan Geberer is a freelance writer living in New York City and a frequent contributor toThe Cooperator.