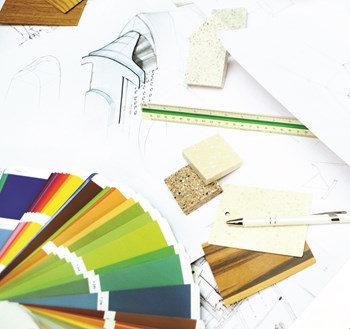 When you open your closet doors, are your clothes hung so haphazardously that you can't find your
bright blue shirt? Does the pile of sweaters on the top shelf topple over when you pull one out? Are your shoes so scrambled on the floor that the new pair you bought two months ago hasn't been seen since? If you spend too much time finding something to wear, it may be time to call a professional closet company to redesign your closet.
If you have bought closet organizers in the past such as bins, shoe racks, plastic cubicles or one of the many other space-savers on the market, you may wonder why you should use a professional closet designer. Well, according to profesM-sionals, the answer is quite simplemore space and better organization.
When looking for a company to transform your closet from chaos to luxury, make sure the person who sells you the closet will be the same one who follows through on the design, production and installation. Robert Scott, co-owner of The Closet Systems Group, a 15-year-old company specializing in closet configurations, manufacturing of closet materials and architectural woodworking and cabinetry, suggests, Choose a company that is flexible in design schemes and will take care of problems down the road. There are a number of closet specialists in New York that can handle the job aptly.
Once you choose a professional to reconfigure your closet, the entire process from the initial meeting to the installation of your closet takes anywhere from one to two weeks. The actual installation can be done in one day. Some companies, such as George Wild Closets, a 30-year-old company in Manhattan, will gut your existing closet, plaster, paint and install the new one in only a day. Besides specializing in closets, George Wild of George Wild Closets is an antique restorator and closet door builder who personally does the design and installation of the new closet and removal of the old. This is a personable business. People like to see the same face, says Wild.
The closet transformation process begins with a meeting at your home where the designer will measure the space, take inventory of your belongings, discuss your present and future needs for the closet and suggest a design. Scott pays attention to how many folded items you have, how many shoes, hanging garments and odd items such as hat boxes and humidifiers you own. After the meeting, he will then give you an estimate.
Jan Riese, co-owner of New York Closet Co., a 15-year-old closet company with a retail store for closet accessories, suggests coming into her store to see the actual closets and materials so you can get an idea of what your closet will look like. If you bring in the dimensions of your closet, she can give you a good idea of pricing.
The costs are determined by the size of the closet, the materials used and the specific details of the job. At The Closet Systems Group there are 100 different choices for material finishes including colored laminate, wood grains, maple, cherry and mahogany wood. According to Scott, a laminated six-foot woman's closet, designed with double and medium hanging and shelving, will cost roughly $600. For a four-foot man's closet with double hanging and shelving, the cost is approximately $475 for the laminate finish.
Besides the laminate and wood, Ne ffb w York Closets also uses wire shelving and dividers. Whereas the rods and shelving in wood and laminate closets are custom-made and interchangeable, wire is permanent. When using wire, the lengths can be cut to size, but the depth is standard. At New York Closets, the cost for wire materials in a six-foot closet is approximately $250. Renters usually use the wire, says Riese. But it's basically a personal preference.
Closet companies can help eliminate wasted space, make use of air space and organize the things that are most important to you. Typically, wasted space is the section above your top shelf, below the hanging garments and on the floor. Air space is every place in the closet which is not being used. A standard closet, five feet long with one rod and shelf, has a lot of wasted space. Making use of every inch of space is the key, says Scott.
To eliminate wasted and air space, many closet companies opt for double-hanging, one rod below another. This way you can hang shirts or blouses on the top and skirts and jackets below, for example. Double-hanging doubles the hanging space, says Scott. Having specific places for each item makes a person neater.
Grouping like items together is another way of eliminating wasted space. Separating the long and short items allows for extra storage such as additional hanging or shelf space below the shorter garments. In addition, extending storage to the ceiling by topping a shelf with another keeps rarely used items within reach but out of the way.
Clothes closets aren't the only ones being transformed. The all-purpose closet can also gain much-needed usable space. If you want to store an ironing board, luggage, stereo equipment, books, file drawers, computers, videos or a changing table, be sure to discuss your needs with the company you choose.
There are no size requirements for transforming your closet. Any closet size will do, says Scott. However, sometimes there is only so much you can do. If you have a three-foot closet with double hanging, there isn't much room for improvement. In order to maximize space, professionals use accessories such as shelves, drawers, shoe cubbies, pull-out bins and belt and tie racks.
According to Edythe Morsell, showroom manager at California Closet Company, typically, a man's closet will have double hanging for dress shirts, medium hanging for sport coats and suits and shelves for sweaters or folded shirts. Men aren't particular about shoe storage, says Morsell. A woman's closet is designed with a mixture of all four configurations including shoe and handbag storage. A woman will use long hanging for her gowns, robes and coats, medium hanging for suits and low and double hanging for blouses. Everything should be accessible to the eye and at eye level, says Morsell.
The Kents recently moved from a home in the suburbs to a small co-op in the city. The couple called New York Closets to redesign three clothes closets and a linen closet. We had too many things and too few closets, says Mr. Kent. Jan Riese added shelves and double hanging to create more space. She utilized the space nicely.
One midtown co-op owner had almost four yards of closet space against a wall, but it was topped with cabinets which decreased the hanging space. The Closet Systems Group gutted the entire closet and all the cabinets, and created three individual closets capable of long hanging. The closet also has drawers, cabinets for sweaters and shelves. The company also made closet doors and book cases for the owner. I just love the closets, says Scott's client. The closets store everything I have and they are aesthetic to the eye. I couldn't be happier with the results.
Your closet should be a place to safely store your lucky shirt, cozy sweater and business suits. A well-organized closet can make it easy to locate what you need when you need it. So if you've taken your wrinkled silk shirt to the cleaners one too many times or can't stand the thought of those duffel ba 8c7 gs falling on your head yet again, pick up the phone and call in the closet professionals.
Ms. Esposito is Assistant Publisher of The New York Cooperator.