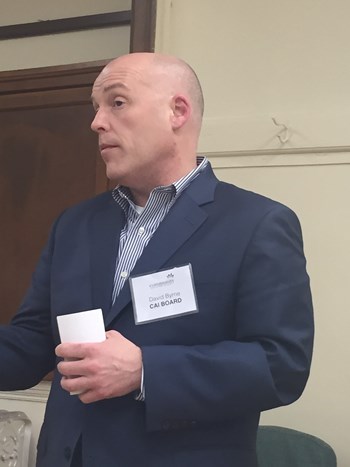 The Community Associations Institute's Big Apple chapter (www.bigapplecai.org) met on Tuesday, March 1 at the General Society of Mechanics & Tradesmen library in Midtown to discuss emotional support animals and ridding your building of drafty ventilation and energy-wasting conditions.
The group's monthly seminar series featured attorney David J. Byrne, a partner with Ansell Grimm & Aaron, PC, a law firm with offices in White Plains and New Jersey, and Casey Birmingham, a senior project manager with the Energy/MEP division of The Falcon Group, an engineering, architectural and energy consulting firm with offices in New York City, New Jersey and around the country.
Birmingham noted that buildings, especially those with older infrastructure, can be tremendous wasters of energy and electricity. He also said that buildings can fix problems associated with poor ventilation without a major overhaul.
Ooooh That Smell!
Some of the problems facing shareholders and unit owners in a communal living situation tend to be cigarette smoke and pungent cooking odors permeating the common areas and neighboring apartment units.
"What I'm here today to talk about is building ventilation," Birmingham began. "Why it's important and why it's often overlooked. You could potentially be saving a lot of money in energy capital expenditure and also improve the comfort of the residents of your buildings—the indoor air quality."