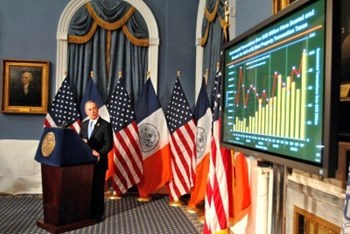 Mayor Michael R. Bloomberg announced his $59.0 billion budget plan for Fiscal Year 2008 and presented his updated four-year financial plan for New York City. In preparation for a possible economic slowdown, the mayor's proposal focuses on long-term planning that will help meet budget gaps through FY 2010, and new initiatives to maintain and advance the city's financial health.
"Over the past five years, a rigorous policy of fiscal prudence has guided our recovery, and has earned the city its best ever bond rating," said Mayor Bloomberg. "We're applying that same good sense to using this year's exceptional revenues. We won't squander what we have on politically popular giveaways that would jeopardize our future. Instead we'll protect that future, both by wisely reducing our looming liabilities, and also by encouraging continued economic growth."
Tax revenues continue to grow beyond expectations, rendering a projected surplus of $4.4 billion for the current fiscal year. As announced in his preliminary budget proposal in January, the mayor plans to return $1.25 billion to New Yorkers in business, sales and property taxes.
IBO Analysis
The Independent Budget Office (IBO), a bipartisan agency that analyzes the city's financial health, finds that the most urgent issue facing the mayor and City Council in the near term is how to effectively use the anticipated $4.4 billion surplus.
The economy remains strong but, according to IBO Director Ronnie Lowenstein, as the local real estate market slows, transfer taxes, which accounted for a large portion of the revenue, are expected to decline in 2008. IBO predicts that with the economic slowdown, weaker tax revenue growth will not be enough to keep up with increased spending in other areas. If the mayor's tax reductions are fully endorsed, IBO expects that tax revenues will to drop 2.3 percent in 2008.
"The budget gaps the city faces are smaller both in dollar terms and as a percentage of city-generated tax and other revenues than we have faced in recent years," Lowenstein said. "But with the proposed property tax rate cuts equaling about one-fourth of the annual budget shortfall in 2009-2011, it may be particularly hard to maintain this tax reduction longer-term unless spending reductions or other tax increases are used to offset the cost."
Lowenstein states that business taxes, also accounting for a large portion of the present surplus will see an anticipated decline of 4.5 percent in 2008, as Wall Street profits are predicted to drop.
"Executive budget proposals for new city-funded spending exceed proposals for savings by $242 million in 2008, with the largest increases for schools, the public hospitals and PlaNYC," Lowenstein adds. PlaNYC 2030 is Mayor Bloomberg's planned vision for the city's growth, housing, transportation, environment, and quality of life over the next 30 years.
In addition, "IBO's budget gap projection of $1.7 billion in 2009, $144 million more than the mayor's estimate, is particularly manageable. If, for example, there were no tax cuts and a relatively small portion of the current surplus was not shifted to 2010, the 2009 gap would be eliminated," said Lowenstein.
Economy and Tax Relief
The economy remains strong in New York City and the unemployment rate is the lowest it's ever been. Commercial real estate has maintained its vitality and the vacancy rate in Midtown Manhattan is small at only 4 percent. However, as previously mentioned, predictions for 2008 demonstrate an economic slowdown.
"Recent reports of much lower growth in gross domestic product (GDP, 1.3 percent in the first quarter of calendar year 2007), weak employment growth in April (88,000 new jobs for the U.S.) and slumping retail sales in April, confirm that growth has already slowed," said Lowenstein.
While the mayor's executive budget presents business, property and sales tax relief, the largest of its new tax proposals is a fifty-cent per pack increase to the cigarette tax, expected to raise an additional $20 million in tax revenue.
City Council Responds
City Council Speaker Christine C. Quinn responded to the executive budget and vowed that the council would review the budget, specifically the proposed agency reductions and the impact they will have on agency performance and the City of New York.
Speaker Quinn supports the planned sales tax reduction, the property tax rebate, and the joint push by the council and the administration for tax relief given to small businesses. She also plans on pushing further for the Renters Tax Credit, proposed in her State of the City address.
"In a win for ongoing budget reform, we are pleased that for a second year in a row, the mayor has accepted and included council priorities in his executive budget," said Speaker Quinn. "District attorneys will get the resources they need to prosecute crimes, including child abuse, the city will have a more aggressive approach to preserving the quality of our drinking water, and we can improve access to top quality primary health care in the highest need neighborhoods."
To this end, the budget includes year one expense support to Speaker Quinn's proposal to create 10 state-of-the-art primary care clinics in high need communities. These clinics will accept public health insurance and offer affordable services for the uninsured.
What's the Impact of PLANYC?
With approximately $700 million in resources generated from the administration's agency program, funding is available for new initiatives and PlaNYC expenses. Among these programs are $75 million in increased funding to the classroom and DOE, $8.1 million to develop a city bike network and $5.4 million for ferry security at the Department of Transportation.
The centerpiece of PlaNYC's goals is to maintain the city's infrastructure, control growth and create new affordable housing opportunities for a growing population that is expected to reach 9.1 million by 2030.
And that new influx of residents will need a place to live in an already crowded metropolis. "To meet the needs of a growing population, we'll need 265,000 more housing units by 2030," according to PlaNYC. "We have the capacity to accommodate this growth, but without action our city's housing stock won't be as affordable or sustainable as it should be. That's why we will expand our supply potential by 300,000 to 500,000 units to drive down the price of land, while directing growth toward areas served by public transportation. This transit-oriented development will be supported by public actions to create new opportunities for housing, such as ambitious rezonings in consultation with local communities, maximizing the efficiency of government-owned sites, and exploring opportunities with communities to create new land by decking over highways and railyards," the plan states. New programs may also be needed to develop homeownership programs for low-income New Yorkers.
10 Years from Now
Another crucial element in the execution of PlaNYC is upkeep of the city's decaying infrastructure. Much of the city's physical plant and power grid, including steam and electricity, its transportation system, roadways and bridges, are more than a century old and badly showing its age.
"This growth will place new pressure on an infrastructure system that is already aging beyond reliable limits," according to PlaNYC. "New Yorkers pioneered many of the systems that make modern life possible—whether it was Thomas Edison switching on the world's first commercial electric light system in Lower Manhattan, planners plotting out the first modern water network in the 1840s, or thousands of workers, engineers and architects building the largest bridges. But our early innovation means that our systems are now among the oldest in America."
According to Mayor Bloomberg's executive budget, the 10-year Capital Plan allots more than $83 billion in city infrastructure improvements over the next 10 years. The administration will grant $1.6 billion in capital funding for PlaNYC capital expenses, including $28.2 billion for school construction and $111 million to open up schoolyards. The city also plans to designate $3.5 billion for reconstruction and resurfacing of roads, highways and bridges, $938 million to build the city's third water tunnel (expected completion date in year 2020) and $46 million for bus initiatives.
Kelly Miner is an editorial assistant with The Cooperator.