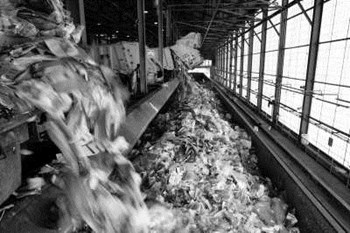 The phrase "Reduce, reuse, recycle" has become something of a mantra in our times - though you still occasionally see a glass bottle or plastic container just stuffed in the trash, more and more people from all walks of life are becoming more environmentally-conscientious. For the city's residential co-op and condo communities, recycling has become the rule rather than the exception.
"We've found that compliance to recycling laws in co-ops and condos is only as good as the building staff you have," says Robert Lange, director of the Department of Sanitation's Bureau of Waste Prevention, Reuse & Recycling. "Co-op and condo owners, and the rest of New York City residents, are constantly being educated about recycling rules in the city. But no matter how well the message is grasped, it all comes down to what trash to put in what cans."
"We currently capture about 50 percent of [the waste material] we target in terms of recycling," declares Lange. "If residents don't put the materials in the right can, we don't have the chance to capture it." A board or management company can create an infrastructure to make sure that recycling rules are complied with and are required to educate their tenants through lease riders.
Teaching Residents to Recycle
Residents can be informed, says Lange, "by posting information throughout the building. This can be done in chute rooms, common areas; the building has multiple choices. People have to be told where they're supposed to bring it, how they're supposed to sort it." He also notes that the city seeks to educate residents through mailings that explain sorting methods and recycling policies. The program has made great strides since it came into being a relatively short time ago, back in 1986, as a voluntary affair (the program passed into law in 1989).
Mailings from city agencies may be all well and good, but it's the "human touch that counts," says Jeff Heidings, president of Siren Management Corp. in Manhattan. "For the most part we see rather good compliance in our buildings. Intermittently, though, we do end up sending reminder letters to our client buildings. In fully-staffed buildings, the refuse is picked up and sorted; in buildings without a resident super, the tenants naturally have to take their garbage down to the sidewalk and sort it into general refuse and recyclables in appropriately labeled cans."
"The only time we've had issues," adds Heidings, "is when we've had turnover in a building, and the new resident came from a situation where recycling was rather lax. Occasionally, we also see that tenants in walk-ups without resident supers have to be reminded of proper recycling procedures."
Anita Sapirman, president and owner of Saparn Realty, has had positive experiences regarding recycling procedures. "We have few issues in our buildings," she states. "We get tons of literature from the Department of Sanitation, which we share with the owners in our buildings. We post the information on signs and in management memorandums; if the owners don't adhere to the policies, they'll be fined."
"The only hassle is for the maintenance personnel to sort through the refuse," says Sapirman. "We've compartmentalized the process, so that things move a lot easier. A lot of energy is required for the personnel to do the job, but they're doing it very well."
Where Does it All Go?
The Department of Sanitation collects a staggering amount of recyclables every year—as much as 423,000 tons of mixed paper and up to 331,000 tons of metal, glass and plastic. The city maintains contracts with various processors who convert the recyclables into useful materials. One of the biggest of these processors is Sims/Hugo Neu, which have three facilities that work on recyclables from the five boroughs. The one in Hunts Point receives material from Northern Manhattan and the Bronx, while the one in Long Island receives from Queens and Brooklyn. These two plants process the materials and then they are sent by barge to the largest Sims facility, an 85-acre affair in Jersey City. Recyclables from Lower Manhattan are delivered by truck straight to the Jersey City facility.
Tom Outerbridge, the manager of municipal recycling for the Sims Group, says that the recyclables are initially sorted out at the facilities. "The metals are separated into the ferrous and non-ferrous categories, which are converted into new aluminum foil and cans (the ferrous) and pots and pans, bathroom fixtures and parts of new appliances (non-ferrous). The plastics are baled and sold to other companies that further process—wash, grind, pelletize—the plastics and/or utilize them in the production of new products. The PET plastic [short for polyethylene terephthalate found in soda and water bottles] is used to make new PET bottles, as well as carpeting and clothing. Detergent bottles, made of HDPE plastic [high density polyethylene], are used to make new bottles, and such things as plastic pipe, trashcans and plastic furniture. Lastly, film plastic is used in making plastic lumber and 'mixed plastic' is sold to companies that have the ability to further sort the material into the various resin categories. As for glass, we grind up glass recyclables and use the resulting material as a substitute for gravel and sand in roadways and in drainage materials for civil engineering."
There are some glitches in the system, according to Outerbridge. "We get a lot of stuff we're not ever meant to get. It's great to see that people are trying to recycle but it's harmful to see things like diapers, plastic swimming pools, toilet seats and rubber hoses come to us."
Another major location for recycling is the Visy Paper Mill on Staten Island. The 41-acre mill opened in 1996 and currently receives about 175,000 tons of the 450,000 tons of recyclable paper produced annually in Brooklyn, Manhattan and Staten Island. The mill turns the recyclables into cardboard for packaging. "We get about 38,000 tons of paper a year from Staten Island, which comes to us by truck. Brooklyn's 55,000 tons comes by truck as well. The 85,000 tons we get from Manhattan comes by a barge from 59th Street on the West Side," says Hank Levin, recycling manager for Pratt Industries, the owner of the Visy Mill.
Levin notes that the recyclable paper is "not pre-sorted" when it arrives at the mill. "It comes with a degree of contamination, so we put it through a sort-line system. We use technology, machinery and good old-fashioned hands to sort through it." The recycling process takes about four hours total, and Levin says that consumers will see their recyclables again in a slightly different form. "When someone buys a TV and puts out the box, it eventually comes to us and we make another box out of the original cardboard. Recycled paper keeps rolling around… the consumer will see it again."
Levin's final statement on the recycling process is that it all amounts to "what's put out on the curb and how it's tied." This brings us back to Robert Lange, who offers an excellent perspective on the state of recycling in the city. "The recycling of plastics and metals produces a gain, but glass is a loss, it's a big drain on the recycling revenue." He recommends that those interested in recycling go to www.nyc.gov/recycle to find the requirements for city residents, detailed descriptions and analyses of New York City's recycling and waste prevention programs, case studies and a history of recycling in the city. Another good source for recycling info is the very proactive program called the "Apartment Building Recycling Initiative" which provides a thorough "101" for learning about recycling.
Lange laments the recyclables that "we're not able to capture." When asked to elaborate, he points to "direct mail, which some people describe as 'junk mail'—credit card offers, catalogues, etc. The reason we don't get this material is due to people's fears that if it is kept intact it will lead to identity theft. Various studies have shown that this is not the case, credit card fraud and other identity theft issues do not stem from items found in the recycle bin. So, currently we're losing all that material, it remains in the trash and never gets recycled."
Lange stresses that the clumsy sorting of recyclable items is "not as big a problem in condos or co-ops," but that "residents of unstaffed buildings sometimes don't sort out recyclables. Sometimes even supers put them in the garbage." Lange says that his department would "like to thank all New Yorkers for all they already do, and ask them to do a little more. We really need everyone to do their part. We'd like to bring up the 50 percent level of capturing recyclables something like 20 to 25 percent."
On the brighter side, he explains that, "In New York City, we capture 50 percent of what we target. In places like Seattle they only capture 40 to 45 percent. New York City is doing better than what environmentalists hold up as the most environmentally sound city in the U.S. That's a pretty laudable achievement."
Ed Grant is a freelance writer and editor living in New York City.