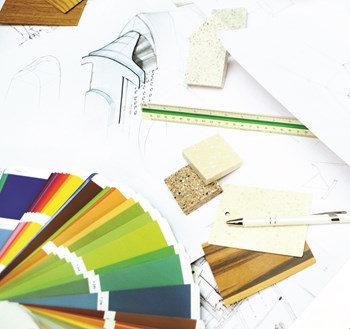 You don't have to be a gourmet cook to appreciate the value of a well-designed kitchen. Even if you and your loved ones subsist on
take-out food and microwave dinners, the kitchen is still one of the most heavily used rooms in your co-op or condo and you want it to look spectacular. But, good looks aren't everything. A kitchen isn't truly spectacular unless it's functional, too. There should be plenty of countertops, lots and lots of cabinets, and don't forget state-of-the-art appliances (like a noiseless dishwasher).
Something else to keep in mindwhether you just moved into your co-op or condo, or you're getting ready to put it on the marketis that if your kitchen doesn't thrill you, it probably won't impress potential buyers either. That's why the right kitchen make-over can add value to your real estate investment.
According to Greg Carlson, president of Carlson Realty, Inc., a real estate management and brokerage company in Forest Hills, Queens, When the real estate market is good, you can usually expect to increase your sales price by ten to 20 percent if your kitchen has been renovated within the past five years. Even in a depressed market, brokers find that a new kitchen is a significant selling point. You may not be able to get more money for your apartment, or even recover the entire cost of the renovation, but you'll definitely sell your unit faster than if you hadn't spiffed things up.
People do want to see a new kitchen, agrees Richard Grossman, vice president of sales at Heron Ltd. a brokerage and property management company in Manhattan. He points out that the price and quality of the renovation should be appropriate for the real estate itself. You wouldn't want to put an Ikea kitchen in a million dollar apartment, or a $30,000 kitchen in a $60,000 studio, he advises.
A new kitchen means one less thing the buyer will have to take care of himself, Grossman adds. So it's usually a big selling featureprovided it's been done right. You want to stay away from questionable colors (like pink) and any dramatic design touches that will only appeal to a select few, he warns. The best way to skirt the difficult issue of taste is to choose low-key colors and styling that will work for most potential buyers. White mica, an icon of 1980s design, is history. White is still frequently used for cabinetry, but it's now wooden cabinets finished in white stains or paints. Natural finishes in cherry and maple have also come into favor.
There are a variety of kitchen make-over approaches to suit every budget ranging from lower priced installations such as the ones available at chain stores like Ikea and Home Depot, to the cutting edge designs of high-end kitchen specialists. The route you take will depend upon several factors including your budget and how you envision the kitchen of your dreams. Daniel E. Berke, a real estate appraiser with Alfred Schimmel & Associates, Inc. in Manhattan, points out that a kitchen remodeling job is less drastic and therefore less expensive than a full-fledged renovation.
If you put in a new floor, resurface the cabinets and add counters, you're technically doing a remodel, Berke explains. A renovationwhich would be much more costlywould involve these things, but would also include structural work l ffb ike rebuilding the walls or moving the gas and water lines. Berke has found that a well-done kitchen make-over can retain its value as a selling point for up to seven years.
Many people assume that they'll have to spend $20,000 to get a great new kitchen, says Mitchell Weissberg, a principal of Krup's Kitchen and Bath in Manhattan's trendy Flatiron District. But that's not so. Our jobs cost between $4,000 and $7,000 depending on the extent of the work and the look you choose. Weissberg adds that in many cases a partial renovation is all you need to upgrade and beautify your kitchen. You can create a whole new look without spending a lot of money. You'd be surprised at the difference a new floor can make.
According to Weissberg, the cabinets are usually the most expensive part of a new kitchen. You can get around this expense by choosing lower end cabinets and dressing them up with upscale hardware. The less you spend on the cabinets, the more you'll be able to indulge in a fancy granite countertop, an imported tile floor or sleek, state-of-the-art appliances. It's the professional or professional-style appliances such as Thermador ranges and Viking equipment that are capturing the greatest consumer interest today. Dishwashers with stainless steel interiors are also popular.
When Weissberg meets with customers who have an old kitchen in a pre-war building he cautions them not to tear down the existing cabinets without first considering their old-fashioned charm and resale value. How would they look refurbished with a paint job and new fixtures? Or with the paint stripped to reveal the rich wood underneath.
Not all of Weissberg's customers choose the more for less approach. When you've taken on the mammoth task of merging two one-bedroom apartments into one co-opand you have no immediate plans to sellyou might as well go all out. This is exactly what Jo-Elleen and Andrew Kurtz, a couple who live in a 500-unit co-op on the Upper West Side did. It was a huge job because the whole place had to be gutted. It took three months to combine and then renovate the two apartments, says Mrs. Kurtz. But it was well worth the wait. We're very pleased with our new kitchen.
Our building was built in the 1950s, she explains. Neither of the original kitchens had much charm. They were both pretty horrible and decrepit with aluminum cabinets and vinyl floors. Our new kitchen is twice as largeabout 150 square feetand has white wood cabinets with brass knobs and dark green granite counter tops. The floor is terra-cotta. It's clean-looking, new and bright. We also have tons of storage space, more than enough counter space and an eat-in area.
Kitchen design companies have plenty of ideas about what your new kitchen can look like. But they also welcome input from clients. One downtown couple, who live in the financial district, was able to visualize the kitchen of their dreams. As they described what they wanted (like the Kurtz kitchen, this job also required a contractor because it involved knocking down walls) the designer from Allmilmo New York, a kitchen specialist located in midtown Manhattan, sketched their ideas. We wanted a clean, uncluttered look with no ornate fixtures and that's what we got. Our co-op was originally an office building and then a rental, so we had no amenities when we bought the place. It was also very cramped. There were three small, box-like rooms, says Allmilmo's client.
The first thing we did was get rid of the walls separating the living room, the dining room and the kitchen. This created one large, open space; and, in the kitchen we gained about 50 square feet. The kitchen and dining rooms are now separated by a pass-through which is also a full-length counter with a Viking professional range. Over this counter we have additional cabinets with glass doors. One of the best features in our new high-end kitchen is the Asko dishwasher. It's so quiet you can barely hear it! The noise factor is especially important when your living area isn't c6d separate from your kitchen area. Our cabinets are beech. The countertops and floor are both granite. We spent about $60,000 on the total renovation. It was money well spent because our living space is so much more comfortable and livable. We knew we weren't going anywhere. We knew we wouldn't be able to sell for quite a while, so we might as well do what we wanted with the apartment. At the same time, my wife and I agreed that anything we did to the place could only enhance our resale value.
Choosing a Kitchen Specialist
If you're thinking about looking for a kitchen specialist, real estate brokers recommend getting referrals from friends, neighbors or people in the real estate business. Keep in mind that you want someone who's had plenty of experience revamping kitchens in co-ops and condos, as opposed to houses. It also helps if you can take a look at their workmanship. Whether you've just moved into your apartment, or you're eager to put it on the market, a spectacular kitchen is well within reach.
Ms. Mosher is Associate Editor of The New York Cooperator.