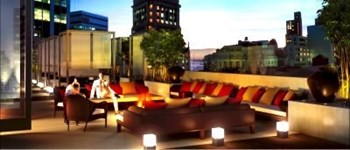 For all the incredible diversity embodied in its population of eight million people and the many industries that call it home, New York City has always been a center of commerce. The city was founded not by a nation but by a corporation—the Dutch West India Company, in 1626 one of the wealthiest and most powerful commercial enterprises in the world. New Amsterdam, as it was originally called, was established not as a colony but as a trading post. Indeed, Broadway itself is paved over a trail used by Native Americans to come and make trade - for them, too, Manhattan was a commercial center. That the neighborhood containing the original Dutch settlements is called the Financial District, then, is hardly a misnomer.
The World's Bank
Bound by City Hall Park to the north, Battery Park to the south and west, and the East River to the east, today's Financial District—the area that official maps call simply, "Wall Street"—retains much of its original character. The corner of Wall and Broad Streets, where J.P. Morgan established his headquarters a century ago, abutting the New York Stock Exchange, remains the epicenter of American—if not global—finance. Terrorists may have toppled the towers, but not the spirit, of what is still the World Trade Center.
There is enough history on these tortuous and narrow streets to fill volumes. In the Financial District, John Peter Zenger was ruled innocent, establishing freedom of the press; George Washington bade his troops farewell at Fraunces Tavern; Tammany Hall and Boss Tweed rode roughshod over the city's political landscape; John D. Rockefeller expanded his empire from the Standard Oil Building at 26 Broadway.
After the Erie Canal firmly established New York as the country's greatest city, and the roots of modern finance were planted on Wall and Broad at the end of the Civil War, the area that had once been the entire city began to lose its residential flavor. Those who could afford to do so moved uptown, first to Greenwich Village, then to Murray Hill, then to Park Avenue, and even further toward what we now know as the Upper East and West Sides. John Archbold, for example, the president of Standard Oil in the 1910s, lived in Tarrytown, and commuted to work every morning by yacht. It was not desirable to live where you worked.
So, even as the city continued to grow in population, there was, historically, a paucity of residential units in the Financial District. Even ten years ago, the neighborhood was inhabited mainly by artists and the like, who were willing to trade the lack of amenities (read: grocery stores) for bigger spaces and cheaper rent.
This is all changing. While the Financial District still more or less shuts down after work, more residential buildings are being built new, or converted from commercial space to condominiums. More people have realized the benefits of living near where they work. And New York's oldest neighborhood—the twisted, winding streets where it all began—is quickly reclaiming its place as a hot residential area.
Who's There?
"Ten to 15 years ago, the Financial District was a pioneering area," says Ken Scheff, director of sales at Stribling & Associates. "There were few rental buildings, and very few co-ops and condos."
This began to shift as prices elsewhere in Manhattan and Brooklyn soared and some of the lower-on-the-food-chain-but-still-making-good-money employees of the financial companies began to recognize the value in not straying far from the office.
"There were opportunities for younger people to be close to work at a favorable cost," says Jonathan Phillips, a vice president at Halstead Properties, who with his partner Ginnie Gardiner presides over the company's SoHo division. "This was unlike the previous generation, who wanted to be as far away from work as possible."
Typically, when a neighborhood becomes "hot," a wave of wealthier residents buy out the existing population. There is no such gentrification in the Financial District, because the "existing population" consists largely of empty desks, unused cubicle walls and unplugged copy machines. Most of the residential units are either brand-spanking-new—like the Setai, or 50 Pine, or the Frank Gehry tower at South Street Seaport—or converted office space.
"If I could make one generalization about the people who live in the Financial District, it would be that they tend to be over-educated and high-income," Phillips says.
It could be that the new population is mostly families. It could be that it's empty-nesters, or young married couples. The pros say it's still too soon to tell.
"It's less obvious," Phillips says. "The largest piece of new residential Financial District use is yet to come." East of Broadway, he says, is just starting to shake out, while a large number of buyers are waiting to close on new units, or waiting for newly-built units to be operational.
"I see it as being increasingly desirable for a broad range of buyers," says Scheff. "Families, businesspeople who need a pied-a-terre, young people."
Developers are betting on new residents having money to spend, however. The apartments being built tend towards the luxe.
"It's a trend throughout the city," Scheff says. "A tremendous demand for new development—larger, more luxurious bathrooms, luxurious open kitchens, feelings of loftiness. Not since the 1920s have you seen such an emphasis on new, luxurious spaces being built."
Condos are more popular and cost more in the Financial District—not because of their status as condos, necessarily, but because the new developments that have the amenities buyers want tend to be condos.
"A well-renovated space in a co-op would sell easily as well," Scheff says.
Co-ops, though, because of their age, can come with attendant headaches. Phillips notes that cooperative buildings from the 1970s and 80s, when inflation was in double digits, often come with balloon payments on their mortgages. Translation: higher maintenance costs.
"These are fabled tales of the Middle Ages to buyers in their twenties," Phillips says.
Apartments in the Financial District, especially renovated spaces, tend to not adhere to the usual Manhattan floor plan. The units may not have a second bedroom, but the additional square footage, combined with the larger kitchens and baths, make for better long-term use for young families.
"Usually, we're called right after the obstetrician," Phillips says. "Here, people don't have to move when they are impacted by biology."
New Developments
Anticipating—and perhaps hastening—the arrival of major amenities and conveniences in the Financial District, developers are erecting dozens of new residential projects in the neighborhood, most of them trending very high-end. While most newly constructed condos these days include a fitness center and maybe a playroom for children, some of the new developments in the Financial District (or "FiDi," to use local brokers' fondness for contracted names) boast more over-the-top luxuries. Features of the latest generation of residential buildings include rooftop cabanas, Zen-influenced in-house spas, and libraries with roaring fireplaces—not to mention iconic Wall Street addresses and surroundings rich with history and prestige.
One such project is the Setai, a commercial-to-residential conversion at 40 Broad Street that's being described by its Miami-based developers as "a mantra of serenity and calm." Condo residents will have access to a private club with a spa and gym, a full restaurant and wine cellar, and a rooftop social space that includes cabanas, whirlpools, and even a miniature pond.
Another condo development currently underway is Beekman Tower at 8 Spruce Street, designed by celebrated architect Frank Gehry. When it's completed (sometime in 2010, hopefully) the glass-and-titanium tower will be one of the tallest buildings in the neighborhood, boasting 75 stories and hundreds of residential units—though the behemoth building will also house a public school and health care offices, among other commercial tenants.
Making good use of the FiDi's already impressive architecture is 75 Wall Street, a 43-story rose brick building that was formerly the home of the JPMorgan Chase investment firm. It's being converted into 350 condo units, with a Hyatt hotel occupying the lower floors, and will be ready for guest and residents sometime in 2008. The building's entryway will be impressive, with a soaring, three-story atrium and separate entrances for full-time residents and hotel guests.
Draws and Drawbacks
The draws of the Financial District are many. The neighborhood itself, awash in history, is one of only two New York neighborhoods liberated from the grid, with meandering streets, cobblestones and even an alleyway or two. The schools—PS 234 in particular—are excellent. Living within walking distance of the office spares residents the headaches that come with an MTA commute. And the cultural scene is poised for a renaissance—the artists, remember, have been here all along.
"Lower Manhattan is reawakening," says Tom Healy, president of the Lower Manhattan Cultural Council, an organization dedicated to connecting residents, tourists and workers to the area's arts community. "There is an influx of new construction, residents, artist spaces and art activity—and there is much more to come."
The main drawback to the Financial District is its glaring lack of amenities. The restaurants tend to be lunch-and-breakfast places, and the nightlife is still in the larval stages. There are no 24-hour drug stores. There are, incredibly, no real supermarkets. Were it not for the ubiquitous Fresh Direct trucks, residents would be forced to buy food uptown and haul it back on the subway.
"The downtown developers should have spent $5 million and put in a Whole Foods," Phillips laments. "Fresh Direct has been the mechanism for getting food. The aspect of being able to go out and buy food at whim—that is yet to come."
"There is a perception that the Financial District rolls up its sidewalks at night because of a lack of nightlife," he continues. "I would opine that it's because there's nowhere to go."
When this pressing need is addressed, Phillips predicts, there will be a major change in the neighborhood.
Scheff agrees. "The tightening of the office market is positive for the residential market, because it brings more amenities," he says. "With more amenities, more people will want to work there, and if more people want to work there, more people will want to live there."
"Developers will take stock of the demographics and fine-tune what's being constructed to meet those needs," Scheff says. "If there are more families, they'll built larger apartments. Or they'll build pied-a-terres. We need that information before the next round of development."
And so the Financial District stands on the precipice. New developments are under construction, and new buyers are ready to move in. The only unknown is who the bulk of the new buyers will be. That, more than anything, will determine the neighborhood's future.
Greg Olear is a freelance writer and a frequent contributor to The Cooperator.