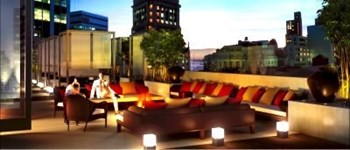 For all the incredible diversity embodied in its population of eight million people and the many industries that call it home, New York City has always been a center of commerce. The city was founded not by a nation but by a corporation—the Dutch West India Company, in 1626 one of the wealthiest and most powerful commercial enterprises in the world. New Amsterdam, as it was originally called, was established not as a colony but as a trading post. Indeed, Broadway itself is paved over a trail used by Native Americans to come and make trade - for them, too, Manhattan was a commercial center. That the neighborhood containing the original Dutch settlements is called the Financial District, then, is hardly a misnomer.
The World's Bank
Bound by City Hall Park to the north, Battery Park to the south and west, and the East River to the east, today's Financial District—the area that official maps call simply, "Wall Street"—retains much of its original character. The corner of Wall and Broad Streets, where J.P. Morgan established his headquarters a century ago, abutting the New York Stock Exchange, remains the epicenter of American—if not global—finance. Terrorists may have toppled the towers, but not the spirit, of what is still the World Trade Center.
There is enough history on these tortuous and narrow streets to fill volumes. In the Financial District, John Peter Zenger was ruled innocent, establishing freedom of the press; George Washington bade his troops farewell at Fraunces Tavern; Tammany Hall and Boss Tweed rode roughshod over the city's political landscape; John D. Rockefeller expanded his empire from the Standard Oil Building at 26 Broadway.
After the Erie Canal firmly established New York as the country's greatest city, and the roots of modern finance were planted on Wall and Broad at the end of the Civil War, the area that had once been the entire city began to lose its residential flavor. Those who could afford to do so moved uptown, first to Greenwich Village, then to Murray Hill, then to Park Avenue, and even further toward what we now know as the Upper East and West Sides. John Archbold, for example, the president of Standard Oil in the 1910s, lived in Tarrytown, and commuted to work every morning by yacht. It was not desirable to live where you worked.
So, even as the city continued to grow in population, there was, historically, a paucity of residential units in the Financial District. Even ten years ago, the neighborhood was inhabited mainly by artists and the like, who were willing to trade the lack of amenities (read: grocery stores) for bigger spaces and cheaper rent.