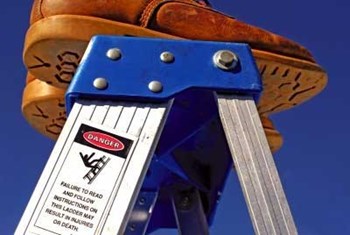 Part of the process of bidding and hiring a contractor to work in your building is verifying their insurance coverage. Uninsured or inadequately insured contractors pose a serious threat to a co-op or condo community's finances and can cause huge legal headaches. To avoid exposing a co-op or condo to serious liability and expense, it's up to boards and managers to thoroughly vet the people they bring in to do even basic maintenance projects in their building.
A Look at the Law
First and foremost, because of state and federal laws and the size and scope of some of the projects being undertaken, residential buildings have tremendous exposure to lawsuits. Even work done inside individual apartments can involve the building if an accident should happen. Even something as seemingly benign as hiring your brother-in-law to paint your bedroom has the potential to wreak havoc on your building's insurance landscape.
Sections 240(1) and 241(6) of the New York State Labor Law outline the responsibility of both contractors and buildings to create a safe working environment for laborers, particularly those working on scaffolds. Considered pro-worker to a fault by contractors and building owners alike, Labor Law 240/241—and its interpretation by the courts—is "the biggest issue in New York today," says Alnoor Ladha, executive vice president of Manhattan-based Vanderbilt Properties Insurance Brokerage LLC.
New York's stringent legislation has long been unpopular with contractors. In testimony to the State Insurance Department five years ago, the Business Council groused that "New York's courts have upheld this 'absolute liability standard,' which means property owners and their contractors have no way to defend their actions and their safety records in liability cases that fall under this statute."
"The duty to provide proper safety devices to construction workers is non-delegable and absolute, making owners and general contractors vicariously and absolutely liable for worker injuries even if they do not supervise or control the construction work," says Thomas Hughes, executive vice president, general counsel, and secretary of Greater New York Mutual Insurance Company in Manhattan. "Absolute liability even attaches to fee owners who have leased the land to another and did not own the building itself, and to lessees who hire the contractor."