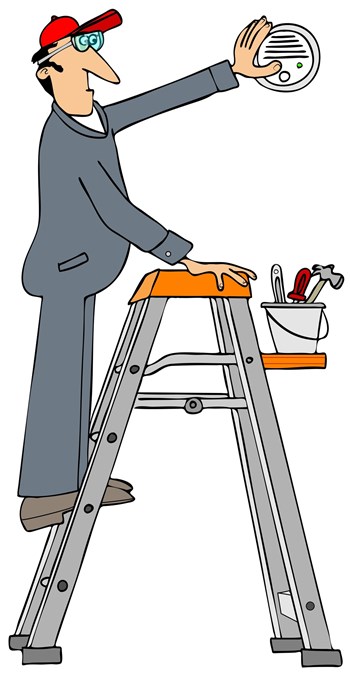 In New York, they are called superintendents. In Florida, they are called maintenance supervisors. Other places call them supers or building engineers. No matter which title they answer to, these are the employees who are responsible for the day-to-day operations and repairs of the building, from the basement to the roof, and inside each and every unit.
"Building engineers and/or superintendents vary from region to region depending on the needed skills for the individual building," says Brian Street, adjunct professor in Nova Southeastern University's Real Estate program at the H. Wayne Huizenga College of Business and Entrepreneurship in Fort Lauderdale, Florida, which offers a minor in property management."For example," he says, if the building has a cooling tower, elevators, chillers or pumps, then the building super would need to understand the inner workings of that equipment in order to properly maintain the systems."
It's a lot of responsibility for an employee. One neglected drip or crack can lead to bigger, more extensive (and expensive) problems, and may ultimately lead to structural damage to the building or even personal injury. It's crucial to have a trustworthy resident maintenance supervisor – or super – on hand to address these issues quickly and competently.
The Right Person for the Job
When something goes wrong, it doesn't always go wrong during a standard 9 to 5 work day. "It's a job where you're on call 24/7," says Steve Mason, Regional Condo Manager for Atlantic Pacific Management in Boca Raton, Florida. "There are fires, floods, power issues and more where a super has to be available no matter what time it is."
"Each building needs to find the right super with the right skill set," Mason continues. "The main role of the super is to delegate work orders to the staff and to overview the daily responsibilities. There are also daily and weekly items that need to be walked through and signed off on as well."
Not only do supers oversee all of the building systems, some are responsible for managing an entire team of staff members to make sure that the items get fixed. "The building super may oversee the porters and janitors for the building," adds Street. "They're responsible for the cleanliness of the common areas - the lobby, hallways, bathrooms, etc."
"They also coordinate with vendors, order parts and supplies, lead the team and divide the work among the staff," says Leslie Register, regional VP of Rivergate KW Residential, a multifamily property management firm in Tampa, Florida.
The super typically reports to the property manager. "They have daily meetings to ensure everyone is on the same page as to maintenance items, vendors coming to the property, inspections, etc.," says Street.
Super Skills
As time has gone on and building technologies have grown more advanced, the skills and knowledge base required of supers has evolved as well, says Peter Grech, resident manager of a 305-unit co-op in Greenwich Village. "The super's job has evolved from the 'doing' to the 'overseeing,'" he says. "In the past, the supers were working supers, but everything has moved more towards administration. Gone are the days of the old janitor, tool pouch and key ring. Today, a resident manager only has three keys—one to the office, a master key for the apartments and a key to his own apartment."
Kyle Bragg, secretary treasurer and director of residential divisions for the 32BJ-SEIU Service Worker's Union Training Fund, has been with the organization for over 30 years and agrees with Grech. He says that supers were once mostly hands-on guys who did repairs. Today, he says the industry is very competitive. "You need a variety of skills to run a luxury building in New York. Competition for those positions is high and candidates come with really impressive resumes. Most have abilities to manage staff and some level of accounting skills. They have a working knowledge of contracts and good, interpersonal skills to deal with both contractors, tenants and staff, because they are usually the buffer between labor and management. It's a delicate balance, and it takes a sophisticated individual to operate as a super or resident manager now."
"Now supers are more white collar, especially in the higher-end buildings," Bragg continues. "They manage payroll and keep up better maintenance through the use of computer systems. There have been new developments in the industry and technology has changed, so educational needs have changed too."
To that point, Register said that she definitely wants a superintendent who has experience and a certification for working with Feon. The Environmental Protection Agency's regulations under Section 608 of the Clean Air Act require that technicians who maintain, service, repair, or dispose of equipment that could release refrigerants into the atmosphere must be certified.
"We look for trade specific certification and also look for someone with a work history of carpentry, electric, plumbing and painting," adds Mason. "The super then needs to train the other guys that work underneath him."
Register also says that her maintenance supervisors are required to have a CPO® Certification, which provides them with the knowledge, techniques, and skills of pool and spa operations. "They do not need a general contractor's license, but they do need to have experience in carpentry, drywall, and building construction, as well as experience working with appliances."
Super Communication
To do their job effectively, supers must keep on top of work orders from the managers as well as the resident. Mrs. Smith in Apartment 2C might need a water leak checked, while Mr. Henderson might not be able to get his garbage disposal to work. This requires an effective means of communication with the residents and manager.
"We instruct the work orders from the residents to be called into the property manager's office or enter the information online," says Register. "When the work order is submitted, it's given to the supervisor and we leave a card to let the resident know that we have their order and we will keep track of the progress."
Mason says that the same system is used with his properties. "In our experience, the best practice is for residents to make their requests with the property management office. The PM then creates a work order to properly track the building super. Once the task has been completed, the PM would then follow-up with the resident."
Regardless of a particular building or association's protocol, Bragg says that good general communication skills are part of the super's job every bit as much as facility with basic repairs and maintenance. "Whether it's the board president or shareholder, the super is the tenant advocate too," he says. "You need someone who can talk to and relate to folks and be able to create relationships, be a liaison between them and management."
Evaluation and Support
To determine how your building maintenance pro is performing, an evaluation is performed. "Typically the building super's job description has been reviewed with the property manager," says Street. "The PM has reviewed the details and expectations of the position with the candidate prior to being hired."
Mason says that his maintenance supervisors are not hired under a contract, but instead are hired as a direct employee. "We put them through testing and a personality profile and if they can't answer a basic question on something like standard water pressure, then we aren't going to hire them. After 90 days, their performance is evaluated and also includes client and facility satisfaction. We want them to be creative a positive work environment and can tell if our clients respect or don't respect the maintenance supervisor. We expect them to lead by example."
To help keep up on their knowledge of the building systems, especially in a day and age when technology changes so quickly, supers take educational courses. "We offer training, and there are training programs available through the National Apartment Association," says Register.
Since the role of the super/resident manager has changed drastically over the years, the role of support staff has also made adjustments. Traditionally, a male-dominated industry, says Michael Berenson, president of AKAM Associates, a management company in Manhattan, says that he is seeing more women in these roles. Additionally, supers overseeing larger buildings—some with 1,000 units—have a dedicated support staff on-site. "Some of our properties have assistant superintendents and many of them have handymen, who are the next in charge."
While boards and managing agents can assist superintendents with certain in-house issues, the role of the super or resident manager can be improved upon with training and education. AKAM, for example, has a Superintendents Club, which meets every 10 weeks. In recent years, representatives from the Office of Emergency Management (OEM) have presented on crisis scenarios such as blackouts or terrorist attacks, as well as seminars from the New York City Fire Department (FDNY) who teach on fire-related emergencies.
"We had engineers come to teach our superintendents on what to look for when they walk our properties—from the roof to the basement," says Berenson. "We had had ethics seminars. We have attorneys come in to speak as well. It is a great learning experience and supers get to bounce ideas off each other—the Upper East Side guys get to know each other and the Downtown guys get to know each other and so on—a lot of brainstorming goes on."
Super Surprises
Every once in a while, a super comes across something on the job that falls well outside the realm of business as usual. From severe hoarding situations to water main breaks in the dead of night, Register says that her maintenance supervisors have handled everything, but it can get much stranger—and much more unpleasant—than even that.
"Sometimes they are the first ones to walk into a situation where a family member has called and hasn't heard from a resident in a while," says Register. "Sometimes the super is the first one to discover a death or suicide - like the woman who had a heart attack and was left at the table. They have to have courage and bravery to do this job."
Mason says that "Years ago, we had one building that was built in the 1960s, on the beach. Because it's so old and below sea level, there's an ongoing joke that it would just float away on the ocean." He goes on to say that you could actually hear seawater running underneath the building, which needed 36 pumps just to keep the basement from being constantly awash. "If we had a thunderstorm and the ocean water rose, we would need water boots to work on the building. It was an odd property. Maintenance supervisors have stuff like that and a lot of other ugly things to deal with."
Super smart
The responsibilities and the titles are different from building to building and region to region, but the bottom line is clear. Residents depend on their maintenance supervisors, or 'supers' to run the building effectively. "This man or woman is responsible for your health, safety, and quality of life.," says Grech. "They're the go-to guy when you need something in your home; they're the rock that supports the building. A good super is hard to find; an excellent super is even harder to keep."
Lisa Iannucci is a freelance writer and editor, and a regular contributor to The Cooperator.