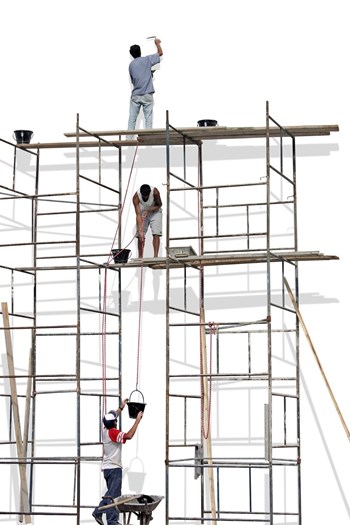 It's not hard to imagine the dire danger posed to life and limb, should debris or material of any kind fall from the facade of any of New York City's thousands of buildings. Indeed, pedestrians have been injured and killed by bricks, stone, and other materials falling from building exteriors. And the recent winter weather brought a perilous situation to pedestrians near the new World Trade Center site as ice began falling down from its glass curtain façade onto passersby below.
And what New Yorker can forget the image of a construction crane dangling precariously from atop a luxury high-rise near Carnegie Hall after it collapsed as weather conditions worsened because of approaching Superstorm Sandy in October 2012? As a precautionary measure, several buildings—including the nearby Parker Meridien hotel—were evacuated and surrounding streets cleared. Luckily, the crane was tethered to the building, and no one was hurt after engineers and inspectors hiked 74 flights of stairs to examine the crane.
What's a Local Law?
To address hazards such as these, New York City enforces a number of regulations—chief among them Local Law 11 (LL11), which mandates regular inspections of building facades to make sure they're safe and in good repair.
"Ensuring facades are properly maintained is an integral part of building safety," says Kelly Magee, press secretary for the New York City Department of Buildings (DOB). "If a building's exterior is neglected, it can put the public in harm's way. Ensuring that your building's façade is properly maintained means protecting the people who live in, work and visit your building every day."
"The law itself says its purpose 'is to ensure that a condition of a building wall or any part thereof not requiring repair or maintenance to sustain the structure integrity of the building that will not become unsafe in the next five years,'" adds Craig A. Hargrove, AIA, LEED AP, the senior vice president and director of Hoffman Architects, Inc. in New York City. "What that means is that they want to make sure that nothing will fall off of a building within a five-year period and injure or kill people and damage property."
Inspection Cycles
Under LL11, owners of buildings (including co-op corporations and condo associations) that are over six stories or taller must have their buildings' exterior walls and appurtenances inspected once every 5 years and file a technical report with the DOB. To support building owners' compliance with façade maintenance requirements, The Façade Safety Program has been divided into staggered deadlines.
"The Cycle 7 inspection/reporting period ran from February 2010 through February 2013. The nominal Cycle 7 runs from 2010 through February 2015," explains David May, RA, LEED AP, principal of SUPERSTRUCTURES, an engineering and architectural firm in New York City. "The next Cycle 8 reporting period will run from February 21, 2015 through February 2019. Within the reporting period, there will be three discreet two-year sub-cycles, with filing windows staggered one-year apart."
As amazing as it seems, up until recently every building that needed façade repair had the same deadline in the five-year cycle—the most recent being February 21, 2007. That meant over 12,000 buildings citywide had to have any necessary repairs completed by the same day. And like most people putting off going to the dentist, building owners were scrambling before the deadline to have contractors, engineers and architects to finish up, or in the worst case scenario, start the work.
"It used to be that all the buildings had the same deadline," says Wayne Bellet, president of Wayne Bellet Construction in New York City. "One of the reasons that it's not on the same day now is because certain vendors and contractors were taking advantage of the scarcity of their equipment and manpower and were overcharging. So the fact that the deadlines are staggered is brilliant. Now your deadline is according to your block and lot number."
Origins of LL11
Like any number of other laws and legislation, Local Law 11 was prompted by a fatal accident.
LL11's predecessor was Local Law 10, which itself was passed and signed into law in 1980 by then New York City Mayor Ed Koch. A year earlier, a chunk of terra cotta broke off of a Columbia University-owned apartment building on West 115th Street. It crashed onto Barnard College freshman Grace Gold, killing her. Barnard would eventually rename part of its McIntosh Student Center in her memory.
The tragic event prompted new safety measures for New York City buildings and what would become one of New York City's toughest and most expensive building safety-laws.
Local Law 10 required inspections of facades facing the street of buildings greater than six stories in height every five years. Eighteen years later in 1998, the law was revised into LL11 of 1998, mandating the inspection of all facades—not just those facing the street—requiring scaffolding for each repair, a report on the cause of deterioration and a timetable for repair. Under Local Law 11, buildings are classified as Safe, Unsafe or Safe with a Repair and Maintenance Program (SWARMP).
Changes
There are a number of recent changes and updates to LL11 that co-op and condo residents, boards and managers should be aware of.
"One change to LL11 that was touched on in May of 2013 was to emphasize the necessity and the method in which guard rails and balcony rails are inspected. The reason why is in the last four years there have been at least four incidents on buildings related to guard rails and two of those were fatalities," says Hargrove. "So now the DOB is using LL11 as a method of closing the loop on something that they've identified on facades as being a real safety concern. So they have brought greater emphasis within the law on the method of inspection of these guard rails. That can include destructive testing, load testing, and calculations to determine whether these are code compliant. This also includes fire escapes and balcony rails."
"A recent balcony accident highlighted that many balcony railings are uninspected and may be unsafe," says Magee. "Now, the Department specifically requires all owners to check periodically the adequacy and structural integrity of all of their balcony railings. These new provision in no way affects the existing requirement to check periodically the adequacy of all aspects of the façade and its appurtenances."
"A few significant changes for Cycle 8 are to delete the prohibition on designating the condition of an air conditioner as Safe with a Repair and Maintenance Program (SWARMP)," adds May. "These automatic unsafe designations were being applied to the entire building even where the only issue was a minor air conditioner defect. This deletion will allow air conditioner conditions to be designated as SWARMP. Another change is to clarify if the inspecting professional does not file a report within 60 days of a critical examination, a new examination is required. This will ensure that the information within the report is recent and accurate."
For a full list of recent changes go to www.nyc.gov/html/dob.
Inspections and Penalties
LL11 Law requires an inspection and a subsequent owner-certified report to be filed with the city.
"The initial investigation is two-fold. First, there is a visual inspection of the building. You go out with binoculars and go on roofs and setbacks and you visually inspect the building," explains Hargrove. "In addition to that you are required to perform what is known as a detailed investigation. That's a close-up of the façade from roof to street. That's usually done by a motorized lift or by a two-point scaffolding where you ride from top to bottom. It also says that the inspecting professional can dictate other investigative methods in order to properly diagnose the building. That could be opening up portions of the façade. It could be destructive or non-destructive testing."
For a full outline of the inspection processes go to http://www.nyc.gov and click on the façade safety inspection link.
"The inspections are much different than what they used to be," says Bellet. "The inspectors would drive by a building and inspect it with binoculars, do a filing and that was it. They were like cowboys. It was awful. The DOB found out about it and fixed it."
Thinking of delaying the correction of an unsafe building? Think again. Failure to do so will cost a whopping $1,000 per month in penalties—pro-rated daily—until the problem is resolved. Experts agree and common sense dictates that it is better to repair hazardous conditions before the examination, or within the 30 day post-inspection period allowed by law.
"That's a relatively small price compared to the liability an owner subjects themselves to should there be a fatal façade accident," says Hargrove.
There are a number of resources that will help building administrators stay abreast of changes to LL11 and make sure their buildings stay compliant. Engineers and architecture firms that perform building inspections provide up-to-date information on their company websites. The Department of Buildings itself is also an excellent source of information on new legislation and amendments to LL11. For information go to www.locallaw11 of1998.com.
Christy Smith-Sloman is a staff writer at The Cooperator.