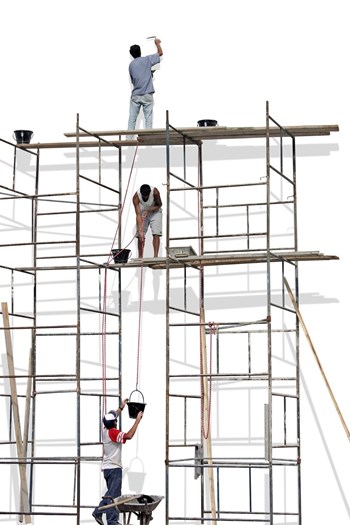 It's not hard to imagine the dire danger posed to life and limb, should debris or material of any kind fall from the facade of any of New York City's thousands of buildings. Indeed, pedestrians have been injured and killed by bricks, stone, and other materials falling from building exteriors. And the recent winter weather brought a perilous situation to pedestrians near the new World Trade Center site as ice began falling down from its glass curtain façade onto passersby below.
And what New Yorker can forget the image of a construction crane dangling precariously from atop a luxury high-rise near Carnegie Hall after it collapsed as weather conditions worsened because of approaching Superstorm Sandy in October 2012? As a precautionary measure, several buildings—including the nearby Parker Meridien hotel—were evacuated and surrounding streets cleared. Luckily, the crane was tethered to the building, and no one was hurt after engineers and inspectors hiked 74 flights of stairs to examine the crane.
What's a Local Law?
To address hazards such as these, New York City enforces a number of regulations—chief among them Local Law 11 (LL11), which mandates regular inspections of building facades to make sure they're safe and in good repair.
"Ensuring facades are properly maintained is an integral part of building safety," says Kelly Magee, press secretary for the New York City Department of Buildings (DOB). "If a building's exterior is neglected, it can put the public in harm's way. Ensuring that your building's façade is properly maintained means protecting the people who live in, work and visit your building every day."
"The law itself says its purpose 'is to ensure that a condition of a building wall or any part thereof not requiring repair or maintenance to sustain the structure integrity of the building that will not become unsafe in the next five years,'" adds Craig A. Hargrove, AIA, LEED AP, the senior vice president and director of Hoffman Architects, Inc. in New York City. "What that means is that they want to make sure that nothing will fall off of a building within a five-year period and injure or kill people and damage property."