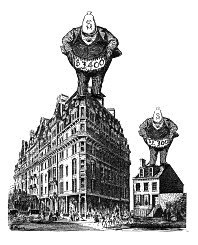 The old saying goes that the only two sure things in life are death and taxes. According to the experts, for owners of co-ops and condos in New York City, there's a third inevitability: you're going to be taxed at a higher rate than owners of single-family homes.
Pared down to its basics, the disparity of the city's real estate structure seems simple. Single, two- and three-family homeowners pay less in property taxes than condo and co-op owners whose apartments are of equal value. To compensate for the apparent inequity, co-op and condo owners receive government-mandated tax abatements.
One might think that would settle the issue, but the reality is that there's nothing "simple" about real estate taxes in New York. Talk to a few experts, and the people working for tax equity, and the more you learn, the more complicated things get. Some experts even disagree as to how unjust the inequity is.
Unequal Taxation
How did this current system of taxation come about? Back in 1981, the state instituted property tax legislation called S7000A. This legislation came about in response to a lawsuit questioning the constitutionality of assessment of property values all across the state, including New York City. Even though it was created for this purpose, "Under S7000A, the city's property tax has grown even more tilted in favor of owners of one-, two-, and three-family homes than it had been in 1981," according to a December 2006 report by the Independent Budget Office (IBO), a non-partisan, publicly-funded agency that offers budgetary, economic, and policy analysis for city residents and elected officials.
The legislation created the current system that divides property into 4 classes, which are all taxed on a different share of each class's assessed value. One-, two- and three-family residential property and small condominiums (3 or fewer units) are considered Class 1. According to the Department of Finance, there are currently 691,736 Class 1 parcels (or structures), and 1,051,733 Class 1 units within those structures in the city. Cooperatives and condominiums are considered Class 2 properties, which includes all multiple dwellings. The Department of Finance identifies 186,974 of these Class 2 parcels, and 1,742,068 units within those parcels. Class 3 consists of regulated utility property. Class 4 consists of all other real property, such as office buildings, factories, stores and vacant land.