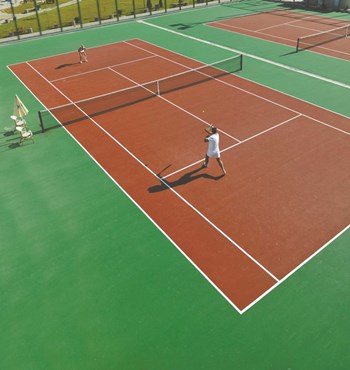 Gone are the days when a treadmill and a set of dumbbells in a fluorescent-lit basement room passed for athletic amenities in condo buildings and HOAs. Today, the size and scope of sporty offerings—be it basketball courts, pools or saunas–varies from association to association, but regardless of the specific facility, providing a safe, insured environment compliant with both governing documents and applicable laws is critical, and the responsibility falls to board members and community administrators.
Key Concerns
For many homeowner associations and condominiums, residents enjoy the use of pools and other fitness-related amenities, such as fully equipped exercise and weight rooms. Aside from the physical upkeep of equipment and facilities, drafting and enforcing rules and regulations for the safe enjoyment of these services is essential. Since many boards change seats annually, the preparation of sound governing documents pertaining to athletic amenities is vital. To this end, boards should have a check list of priorities when drafting or revisiting rules and regulations.
"Co-op, condo and HOA boards are all concerned about three primary issues," says Attorney David L. Berkey, a partner with the Manhattan-based law firm of Gallet Dreyer & Berkey, LLP. "Limiting liability of the entity against potential claims, protecting the members who use the facility from health risks and dangerous conditions, and assuring that the facility and its equipment are used properly by its members."
Andrew Meditz, president of the Whitestone-based Elite Pool & Fitness Management, agrees. "First and foremost a co-op, condo or HOA board wants to draft rules and regulations that are based on safety. These rules should also be in accordance with all local state and city guidelines and should also be in compliance with the HOA's insurance providers," he says. "For example, some insurance companies will not permit anyone under the age of 16 to use the facilities without adult supervision."
A Universal Approach
When considering what restrictions will be placed on the amenity in question, industry experts strongly encourage boards to take a fair, unified approach. While liability is always a concern, an uncautious or unthinking board can also subject itself to a discrimination case.
"It is very important to maintain control over those permitted to use the facility," says Berkey. "Most co-ops, condos and HOAs require members to sign agreements that limit the liability of the facility provider, require representations concerning the user's medical condition and ability to use the equipment, among others. If there is a fee charged for use of the facility, then only those who are fully paid should be using it."
While hours of operation and access to certain buildings can be controlled by key cards and the like, boards are charged with determining fair use of all amenities among all residents. When it comes to access control, boards have to ensure that they are operating within the confines of the law when determining who gets to use the facilities, how access is granted or rescinded, its policy on guest users and all related security concerns.
"Many facilities provide open access to all residents unless there are no facility personnel to oversee resident use of the space and equipment," says Joseph Grimes, president of EPG Spa & Pool Management, Inc., which services luxury high-rise condominiums with pools and/or health clubs as well as staffing such as lifeguards. "In these instances, buildings will have a key or digital access code for residents to enter the room. Cameras should be mounted around the workout stations and pool areas for the building personnel to monitor for safety concerns and to monitor job performance."
Darrell Wilson, with the Deer Park-based Playsites + Surfaces, Inc., explains that many HOA and co-ops will also issue key fobs to residents. These forms of secured access serve to make residents more responsible, he says, as they know that only fellow residents use the facilities and take more care in their use and cleanliness. "For playgrounds, you have to make sure that they are compliant with Consumer Product Safety Commission (CPSC) guidelines for playground safety as well as ADA compliance," he continues. "Playground equipment and safety surfacing must meet current standards. There is no grandfather clause for sites built years ago."
Boards and managing agents also have to be vigilant, because there are potential legal ramifications of having a gym, pool, or sports facility on the property. "The co-op, condo or HOA must work with its insurance broker to assure that coverage exists for operating the facility on site," says Berkey. "In addition to potential negligence claims, there may be employee issues, discrimination issues, harassment issues and others that arise from a health club, gym, pool operation or other amenity."
Staffing and Insurance Concerns
For many boards and management companies, deciding on best practices when it comes to amenity access and staffing can become cause for debate. In some cases, staffing can be outsourced, while in other scenarios the position can be filled in-house—or not at all.
"There are many advantages to outsourcing the staffing of an amenity space with the most obvious reasons being the professionalism and expertise that comes hand in hand from an amenity management company," says Meditz.
"It really comes down," adds Wilson, "to the amount of people and the age groups who are using the area and the resulting damages, vandalism or fighting that may occur. With outsourcing, you have to be fortunate in getting the right people in there who can uphold the rules and safety without infringing upon the residents' perceived rights."
While it is suggested that boards should conduct a cost-benefit analysis before deciding on the outsourcing of staff, it is equally important to ensure that the right person is on site for the job at hand. "Outsourcing pool management to provide lifeguards and personnel to keep the pool water clear and clean and take care of the filtration system is the best way to go," says Grimes. "The pool/health club management company will make sure lifeguards show up on time, have backup personnel to fill in in case of a late or absent guard and to train and certify the guards on duty to meet the demands of the building's boards and residents."
With staffing comes liability, which is above and beyond the liability for the amenity itself. "When there is a professional manager or organization, the coverage obtained by that organization should name the co-op, condo or HOA as an additional insured on its policies and the coverage and limits must be adequate and reviewed with the co-op, condo or HOA's insurance broker," notes Berkey.
In some cases associations will require residents and/or guests to sign a waiver to use the amenity. "Waivers and consent forms are an excellent idea for boards to have residents and their guests to fill out prior to using the pool and health club facility," says Grimes. "Lifeguards are present to prevent drowning and keep the facility clean and the equipment functioning properly," Grimes continues. "If someone, unfortunately, were to expire while using the equipment the only insurance concern I can imagine would be if the incident was the result of improperly-serviced equipment, equipment service that was ignored, especially if it was brought to the attention of the board and/or management. The boards would be better served to check with their building counsel."
In the event of a serious accident or even death on the association's property, a waiver can help protect the board from being liable. However, this is not the only course of action, nor is it a fail-safe. "The co-op, condo or HOA which offers a gym, pool or other facility is a likely target for a lawsuit should there be injury or death to a person using the facility. If the facility is not provided free of charge, liability for negligence cannot be avoided by contract," says Berkey. "Most entities that offer such facilities ask the users to sign waivers and consent forms, some with clear limitation of liability provisions, some with clear assumption of risk provisions and some with covenants not to sue."
Berkey explains that if the injury is proven to be the result of negligent conduct, waivers are dubious in value. "However, the entity's insurance carrier should provide a defense for these types of claims and indemnify against any judgments obtained—less the applicable deductible," he says. "The cost of insurance is a business cost to be factored into the decision whether to provide such an amenity."
Staying Competitive
In some cases, having state-of-the-art amenities is the cost of doing business, which is how many properties can remain competitive and vital. For many boards still struggling with post-recession budget woes—it's hard to strike a balance.
"The value of having amenities in your building is something that cannot be measured or accounted for in any budget," says Meditz. "In order to be competitive in this market, a co-op, condo or HOA must offer the latest and best amenities in order to be desirable. These same amenities are what will drive the real estate prices of every unit and help to separate them from the building across the street, which makes amenities priceless."
When it comes to all regulations related to amenities, boards should take a progressive stance because as is often the case, boards are reactionary as opposed to proactive. "Build the amenity to code. Build it for safety," says Wilson. "And build it for more use than you would normally expect. Things will last longer and be safer for all concerned."
Brad King is a freelance writer and a frequent contributor to The Cooperator.