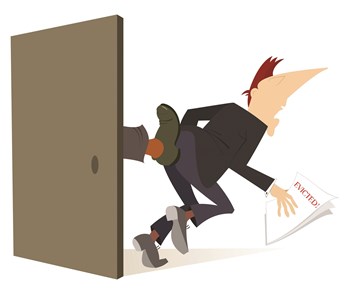 State legislation and city ordinances can provide a condo, co-op, or HOA board with guidance on how to effectively deal with a disruptive or unruly shareholder—someone whose abusive, harassing, inappropriate or chronically litigious behavior makes them a nightmare neighbor—but legislation is not always clear-cut, and not always applicable to all situations. To address these gaps and eject a truly problematic resident from one's community, boards often must turn to legal decisions made in the courts. Using legal precedent as a basis for getting a rotten apple out of the bunch can work; but it can also be long, costly and arduous.
The Notorious Mr. Pullman
In New York State, the most noteworthy case of a "disruptive" cooperative shareholder is arguably that of David Pullman, a successful and wealthy financier who resided at 40 West 67th Street in Manhattan just before the turn of the 21st century. Pullman moved into the nine-story, 38-unit building on Manhattan's Upper West Side in 1998 and soon began making demands that the board change or upgrades amenities and hire a 24-hour doorman, among other things. Pullman also submitted more than 15 letters of complaint about an upstairs neighbor who he claimed was chronically noisy.
According to the website CaseBrief.com, Pullman accused his upstairs neighbors (a retired professor and his wife) of noise violations that included playing the television too loudly late at night and "operating a noisy illegal bookbinding business that required storing toxic chemicals." The board's investigation determined that the neighbors not only weren't operating a bookbinding business, but they didn't even own a television set. Undaunted by the facts, Pullman eventually got into a physical altercation with the professor and distributed flyers throughout the building referring to him as a "psychopath in our midst."
By 2000, Pullman's fellow shareholders had had enough, and called a vote to terminate his proprietary lease and oust him from the building. The vote was taken, and Pullman was evicted, with the board citing Pullman for "objectionable" conduct under the lease agreement. Pullman in turn filed a lawsuit against the board, and refused to vacate his estimated $900,000 apartment.
Case Law
The wheels of justice often move slowly. In 2003, a divided Appellate Division of the New York Supreme Court found in favor of Pullman's neighbors. The court referred to the 1990 decision Levandusky vs. One Fifth Avenue Apartment Corp. (75 N.Y.2d 530, 2000), which gave legal deference to board members' decisions when made in good faith in the best interest of a building community. The judgment concluded that Levandusky prohibited judicial scrutiny of actions of cooperative boards "taken in good faith and in the exercise of honest judgment in the lawful and legitimate furtherance or corporate purposes."
Attorney John T. Van Der Tuin, of the New York City-based firm Balber Pickard Maldonado & Van Der Tuin PC, represented the co-op board against Pullman. He said the ruling buoyed not just his clients, but other boards as well, affirming their ability to set standards and have at least some control over unruly or disruptive shareholders.
"The Pullman case was recognized as a seminal decision extending the reasoning of the court's Levandusky decision...even before I argued Pullman in the [New York] Court of Appeals," says Van Der Tuin. "It has given cooperative boards a powerful and prophylactic tool to control shareholders who engage in chronic, disruptive or offensive behavior."
The Pullman decision protects a cooperative board's right to make a decision to evict an objectionable shareholder. This, attorneys say, is allowed by a specific paragraph of the proprietary lease (usually paragraph 31(f)) and the obligation of the court hearing such a case to make an independent determination under article 7 of the Real Property Actions and Proceedings Law as to whether there has been objectionable conduct by the tenant warranting an eviction.
The New York Supreme Court's 2003 judgment on Pullman sent tremors throughout the cooperative industry. As a result, the case law is often cited in courtrooms in states across the nation—even in regions where residential cooperatives are fairly rare. But the decision is sometimes viewed as a double-edged sword.
"This case allows a board of directors or shareholders to evict someone from their building without a trial," saysAdam Leitman Bailey, founding partner of New York City-based law firm Adam Leitman Bailey, PC, and who at one point represented David Pullman himself. "I have been involved in a few dozen Pullman cases; many are legitimate, but many others are based on greed, self-interest or an improper agenda."
"I think Pullman has had a profound effect on the co-op community in New York City," notes Steve Wagner, a founding partner of the New York City-based law firm WagnerBerkow. "It is a very powerful tool for board to force a tenant-shareholder to cease objectionable conduct or to leave the building because, if properly done, the court will not interfere with the board's decision."
Important though it was, The Pullman ruling does not extend to condominiums or homeowners associations. As such, condo boards cannot lean on Pullman as a means to legally support the eviction of a unit owner. Wagner explains that this is because there is no proprietary lease in a condo or HOA setting, and the Real Actions and Proceedings Law requiring the court to make the determination as to objectionable conduct does not apply to condominiums.
The Pullman Effect
Every legal action has an equal—or greater—reaction. Since the Pullman decision in 2003, there have been a host of cases that have successfully questioned the New York Supreme Court's ruling. For example, consider the case of F.T. Apartments Corp. vs. Barbara L. According to the Council of New York Cooperatives & Condominiums (CNYC), in order to terminate a shareholder's proprietary lease due to objectionable conduct, the board must provide notice and an opportunity for the shareholder to be heard before instituting a termination.
In the above case, a guardian was assigned to a shareholder (the 'Barbara L.' named in the case title) due to the woman's mental health issues. According to legal records regarding the case, in or about 2004, the co-op board received written complaints from the shareholder who lived directly below Ms. L. regarding the her erratic behavior, overflow of water, and noise. Instead of notifying or forwarding those complaints directly to Ms. L., the co-op, through its agents, reached out to her cousin and her brother—both to no avail. In only one letter actually sent to Ms. L. did the board notify her of the allegations and indicate that she was breaching her lease due to her objectionable conduct. In that one letter, the co-op's legal counsel informed Ms. L. that the co-op would "reluctant[ly]" terminate her Lease under paragraph 31(f) if the "situation [*2]does not change."
When neither the cousin, brother, or Ms. L. herself responded to the board's communications, they moved to evict her from the building. However, according to CNYC, "The court held that letters to the shareholder's relatives did not comply with the proprietary lease's notice provisions, and therefore did not constitute notice to the shareholder. To comply with Pullman due-process requirements, a board must provide notice and an opportunity for the shareholder to be heard before terminating a proprietary lease for objectionable conduct."
For a co-op dealing with an unruly shareholder, there is no doubt that the Pullman decision is a powerful tool. Experts warn, however, that in certain cases pulling the Pullman card can prove have to have unexpected repercussions, or to be a non-starter in cases brought forward that are not based on judicial reality.
"The way I describe it to my clients is that it is a powerful tool that should be used cautiously," says Wagner. "If there is any suggestion of violation of Human Rights laws, or that the board is acting improperly—based upon animus, retribution, or interest of a board member in purchasing the apartment, for example—I warn them that they might not be able to use Pullman."
In Bailey's view, Pullman can be a potent tool for co-op boards dealing with shareholders whose actions place the health and well-being of the building in jeopardy. "When representing boards, I use the Pullman sword to threaten eviction and keep shareholders from continuing objectionable conduct," he says. "At the same time, residents do not want to live in a building where a small or large group of people can determine that certain conduct can cause an eviction."
Since the Pullman ruling in 2003, "There have been dozens of cases in which Pullman has been applied, not always with results in the board's favor; but no major revision of its rationale. In general, an effort to terminate a shareholder's lease and remove them from a cooperative building should be a last resort, not a first option," says Van Der Tuin. "But the implicit threat of use of the board's power under Pullman frequently induces a shareholder to refrain from or limit objectionable behavior without the need to actually seek an eviction."
While there have been many Pullman-related cases cited before the courts that do have merit, the ruling remains somewhat of an anomaly in the higher courts of New York State. "Despite many cases being started and settled or litigated, almost no other Pullman decisions have reached the appellate level," says Bailey. "One of the most esteemed judges, the Honorable Gerry Lebovitz, wrote a decision that is followed by most other judges, but it is a lower court decision. The actual case 40 West 67th Street vs. David Pullman was a very well written decision that covered many of the rules covering these evictions."
Don't Forget Shareholders' Rights
While the courts may reference Pullman when similar cases are brought before them, a great deal of due diligence is applied in such cases to ensure that shareholders' legal rights are not being curtailed or compromised.
"The court is required to give a high degree of scrutiny to the board's actions, and will determine whether the conduct was objectionable only if the board did not 'exercise restraint and defer to good faith decisions' by strictly following its own rules, if it deprived the tenant-shareholder of due process rights, or it improperly used the procedure for retribution or as a pretext for violating human rights laws," says Wagner. "Typically, there are good grounds for the board's actions and the court will grant summary judgment in favor of the cooperative. Summary judgment means in a Pullman case there will be no trial and the court will grant judgment to the cooperative based on the cooperative's finding of objectionable conduct as a matter of law."
Legal experts strongly advise boards to consult an attorney before taking an objectionable tenant action against a shareholder. They also suggest researching industry publications and other educational resources that can better inform them on their respective case before taking any serious steps—or incurring major legal expenses. "If a board is confronted with a situation that has it wondering about Pullman, the best thing they can do is consult with experienced counsel and to develop a strategy for addressing the problem shareholder," says Van Der Tuin.
Ultimately, "The thing that boards can learn from the Pullman case is that they do not have to put up with an objectionable tenant-shareholder," says Wagner "and that even the threat of bringing a Pullman proceeding can have a profound effect on the conduct of a tenant-shareholder."
W. Brad King is a freelance writer and a frequent contributor to The Cooperator.