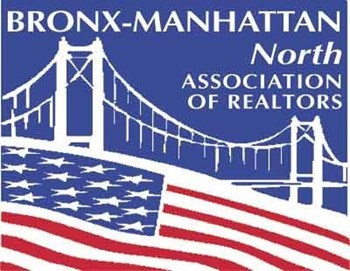 You know that old adage, "It's not what you know but who you know that makes the difference." By joining trade organizations, you have an opportunity to get to know more people and network, and you can become an invaluable source of information and support to others.
George Bookis, president of the Bronx-Manhattan North Association of Realtors (BMAR) will tell you that expanding business contacts is the number one reason he suggests that industry members join such an organization. BMAR is a professional trade association that has officially represented the real estate industry since 1924, and is the local chapter for the New York State and National Association of Realtors (NAR).
BMAR is composed of a broad base of professionals including licensed real estate brokers and agents; multi-dwelling property owners; building service vendors and suppliers; property managers; attorneys; appraisers; banks; mortgage companies; fuel service and energy companies; title and abstract companies; insurance companies and insurance brokers; contractors and other companies servicing the real estate industry.
The organization is run by many volunteers, such as the president elect, vice president of the Bronx Residential Division, vice president Manhattan Residential Division, vice president of Owner Management, vice president Commercial Industrial Division, treasurer and secretary. There are several governors that create the entire Board of Governors. The only salaried position is Nunzio Del Greco, the chief executive officer.
"The benefits (of our organization) are being able to expand one's horizons and being able to work in a business environment and to expand your own private business," says Bookis. "From a realtor's perspective, members can meet with loan officers and those loan officers may be able to introduce you to people who are interested in buying or selling property. From a property owner's perspective, a landlord of a multiple dwelling may be able to meet up with insurance brokers or fuel suppliers, and negotiate lower insurance, lower fuel purchases on an annual basis, so on and so forth."
Mission and Roots
The mission of the BMAR is to "strive to sponsor meaningful programs and services which enhance the member's ability to conduct their business in a competent and ethical manner, to promote cooperation and networking among its members, and to promote the public's right to use and transfer real estate property."
According to the Association's history, its roots predated its original founding in 1924. "In 1825, there was the Real Estate Exchange with offices in Wall Street. Brokers in New York City exchanged listings. Hence the mailings of an early form of the Multiple Listing Service. There were a number of real estate boards organized after the turn of the century which did not survive the down-turns in the real estate market. The increased growth in population during that period was a boom to real estate.
"Organized cooperation between members in the profession generated enthusiasm for the first official meeting of the Association on April 28, 1924, then named the Real Estate Board of the Bronx. In 1973, the organization changed its name to the Bronx Board of Realtors with its current name being approved in May 2000."
The history continues that members of the Bronx Board of Realtors were consulted in the building of the Bruckner Expressway, Triborough Bridge, Cross Bronx Expressway, Co-op City, Fordham Plaza and many other significant developments. During World War II, the board was active in selling bonds. In 1949, a radio series was sponsored explaining rental and housing issues over the airwaves by realtors.
Addressing Today's Issues
Today, there are many challenges confronting real estate professionals in the industry such as banks getting into real estate brokerage; new disclosure regulations; lead paint; mold and other environmental issues; insurance; liability and many other areas necessitating membership in the realtor organization.
Bookis recognizes these challenges, but says he won't focus on just one during his presidency. "There is no one particular thing I'd like to address; I'd like to address both residential and commercial market conditions and trends. An interesting aspect of real estate right now is what's known as MLS, or Multiple Listing Service data sharing," he says.
Data sharing, security and consolidation of multiple listing services are top concerns for real estate practitioners and MLS executives, according to the 2007 Realtor MLS Technology Survey, released by the National Association of Realtors Center for Realtor Technology.
"Realtors share information on properties they have listed and invite other realtors to cooperate in their sale in exchange for compensation if they produce a buyer. Sellers also benefit by increased exposure to their property," says Del Greco in his article published in the September, 2007 member newsletter. "Due to technology and the Internet, real estate continues to evolve. Today's real estate industry is high tech and high touch. Successful realtors and their agents must be both technologically proficient and provide extraordinary customer services."
Other harsher changes in the industry have also forced the organization to look at ways of helping the consumer to buy the homes that the agents are trying to sell. That has resulted in the creation of the Housing Opportunities Foundation, created by the association to help assist homebuyers with down payment assistance grants.
"We should, within the next couple of months, have our first committee meeting, look to designate who would be sitting on the board and ask them to take a leadership role, solicit donations and slowly move forward," says Bookis. "It takes quite a long time to be able to fund it to the point where now you can start actually giving back to the community. But that's our long-term goal."
Setting the Bar High
Bookis says what sets his organization apart from a real estate broker or a real estate sales agent is that, "by joining an association of realtors, our members subscribe to a code of ethics and adhere and abide by this code."
"The ethics and professional standards, and the way our membership conducts itself is extremely important," says Bookis. "And it gives us the right to use the realtor blue 'R' that you might see every now and then. That's the realtor logo, that true membership one can now display on the business cards…on letterhead, etc. And we believe that the programs we offer our membership enhances their ability to actually service the community far more, and in return, helps them achieve greater profitability within the market."
Each year, the organization also holds a trade show with 80 exhibitors from across the spectrum of the real estate industry, including real estate brokers, banks, insurance companies, oil suppliers, trade publications and other associations.
"It generates well over 1,000 visits during that one day," says Bookis. "There are also three different seminars held during the day and it is open to the public." The organization also holds an annual fundraising golf and tennis outing, education courses, free newsletter, informational seminars, free legal hotline for realtors, ethics and arbitration procedures. The fundraisers benefit Camp Good Days & Special Times, which was founded to help improve the quality of life for children with cancer and their families.
For more information on the Bronx-Manhattan North Association of Realtors, visit www.bmar.org.
Lisa Iannucci is a freelance writer, published author and mother of three living in Poughkeepsie, New York.