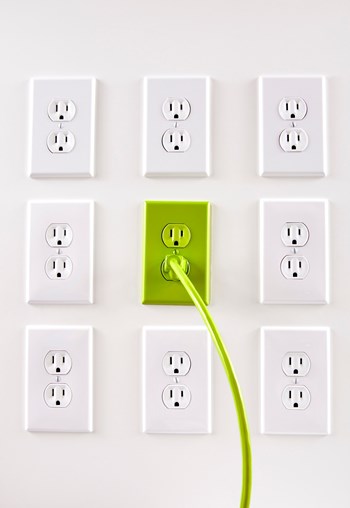 Energy usage and cost savings are on everybody's mind these days— especially those of us in charge of running our buildings, keeping them both comfortable and financially solvent. Each building community is unique, and boards and managers must come up with energy-saving programs that are the best possible fit for their residents, their administration, and their budget. Here are three examples of how different building managers and boards have met the challenges posed by today's high energy costs.
Waterside Plaza
"I'm particularly attuned to insuring that [our building community] makes strategically sound decisions regarding energy use," says Arthur Zabarkes, managing director of Waterside Plaza, a 1,470 unit residential building on the banks of the East River in Manhattan. "And that our complex continues to be a 'good energy citizen' in the broader community," Zabarkes says.
"As part of an extensive renovation and capital improvement plan, we explored 'smart strategies' regarding energy use with the help of ConsumerPowerline, a strategic energy asset management (SEAM) firm based in New York. One result was our decision to participate in the Demand Response program, committing to provide electricity back to the power grid in times of an energy emergency while being paid as if we were a mini-power plant."
The demand response programs operated by the New York Independent System Operator (NYISO), a not-for-profit organization whose mission is to ensure the reliable, safe and efficient operation of electric transmission and administer the wholesale power market, allows end-users to reduce their energy demands for a short period of time in exchange for payment to help the grid in times of crisis. In 2003, for example, more than $7.2 million was paid to over 1,400 commercial, industrial, and multifamily residential customers, who responded by reducing their peak electricity consumption by 700 MW.
"By partnering with the firm to build our ability to reduce our peak load and bid this reduction into the NYISO Demand Response programs, we generated a new revenue stream. We shared that revenue directly with our tenants to help take the sting out of generally rising energy costs, and to foster a sprit of partnership. We also installed sub-metering, so residents are billed for the actual energy they use. Energy bills typically drop 10 to 15 percent when residents can directly determine how their energy dollars are being spent."
Zabarkes says that the choice to pay residents for demand response was uniformly popular, though as one might imagine, the decision was not without its opponents.
"Waterside continues to stay ahead of the energy curve, and the benefits continue to re-double," says Zabarkes. "We recently optimized our control technology to do periodic 'sweeps' of the facility and turn off unnecessary equipment. This maximizes revenue from our demand response efforts, and provides residents with much appreciated additional savings."
"With New York City battling power outages and triple-digit temperatures this summer, our facility was called upon to deliver 'Emergency Demand Response' electricity reductions on five separate occasions, over a two-and-a-half week span," Zabarkes continues. "At one point, we were asked to perform for three days running between August 1st and August 3rd."
Zabarkes says that it feels good to know that in New York's summer of need, Waterside's facility was able to shed more than 1.5MWs of peak load— enough to power more than 1,500 homes.
"It was important to residents that they earned some money," he says. "It was even more important to residents that they helped to keep the lights on throughout Manhattan's East Side.
"Waterside Plaza continues to identify innovative ways to manage our energy use more efficiently. In doing so, we are also creating the incentives and opportunities to benefit our residents, our property and our community—especially in the hours of greatest need."
Electchester
"Electchester truly embodies the cooperator spirit," says Mike Arendt, treasurer for the large Queens co-op. The impact of that spirit was no more evident—or more critical—than during the summer electricity crisis of 2006, when the building's neighbors in Astoria and other parts of Queens endured up to 10 days without power and the threat of additional widespread failures loomed large.
As a Demand Response participant, Arendt says that Third Housing Co., Inc. of Electchester relied on automated controls to cut back on air conditioning during the call to conserve beginning July 17th. "Our complex—and our neighbors—saved enough electricity to power 2,000 homes while suffering no loss of power itself."
"Because of our critical location on the electricity grid next to blacked-out Astoria, it appears that our energy curtailment, in tandem with others' nearby, helped contain the blackout to a local area and may well have prevented a domino-like effect that could have resulted in more widespread failures."
Arendt says that while some Electchester residents endured some discomfort of their own as they shut off air-conditioning for a few hours each day, by so doing, they held on to critical power for elevators, refrigeration and lighting—in contrast to the blackout of 2003.
"By answering the call to conserve when New York needed it most, Electchester stood up to be counted," says Arendt. "I'm proud of our contribution. I think it demonstrates that consumers are willing to sacrifice during an emergency power shortage. Our participation in the Demand Response program gave us the means to make a difference—in the true cooperator spirit," he says.
Fresh Meadows
"We're committed to energy efficiency and cost savings for our residents," says Avi Schron, the owner of Fresh Meadows Development LLC in Queens. His company is rolling out an innovative program to move residents to time-of-use (TOU) electricity pricing.
"Instead of paying a flat rate regardless of when they use their electricity," says Schron, "customers pay based on the actual market rate during the specific times they run their electricity."
Under this time-of-use program—funded with support from The New York State Energy Research and Development Authority (NYSERDA)—Schron says Fresh Meadows residents benefit because they can save by shifting some of their usage to off-peak hours, when demand and prices are lower.
"The community benefits because reducing peak electric demand minimizes the likelihood of future blackouts, such as the ones that plagued us this summer," says Schron. "Moreover, if peak demand were to fall by five percent in Fresh Meadows and elsewhere as time-of-use pricing is more broadly adopted, some $10 to $15 billion in electricity could be conserved. That's how we see our individual energy wisdom as part of the 'big picture' solution."
"We're also working with a SEAM firm to offer a patented electronic device that will display the various prices of electricity in real-time throughout the day, this will literally help residents comparison shop their electric usage on the spot," Schron continues. "The device will give them readouts of electricity cost comparisons based on time of day and demand. In this way, a resident could literally see the savings possible by, for example, running the air-conditioner in the early morning or the dishwasher later in the evening."
Schron also says that in addition to that, Fresh Meadows is using their Building Management System to adjust the electric load based on the temperature both outside and in individual apartments.
"All of these efforts represent a 'win-win' for our residents, for the property and for the environment," says Schron. "If in so doing, we can also contribute to our energy future, more power to us all."
Mike Gordon is president and founder of ConsumerPowerline, a strategic energy asset management firm based in Manhattan.