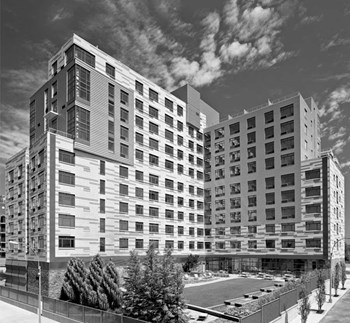 There was a time when Long Island City's waterfront area wasn't exactly a hot residential neighborhood. With its looming industrial buildings with a few small residential buildings thrown together near the East River, the area was more On the Waterfront than Sex and the City.
Today, that has most definitely changed. Long Island City is thriving with condo buildings, stores and restaurants. According to Eric Benaim, a realtor who specializes in Long Island City properties and who also lives in the area, people from Manhattan are being drawn there for value and proximity to Manhattan.
"I think it is the best location," says Benaim, who opened his own agency, Modern Spaces, in Long Island City last year. "A lot of people—Manhattanites— think it's Queens, and the only experience they have with Queens is going through it to go to the airport. Then they take the 7 train or the E or V train, and they see it's literally one stop. Four or five minutes on the subway line, and you're in a real peaceful, quiet area, and you still have a lot of the amenities that Manhattan buildings offer."
Long Island City History
According to the Greater Astoria Historical Society's website, Long Island City is the largest community in Queens, with some 250,000 residents. Algonquin Native Americans lived there until Dutch farmers, drawn by its fertile land, settled there in the 1860s. In 1839, a village was founded by Steven Halsey at Hallet's Cove, and ferry service to Manhattan started shortly thereafter. In 1870, Long Island City was consolidated from the village of Astoria and several hamlets, including Ravenswood, Hunters Point, Blissville, Sunnyside, Dutch Kills, Steinway, Bowery Bay and Middletown. Long Island City was its own city (hence, Long Island City) until it became part of New York City in 1898.
The construction of a Long Island Rail Road Terminal at Hunters Point in 1861 led to the area becoming an industrial center during the Civil War. Industry grew through the consolidation of Long Island City, with gas plants and factories built along the East River. According to the historical society, Long Island City had the highest concentration of industry in the U.S. by the end of the 19th century.