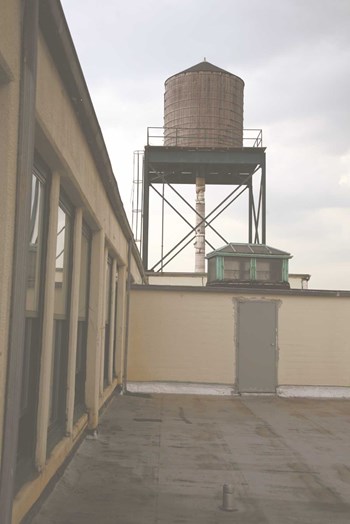 After the four walls of a given structure, the roof is sometimes referred to as the "fifth plane"—and just like the walls that hold it up, the roof is an all-important structure that can make or break a building's performance. The tri-state area's changeable climate—which as we all know ranges from sweltering hot and humid summer heat to bone-chilling cold in the winter months—often exacerbates trouble spots. If not properly maintained, even a minor roof problem can lead to costly repairs.
Wayne Bellet, president of Bellet Construction Co. in Manhattan says that approximately 95 percent of New York City residential roofs are known as "flat" roofs. "This is not just the case in Manhattan, but all five boroughs."
What's Up There?
As far as what those flat roofs are made of, Jerry Yates, president of Yates Restoration in Long Island City, says that new construction, as well as buildings receiving a new roof, most likely have cold-applied modified bitumen roofs. "It's long-lasting, because materials are produced in a factory and not on the job, so there is better quality control. Open flames and propane are not required [hence the term 'cold-applied'], and make the application conform more easily to New York City fire codes." Yates says this is an improvement over the former practice of heating kettles filled with tar on roofs and workers having to spread the substance layer upon layer to keep moisture out.
Dennis Cohen, vice president of National Roofing Corporation in Long Island City explains that unlike a traditional home in the suburbs that might have a pitched roof, residential and commercial buildings in New York City can't afford to lose square footage. "It really comes down to a space issue, and space is at a premium," he says.
It's also a matter of practicality, says Yates, "The excessive slope found on shingle roofs is generally not found in New York City apartment houses because that [sloped or pitched] roof structure is expensive; it would be difficult to maintain, because workers would need to be harnessed each time they needed to perform work; excessively sloped roofs would also make the installation of mechanical equipment such as ventilation, HVAC and water tanks difficult or impossible." Yates says that additional hurdles include zoning regulations that include "the height of the peak of a sloped roof in calculations to determine the number of stories allowed for a building—that would reduce the number of occupied floors." He also says that "snow and ice falling from the excessive heights of New York City building could cause significant damage."
Common Problems
While the majority of roofs might be flat in the city, there can be a lot of variation in life span and performance, depending on the quality of the original construction. Same goes for repairs. "When searching for a roofing company, it is really an apples-to-apples comparison," says Cohen. "Boards and managers have to do their homework and call references."
Industry experts agree that there are leading problems with almost every flat roof, which usually occur around the drains, pitch boxes, flashing and electrical piping. "Anything that can penetrate the membrane of the roof has to be watched and inspected," says Cohen.
Yates adds that in his experience, the most problematic areas are where flashings meet walls, as well as the waterproofing around roof penetrations. "Unprotected areas of the roof that are used as terraces and are subject to foot traffic and planters of excessive weight causes issues," he continues. "Workers who service mechanical equipment on roofs and who drop their equipment, hand tools, nuts and bolts on the roof are a significant source of problems, as is ponded water and ice that increases the rate of membrane deterioration."
Often regular maintenance and oversight can prevent massive and costly problems from occurring. "My first advice is to keep off the roof as much as possible, keep drains clear and clean making sure there are no leaves or seedlings," says Bellet. The supervision of the roof can and should be executed by building staff. "Exercising due diligence is best, and these jobs can be handled by a building staff," he adds.
Cohen says that oftentimes, even when a building is instructed to have maintenance personnel conduct monthly roof cleanings and inspections, the job isn't doesn't right. "Someone needs to be held accountable. This keeps people on their toes because we can come back and submit a report as to what was done and what wasn't—every building needs a system of checks and balances especially when it comes to the roof."
Bellet recommends a seasonal inspection of the roof to determine if any problems can be identified. "You would be amazed what is left after the Fourth of July or after Halloween, as well as the summer itself as the extreme heat just kills roofs," he says.
Aside from the minor removal of garbage and debris, Yates says that staff members should call a professional roofer if a serious problem is discovered. "Any work that they perform would likely void the roof guarantee," he says. "A major problem when non-roofers perform work is their use of materials that are incompatible with the roof membrane and which hasten membrane deterioration and are difficult to correct."
Cost & New Technologies
Experts say that depending on a host of variables such as weather, materials, size and maintenance, a new roof can last anywhere from 15 to 25 years. While most roofing companies will do an inspection and assessment as part of their proposal, those companies that do charge for a report charge from $0.07 to $0.20 a square foot, depending on the size of the roof.
The use of infrared thermography is an advancement in the industry allowing professionals to discover moisture in areas not seen by the naked eye. "I am certified from the Academy of Infrared Training, which costs between $20,000 to $25,000 and I return for continuing education," says Cohen. "Within a half hour, I can see moisture in any area of the roof as well as in bricks." The average cost for this diagnostic service is $3,500. "This is a good investment because we can determine areas that might only need replacing as opposed to replacing the entire roof and that can represent a significant savings."
Bellet said his company is well-versed in all aspects of roof repair and replacement, including white roof and green roof installation. "When it comes to pricing on repairs or replacements, it's important to keep in mind that any tar based products such as tar and asphalt are derived from coal and petroleum, so when gas prices go up at the pump, these prices go up too, as they are a part of the same family."
And while more expensive, Bellet says there is a new product out of Germany that is essentially liquid polyester, a single ply roof that is literally painted on. "This is as thin as your socks but remarkable durable," says Bellet. "Yes, it is more expensive, but also more convenient and can last longer."
When it comes to repairs, Cohen said one of the most common mistakes he sees is a result of poor workmanship. "You have to keep in mind that caulking will only last a few years. And many contractors don't nail down the flashing properly; they might use two nails when four are required because over the size of a large roof that saves them time and money."
For cost-conscious boards, Bellet says to fight against a roof's number one enemy, the sun, applying a highly reflective white ultraviolet coating every five years will help to assist in slowing the roof's aging process. "This can be handled by maintenance but they have to take the proper precautions and be sure to wear strong sunglasses."
For those buildings that allow residents to use the roof for recreation, a higher probability of damage to the membrane is realized. "This creates a lot of worries such as wind uplift," says Bellet. "This was the case during Hurricane Sandy, people thought the roof was secure and it many cases it wasn't."
In order to effectively address maintenance concerns related to furnished roofs with decking, pavers, walkways, plants and recreational furniture, a different approach is required. "The waterproofing material must be specifically designed for a terrace application. The waterproofing must be protected with an approved decking material. It is desirable that the decking be easily removable," says Yates. "Excessive weights such as large planters are to be avoided. Trees and bushes must always be placed in pots or in movable containers. Drains must be kept clean of dirt and plant debris."
In the end, Cohen said that hiring a company to do continual oversight is the best option for boards and managing agents that might be otherwise spread too thin. "Having a reputable company coming in once a month (or so) will keep everyone on their toes. This type of membrane maintenance will save tons of money down the line because you might discover a moisture issue before it escalates to a serious problem that requires repairing a part of the roof as well as any painting, spacing or mold remediation that might result."
With good installation, proper care, and regular maintenance, your building's roof should keep the rain, and everything else, for that matter, off your heads for many, many years to come.
W.B. King is a freelance writer and a frequent contributor to The Cooperator.