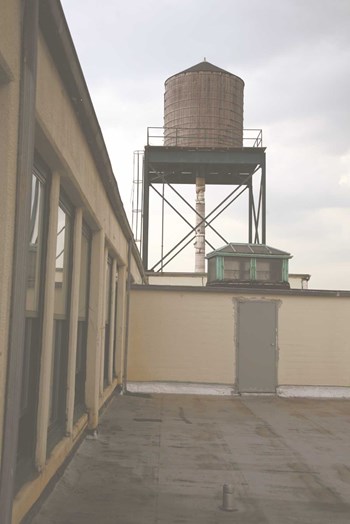 After the four walls of a given structure, the roof is sometimes referred to as the "fifth plane"—and just like the walls that hold it up, the roof is an all-important structure that can make or break a building's performance. The tri-state area's changeable climate—which as we all know ranges from sweltering hot and humid summer heat to bone-chilling cold in the winter months—often exacerbates trouble spots. If not properly maintained, even a minor roof problem can lead to costly repairs.
Wayne Bellet, president of Bellet Construction Co. in Manhattan says that approximately 95 percent of New York City residential roofs are known as "flat" roofs. "This is not just the case in Manhattan, but all five boroughs."
What's Up There?
As far as what those flat roofs are made of, Jerry Yates, president of Yates Restoration in Long Island City, says that new construction, as well as buildings receiving a new roof, most likely have cold-applied modified bitumen roofs. "It's long-lasting, because materials are produced in a factory and not on the job, so there is better quality control. Open flames and propane are not required [hence the term 'cold-applied'], and make the application conform more easily to New York City fire codes." Yates says this is an improvement over the former practice of heating kettles filled with tar on roofs and workers having to spread the substance layer upon layer to keep moisture out.
Dennis Cohen, vice president of National Roofing Corporation in Long Island City explains that unlike a traditional home in the suburbs that might have a pitched roof, residential and commercial buildings in New York City can't afford to lose square footage. "It really comes down to a space issue, and space is at a premium," he says.
It's also a matter of practicality, says Yates, "The excessive slope found on shingle roofs is generally not found in New York City apartment houses because that [sloped or pitched] roof structure is expensive; it would be difficult to maintain, because workers would need to be harnessed each time they needed to perform work; excessively sloped roofs would also make the installation of mechanical equipment such as ventilation, HVAC and water tanks difficult or impossible." Yates says that additional hurdles include zoning regulations that include "the height of the peak of a sloped roof in calculations to determine the number of stories allowed for a building—that would reduce the number of occupied floors." He also says that "snow and ice falling from the excessive heights of New York City building could cause significant damage."