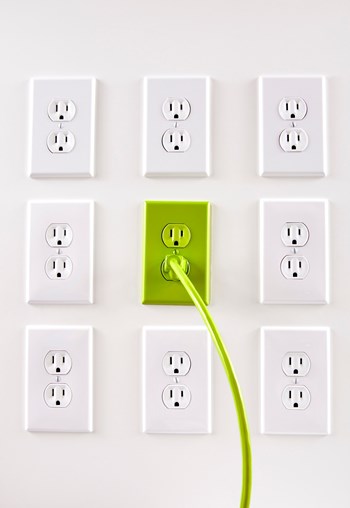 The environmental benefits of "green" buildings have never been questioned. The reduced intake of resources and the reduced output of waste accomplished through environmentally sensitive building reduce the negative environment impact of a building. Although the environmental benefits of green buildings are clear, how to afford a more environmentally sustainable living environment is not. Cost is a frequent excuse against building green. While it is true that the initial cost of green building can be more - an extra $3 to $5 per square foot, by some estimates - the life cycle cost of a green building is significantly less.
Life cycle cost analysis looks at the cost of a material over its entire lifespan, from production to disposal. In terms of green building, it is used to analyze the potential savings over the life of the building - usually about 20 years - instead of simply focusing on the upfront cost. This sort of analysis provides a larger scope for study and gives a more complete picture of the cost benefits of green building. The California Sustainable Task Force ("CSTF") recently determined that the savings resulting from green building can be ten times that of the initial extra cost of the environmentally-conscious materials and methods. This means that in as little as two years that initial $3 to $5 per square foot green investment can be recouped, and there will only be net savings from then on.
According to the CSTF study, a LEED certified building could have a net savings of between $48 per square foot and $75 per square foot over the 20-year period. LEED, which stands for Leadership in Energy and Environmental Design, is a building rating system developed by United States Green Building Council. This is a significant savings, especially when applied to any large scale building project.
Does Your Building Rate?
Energy conservation, one of the 5 components that the LEED rating is based, alone can more than pay for the upfront costs of green building over the life cycle of the building. Green buildings are on average 25-30 percent more energy efficient than standard buildings, according to the CSTF study. A 30 percent reduction to energy consumption can result in a $.30 per square foot per year savings or over $5 per square foot (Net Present Value) over a 20-year period. For a 1,000-square-foot apartment, this means a savings of $300 a year and $5,000 NPV over a 20-year period.
Other potential savings are linked to water conservation, reduced waste, and lower maintenance and replacement costs, which can add up to about another $10 per square foot savings over 20 years. In addition, the most financially beneficial and currently most difficult value to gauge is the increased productivity and improved health resulting from green building. These estimated savings are usually based on commercial offices, but the health benefits are applicable to residential structures, as well. For offices, the CSTF study found a savings of between $36 per square foot and $55 per square foot over a 20-year period due to increased worker productivity and less sick days, taking into account lost man-hours and insurance premiums. Contributing factors include more natural lighting and better indoor air quality from improved ventilation and the use of low or non-toxic materials. Less toxic alternatives for carpets, paints, varnishes and adhesives are readily available.
Benefits of Wearing the Green
Not only is it possible to recover potential greater initial costs associated with green building over time, it is feasible to enjoy the benefits of green building without experiencing higher upfront costs. Good planning and a holistic approach to design will improve your chances of building a more sustainable space without hurting today's wallet. For example, it is possible to use savings gained in one aspect of a building to pay for other higher performing products, as was the strategy for the Eerie Ellington project in Boston. Properly sizing the heating, ventilation and air conditioning (HVAC) systems created savings that were then used to purchase higher quality windows, which consequently decreased energy bills for the buildings.
There are green features that can be added to a building for little to no increase in building costs. Low flow showerheads and toilets have very little, if any, extra costs associated with them when compared to standard fixtures, but will reduce water consumption. Another simple way to reduce upfront costs might be to leave out garbage disposals from your kitchen sink. They require a significant quantity of water to function and add large organic loads to sewage treatment plants. Exterior water use can also be significantly curtailed at little to no extra cost. Protecting and utilizing native and low maintenance plants for landscaping instead of non-native species could reduce water use and cut down on the cost of maintenance since they will need less watering and grooming and would not require chemical treatments.
Proper building orientation or placement of windows when designing a building or a renovation, for example, can lead to lower cooler needs and more daylight, without increasing initial costs. Leaving exposed floors is another green strategy that does not cost more money, but instead cuts the cost of carpeting while improving indoor air quality by eliminating toxic off-gassing that can result from carpeting. Savings can also be found by reusing materials and even reusing buildings. Renovation of older buildings can reduce costs associated with new building materials and time.
Reduce Energy and More
Energy reduction can also be easily achieved through a few simple cost effective renovations. When replacing appliances purchase ones with the Energy Star label. Energy Star appliances have comparable costs to standard products and, in addition, reduce energy bills over the life of the appliance. Another thrifty method (where building codes permit) is to install motion sensors in common hallways and stairways that only turn lights on when people enter the space. The motion sensors contribute to significant energy savings for both lighting and cooling.
There is not a one-size-fits-all strategy to cost effectively creating green living spaces. Each site is unique and will have specific attributes, obstacles, and needs with which to deal. Resources are available to that can help tenants, co-op owners, renters, owners, superintendents, developers, builders and architects explore all the green and cost effective options available. Design and construction professionals with experience in green buildings are becoming more common and can consult on individual projects. On the Internet, specific information on appliances and materials can be found at either
www.energystar.com
or
www.oikos.com.
Databases of green buildings are also available and provide examples of green methods other buildings have applied; a good example is the DOE site at
www.eere.energy.gov/ buildings/highperformance.
Now that it is becoming clear that green building makes both economic and environmental sense, there are no excuses for not renovating or building healthier and more sustainable living environments.
Erik D. Nevala-Lee is a director of GreenHomeNYC, www.greenhomeNYC.org, a non-profit community-oriented volunteer organization that promotes environmentally sustainable urban development.